'Humanstudio' (Human) is a creative agency established in 2007 by Nick Bax, who was a member of The Designers Republic (TDR) from the early 1990s and produced artworks such as Warp Records and Wipeout.
Based in Sheffield, Human creates visual images of world-class quality and has a chain of clients from all over the world.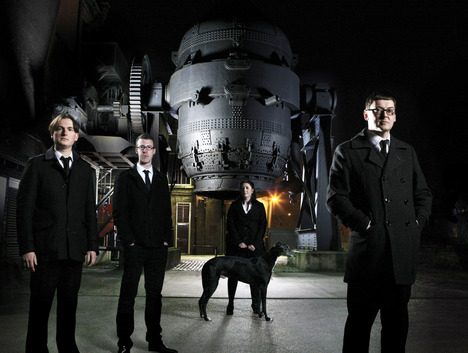 Who are Nick Bax & Humanstudio?
Nick Bax is a British designer whose 20 year practice spans the fields of graphics, creative direction and art. Nick graduated from North Essex School of Art in 1990 and became a member of The Designers Republic (TDR) designing covers for artists such as Aphex Twin, Pulp and Supergrass. He also produced artwork for record labels including Warp Records and React, and the groundbreaking video games Wipeout and Grand Theft Auto. In 2007 Nick amicably left TDR to launch his own company, Humanstudio. Nick is a visiting lecturer in design & visual communication at various educational institutions and a Fellow of The Royal Society of Arts.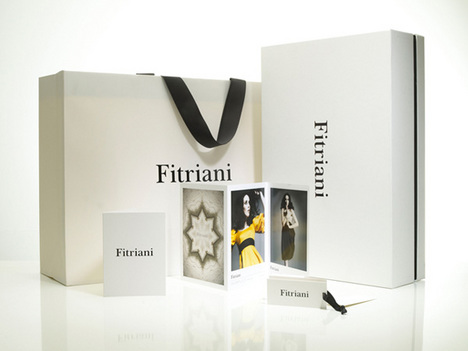 Fitriani packaging, 2009
Humanstudio (Human) have completed commercial design projects for many organisations including MTV, Swatch, Kilgour, SCI+TEC, Roewe, TIGI, University of Sheffield, Fitriani and Urban Splash. Work by Human has been exhibited in Europe, Japan and the United States, and featured in various publications and blogs around the world including Grafik, Brain Magazine, Design Week and The Guardian.
The current Human team is Nick Bax, Dan Fleetwood, Chris Hadfield, David Jackson and Craig Ritchie, with help from Si Billam, Amey Bax and Martin Fewell.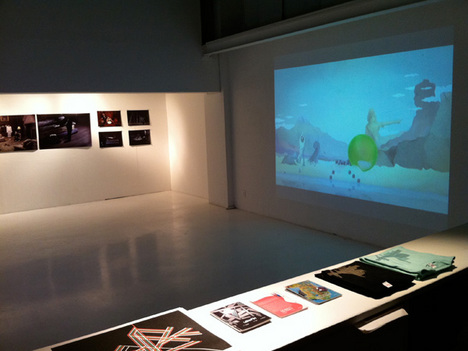 Human 'namuH' exhibition, Tokyo, 2010
Please tell us about your latest activities.
We've just produced our first app for iPhone & iPod Touch. Called 'namuH' it commemorates our exhibition at Calm&Punk Gallery, Tokyo, in December 2010, which was a retrospective of all non-commercial Human art projects so far.
We're currently designing more covers for Dubfire's label SCI+TEC and performing live visuals, specially created for his DJ sets in large venues, and planning an exhibition of SCI+TEC covers to be held in Barcelona during Sonar Festival (16-18 June).
There's also a film we're making for Park Hill, Sheffield, the largest listed building in Europe which was first opened in 1961 and housed 3000 people! It's recently been "re-imagined" by developers Urban Splash and we think it will become a very special place once again.
At the moment we have lots of projects with the University of Sheffield, which are very enjoyable as we work with some great people and meet many inspirational students and academics. It's very satisfying to help bring more people to Sheffield that want to make a difference to the world!
Also, we are designing new album artwork for The Black Dog, making a film with photographer Shaun Bloodworth, designing websites for London fashion labels and developing branding for a team of architects in Mexico.
How does the place "Sheffield" has a influence to you as a hub of activity?
We love London, New York, Barcelona and Tokyo, but Sheffield is our home and has all we need. There are around 50,000 students from all over the world, which makes it a very vibrant and exciting place – there's always something going on!
Sheffield is also the home of the Shalesmoor Triangle, where magic happens…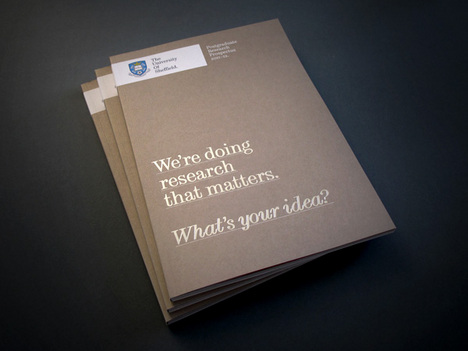 University of Sheffield prospectus, 2010
When you compare the European design industry in 90's, and after year 2000 or even in 2010, what do you think is getting better in the design world and also in opposite manner?
I think it's very difficult to gauge the standard of European design now (compared to the 90s) for 2 reasons, both of which are web-related:
1- the whole world is now incredibly visually aware and it's difficult for European design to nurture / develop slowly / surprise.
2- design from around the globe is now more accessible and has a platform – there's so much new and great work. Europe no longer dominates the design press, which is now relatively redundant anyway, due to the speed and popularity of design blogs.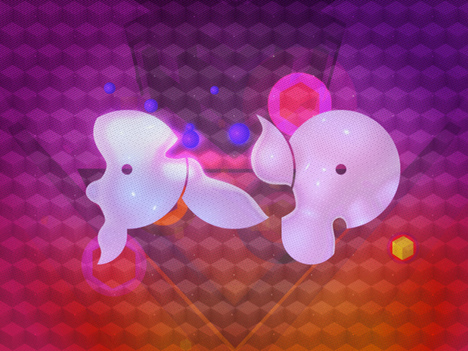 'POP', MTV Onomatopoeia idents, 2009
Please tell us the 3 most important points in designs of Humanstudio.
Making something new that pushes the boundaries of design further.
Creating something worthwhile that communicates with people.
Being Human.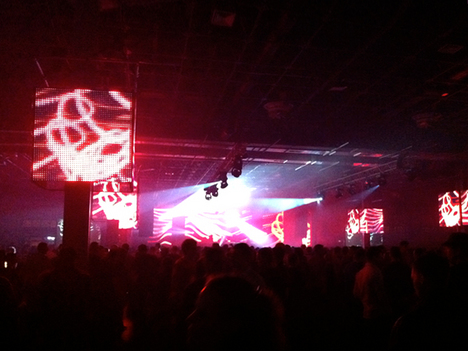 Dubfire visuals, Hyperspace, Budapest, 2011
Please tell us about Human-Computer Interaction.
"Human-Computer Interaction" (HCI) is the term we use when Human perform live digital visuals and interact with an audience of people, usually collaborating with a musician, sound artist or DJ. The events have taken place in clubs, huge arenas, art galleries and underground car parks. So far, the HCI series has occurred in 8 different locations in Belgium, USA, Spain, Japan and UK.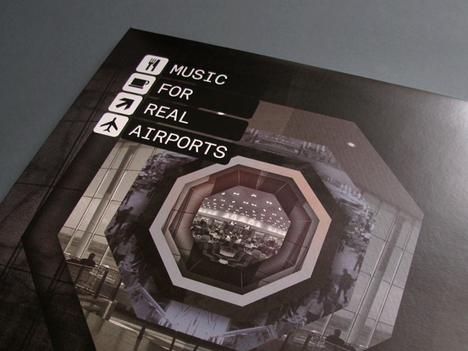 The Black Dog 'Music For Real Airports' album cover, 2010
Have you got field or media which you would like to explore your art practice in the future?
We are already involved with professionals and organisations in the areas of architecture, fashion and music, but it would be wonderful to actually create within these disciplines. I would love to present a Human fashion range in a Human environment, accompanied by a Human soundtrack.
I'd also like to evolve the HCI series into something where we could leave a permanent mark in certain buildings or environments.
What do you want reader to look from the GASBOOK pop 4 magazine?
It was originally conceived as a catalogue for our exhibition at CALM & PUNK GALLERY, but we now see it as an overview of all our self-initiated work from 2007-2010. We want people to enjoy looking at the work and then also check the commercial projects on our website. Hopefully they'll notice that there's a constant level of thought, love and magic in everything Human does.
Please let us know 5 musicians (bands, djs and etc.) who you like lately.
We play music in Humanstudio all day long – there's so much we like – hard to choose just 5!!! Our friend Mark Fell released 2 excellent solo albums (on Raster Noton and Editions Mego) last year, which we play a lot. We saw Earth play in Leeds recently and really enjoyed it.
Oneohtrix Point Never (aka Daniel Lopatin) has been very popular in the studio over the last 12 months. We're looking forward to seeing Actress at this year's Sonar Festival, we play 'Splazsh' regularly. Also been listening to the new Sonic Youth CD a lot – it's actually a film soundtrack, but I prefer it to their last few artist albums, some amazing sounds on there!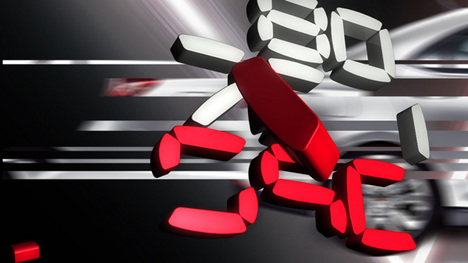 Roewe event branding (video still), 2010
If you have any comments to Japanese audience.
I've been lucky enough to visit Japan 3 times now and last year the whole Human team visited Tokyo. We absolutely love the place and the people! My whole life and work has always been about looking to the future whilst respecting your heritage and I find Japan such an inspiration for this. Also, the recent tragic events in Japan have shown the true strength, resolve and grace of the Japanese people, which I've personally found incredibly humbling. We hope to visit Japan again soon!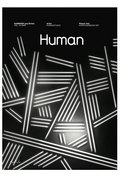 GASBOOK pop 4 – Nick Bax
Specification: 32 pages / Soft cover / 150 x 210 mm
Release: April 2011
Price: 1050 yen
Available at GAS ONLINE SHOP (Japan only)
http://www.hellogas.com
Text: Noriyuki Abe

[Help wanted]
Inviting volunteer staff / pro bono for contribution and translation. Please
e-mail
to us.