Whilst Copenhagen and Berlin fight to each other for the supremacy of the fashion fairs in the northern Europe, Stockholm Fashion Week just carries on with his internal party to spot its magnificent fashion industry. At this stage, a few designers step into a grown-up level; you expect room for the up and coming. Romanticism heroine, night-time inspiration, off-duty u-boat officer style, minimalistic high-tech, diversity and openness. More than 30 designers, 2 main venues and different buildings and art galleries around the city held a new edition to introduce the autumn-winter 2011 collections.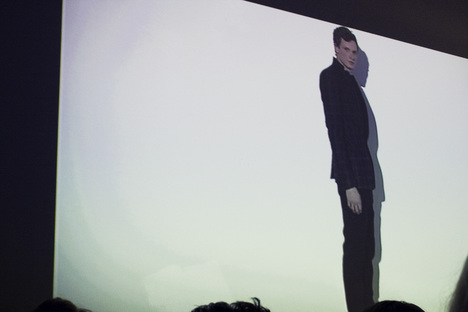 Filippa K
Some new proposals from designers such Diana Orving, The Local Firm, Whyred or Nakkna were very well received. Big brands such Filippa K, Tiger of Sweden, Hope, J.Lindeberg or Cheap Monday showed an evolution with an eye on hi-tech and quality for the product as the ultimate experience. Whilst designers such Carin Rodebjer or Carin Wester establish themselves with a grown-up collection. In addition Ann-Sofie Back was awarded as designer of the season –what the Fashion Week calls the Max Factor award– for her through-provoking approach to fashion.
The Local Firm are establishing themselves bringing the denim within a more sophisticated perspective. Creative directors Richard Hutchinson and Axel Nyhage, inspired by the off-duty u-boat officer; heavy wool outwear to cover super thin cardigans and cashmere sweaters, submerged into drama to put their A-W11 collection within a storm in the tide over a soaked runway. The women´s collection is about off-hand draping and layering. The brand fades out any boundaries from classic to a more sophisticated denim. Grey scale is omnipresent with variations to blue, deep navy and cobalt.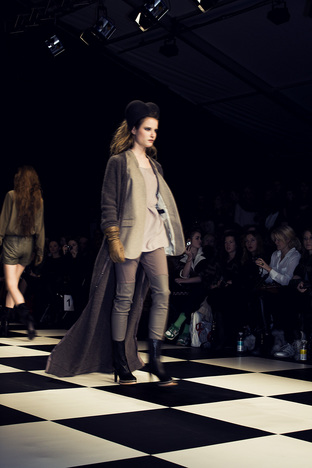 Tiger of Sweden
Tiger of Sweden Christian Lippich and Ronnie McDonald are the designers of Tiger man. They focus on the minimalistic and the perception of changing the collection for more clean and formal. The fabrics used are combinations of classic and hi-tech, pushing the boundaries for innovation.
J.Lindeberg. They decided to introduced their very first women's collection in an intimate gathering some days after the actual fashion week. After a total restructuring a couple of years ago, the brand now looks towards the future. In words of head designer Jessy Heuvelink himself "Now it is a totally different world since we restructured the brand. Before it was always going with the trends, and had a rock and roll edge. Now it is more timeless. We want to create garments for years in your wardrobe that you can use in different situations. It is a shifting point. The brand is moving forward, but what we did in the past brings us where we are today".
Hope is formed by Ann Ringstrand and Stefan Söderberg. To describe this collection they told us – "a northern surrounding inspired us for both styles and materials. Sea captain on the Artic Ocean meets Northern couture. Uniforms and cape coots styled layered, diversity and openness!". The quality in the product is essential for the brand. The materials are dry and crinkled Melton wool, rough pinstripes, mackintosh bonded cotton, waxed cotton, thin cotton Voile, washed silk, variation of white shirt fabrics and heavy structured knits.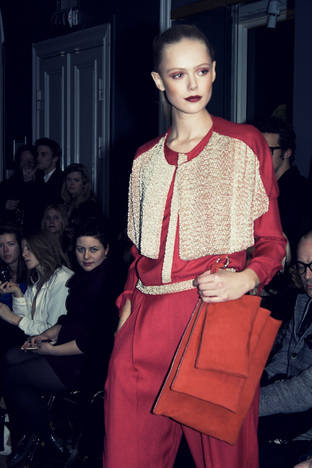 Carin Rodebjer
Carin Rodebjer started the year awarded by the Swedish ELLE as`Designer of the Year´. Well, not far from that, her new collection night-time inspired, turned out in one of the favorites for the public opinion this year. Rich in colors, fabrics to create contrast, moving from sheer to heavy, from shiny to matte. The collection breaths a powerful elegance with a hint of magic, Carin explains – "I usually work with an intensive organic vibe and now it is kind of a futuristic feeling".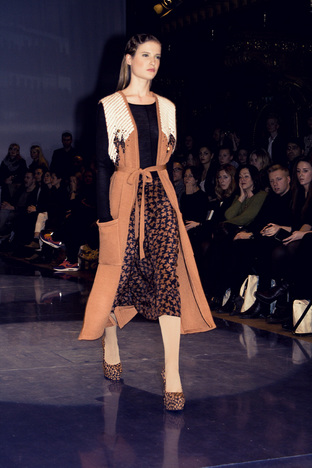 Carin Wester
Carin Wester is one of the most loved Swedish designers from the current scenario. Now, far from that fairy-tale of being a graduated and awarded designer, she introduced a grown-up version of herself. Although inspired by the romantic heroine from noirs films and Hitchcock movies in particular, she carries on with her devotion to an androgynous vision of fashion –" I find elements between male and female that you can share. Of course, there some elements like hi heels for instance, that can´t be shared, but I find others that blur the boundaries between both".
All-in-all, Swedish fashion industry progress consolidating a profile characterized by keeping it simple, not adding unnecessary elements, leading it to a strong profile.
Stockholm Fashion Week AW11
Date: 31st January – 8th February 2010
Place: Berns Salonger, Kungsträdgården etc, Stockholm
http://www.mercedesbenzfashionweek.se
Text: Victor Moreno
Photos: Victor Moreno

[Help wanted]
Inviting volunteer staff / pro bono for contribution and translation. Please
e-mail
to us.