12 visuals have been selected for SHIFT 2011 CALENDAR! Sale from October 1st.
The Shift Calendar Competition started in 2003 with an aim to discover fresh creators. For the 8th competition of this year we have received 1,623 entries from 35 countries. 12 carefully selected works will decorate each month of the Shift calendar, which will be on sale from October 1st and appeared in shops and galleries around the world.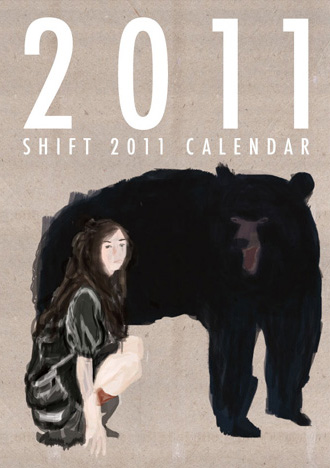 Taking as an important role in making opportunities for worldwide creators to extend the stage for their activities, Shift calendar competition has delivered a number of visual works through these 8 years and the number of them counts 96 works. We believe the calendar competition will take many creators to various places where they can meet and discover, and will outspread the circle of creation derived from there.
It is time for seeds to begin to sprout for 2011. Enjoy the 12 visual works selected for the calendar created by artists and designers who are waiting to be flowered.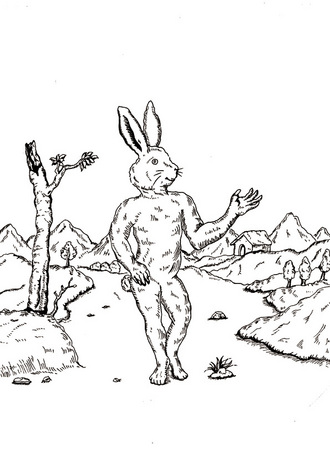 Ryohei Sugiura (Japan)
Ryohei Sugiura is an illustrator born in Aichi in 1986. Since his childhood, he was inspired by skateboarding, movies, and monsters, and started to get into drawing. Currently he works on installations and animations as well as producing T shirts.
A mutant rabbit suddenly appeared in front of a PUNK kid skateboarding on the country road by a swamp! From its mysterious and triumphant look, you cannot recognize if it's a good or nice one. Is the old house over there empty? Or is it the rabbit's house?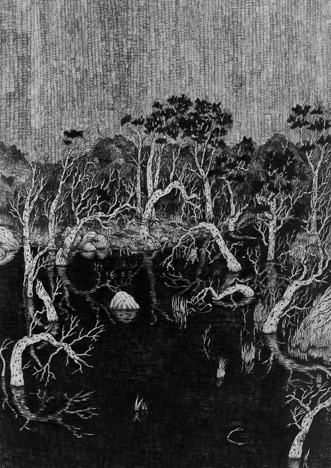 The march / lead pencil on mohawk superfine paper / 66 x 101cm / 2009
Johan Björkegren (Sweden)
Johan Björkegren is 31 years old. Originally from the west coast of Sweden, currently works as an artist and illustrator based in Stockholm. After graduated from a design college in 2005, he started out working as an illustrator. During the years he worked himself towards more on fine art. He works mainly in black and white with subjects like alienation and dystopic landscapes. With much inspiration from music, movies graphic design, nature and underground comics.
Work Description: The march is inspired by music, last winter I was listening a lot of swedish folk, psych, metal and old swamp blues. This is a landscape drewn from a Swedish forest and louisiana swamp mix filtered through a gothic / mystic aesthetic.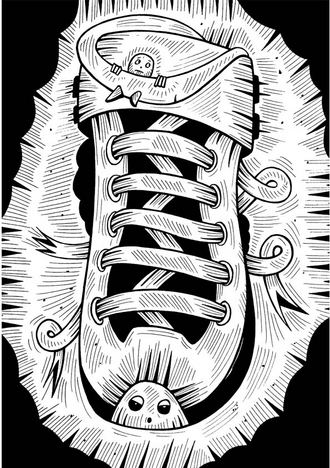 Sneaker Transition
Karo Akpokiere (Nigeria)
Karo Akpokiere is an artist/designer born and raised in Lagos, Nigeria. He has an insatiable appetite for drawing and is deeply interested in how these drawings can be applied to different media as a way to make them accessible and visible. He presently lives in Lagos, Nigeria where he draws daily and manages www.seekproject.com and www.theseekproject.wordpress.com.
Work Description: What if the inanimate objects that we love have the option of choosing their function(s)?, What if they decide to be active and aggressive as opposed to being passive and docile?. How would their change of function affect the way they are perceived and designed?. Set in a neutral – coloured space populated with black lines, this drawing takes these questions into account and attempts to visually represent a scenario where the objects that serves us in this case, footwear revolt and attack. What would you do?.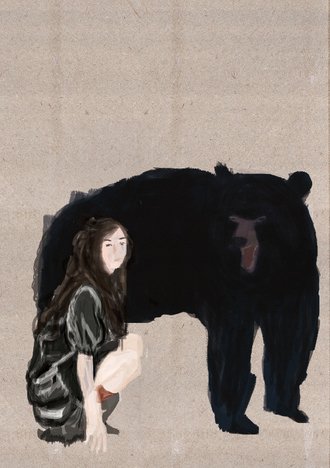 IMUSM (Hong Kong)
IMUSM graduated in 2007 from the Hong Kong Polytechnic University in Design (Visual Communication). After that she joined REM Advertising Ltd. as an assistant art director for 2 years. Currently she works as an freelancer at Leo Burnett, Hong Kong.
Work Description: I perceive and understand the world as being divided into two overarching categories. In the advertising business, everything of my work is bright, positive and perfect. In my personal work, I try to reflect my complexity and dark side of my mind, which creates a contrast to my commercial pieces. Between the bright and the dark, the motion and stillness, I have tried to keep the balance between the two and express the beauty of both sides .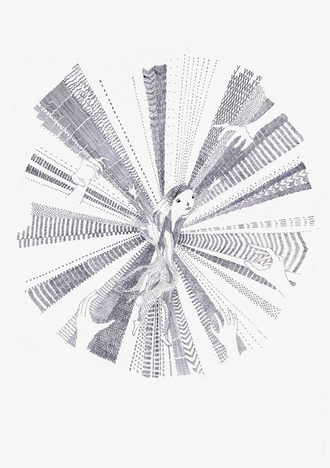 To be free
Winnie Won Tsuen Yiu (Canada)
There was a young artist of Canada, whose head was like a pinata. With a head stuffed with straw, all she ever did was draw while sipping a Pina Colada. Her ideas are a bunch of nonsense; she even writes in the wrong tense, but it's all okay. Life can't be just all work and no play, try to see the world through her lens.
Work Description: I once met a group of fairies who told me to push the boundaries "Set yourself free! like fish that swim into the open sea and explore new sceneries."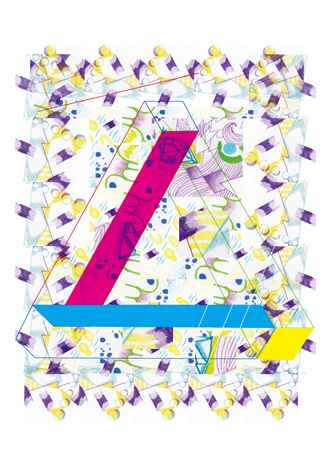 littomeroo (Japan)
littomeroo is an all-weather-unknown-girls unit by littttoral and karimeroo, who have met on night with a big full moon in the spring of 2009. Formed in 2010. littttoral works mainly on graphic design, and karimeroo does drawing. With 'kira kira, kyun kyun and bui bui' in minds, they plans and enjoys making drawings, T shirts, zines, bags, curtains, writings, and onigiri for various projects. The watchword is girls are the unknowns!
Work Description: We take a vow to use all of our strength to pursue things that are kira kira, kyun kyun and bui bui, to make our world filled with happiness. Because we don't have time to be overwhelmed by every kinds of disappointment and anxiety, we enjoy the unknown of imagination.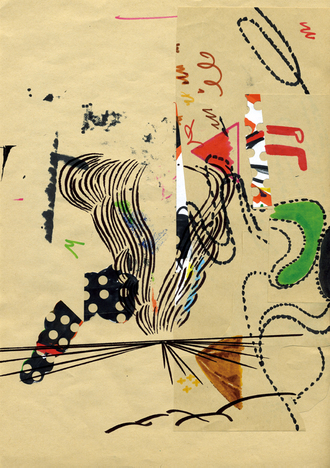 Toru Ogasawara (Japan)
Born in Tokyo in 1975. Toru Ogasawara is an illustrator. With a variety of expression styles, he works in a wide range of fields such as magazines, books, music, fashion and advertisement.
Work Description: Impulse of the conscious mind in the unconscious.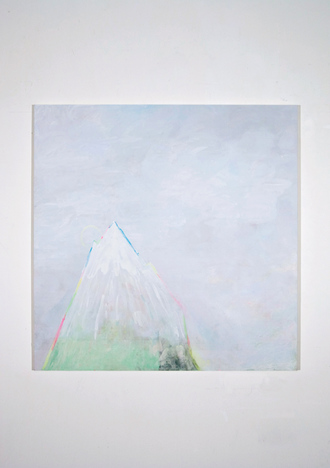 signs of light / acrylics, pigment, glittering particles on Washi (paper) with wood panel / 91 x 91 x 2.5cm / 2010
Hiroshi Takeda (Japan)
Born in 1978. Hiroshi Takeda is an artist based in an atelier called atta near Sapporo Satation. He works mainly on paintings as well as makes three-dimensional pieces and installations from the basis for the paintings.
Work Description: As I was painting a crater of an active volcano, Mt. Usu located in Hokkaido, the mountain was transformed into a brave mountain like Showashinzan.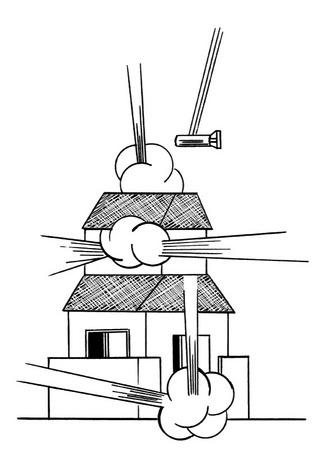 Re: Tokyo to the battlefield
Naotake Wada (Japan)
Born in Tokyo in 1979. Naotake Wada lives and works in Fukuoka as an employee at a company. He started to make illustrations under the name pomiyama since 2007. He independently made his illustration collection book and distributed in Tokyo, Berlin, and New York through ZINE'SMATE.
Work Description: This work is one of the "house" series, which I drew only with a ruler based on the theme "family" and "house". Among the series, this piece is made inspired by a track "Tokyo to the battlefield" by ECD.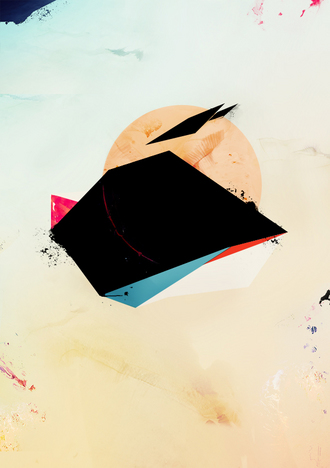 Sunrise
Alexey Malina (Russia)
Alexey Malina is a graphic designer and digital artist living in Moscow, Russia. Born in 1983 Alexey works now in the fields of graphic design, illustration and concept art. He gets inspiration from dance, music, architecture and everyday life, always looking forward to creative unexplored horizons.
Work Description: The Sunrise work features an experiment with color and shape and illustrate author's impression of this marvellous phenomenon.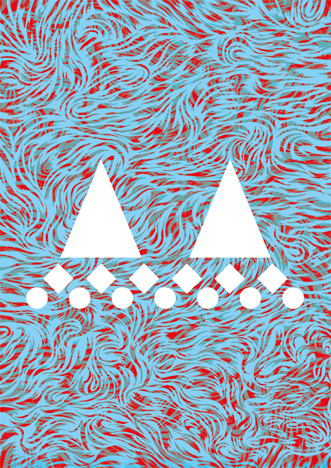 Dai Suzuki (Japan)
Born in 1984. Dai Suzuki is a graphic designer and organizes 000MHz. He currently lives in Kanagawa, and likes music, comics, and novels.
Work Description: I depicted confusion, hypnogenesis, and pain.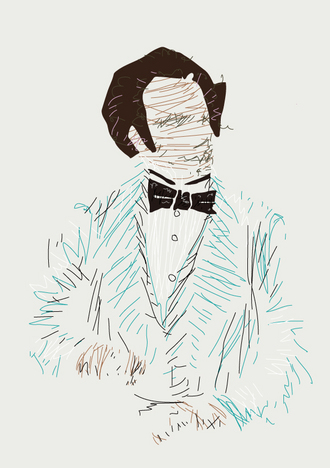 Mushroom
Toya Kouichi (Japan)
Born in Osaka in 1981. Toya Kouichi is an artist, who currently lives and works in Tokyo.
Work Description: Convergence of raceable sight, visible rhythm, and diffusing images.
Please feel the surface, form and inspiration that I captured.
SHIFT 2011 CALENDAR
Release: October 1st, 2010
Spec: All colour / 28p / 210 x 297mm
Price: 1,260 yen (tax included)
Produced by Shift Factory
Printed by Syoubunsya
It can be purchased at Shift Factory,

If you know of any shops that might be interested in supporting this project, please e-mail us to staff@shift.jp.org.
Thanks to
[Help wanted]
Inviting volunteer staff / pro bono for contribution and translation. Please
e-mail
to us.