Gazes on Photo and Video Art from Austria.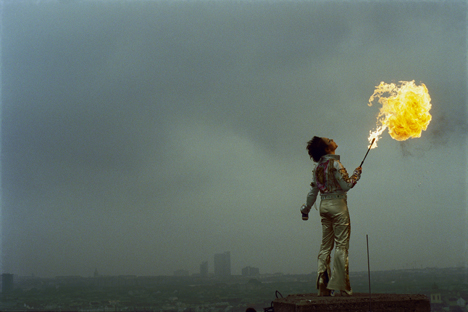 Ursula Mayer "Goldflames Out In The Sky" 2002, Still from the DVD, color, sound, (3 min 30 sec), Courtesy of the artist
Psychoanalysis is a body of ideas advanced by Freud, an Austrian psychoanalyst, to formulate and understand the unconscious difficulties of patients by turning free association, the imagination and dreams into a language. The exhibition PSYCHOANALYSIS is being held at Tokyo Wonder Site Shibuya. The exhibit has videos and photos trying to show cities, individuals and bodies with a psychoanalytical approach. The seven groups of Austrian contemporary artists who were chosen this time created pieces with architectural, physical and individual themes.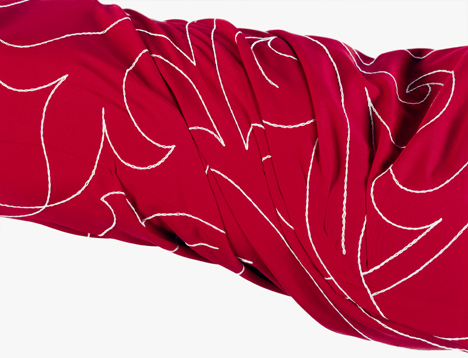 Maria Hahnenkamp "Untitled. (from the series "Dress")" 2010, 6 parts, Pigment-print on Hahnemuehle Baryta paper, 83 x 108 cm each, Courtesy of the artist and of Krobath, Vienna|Berlin

Pieces described as "moving architectures" by Maria Hahnenkamp express problems of architectures and bodies with clothes. A piece "Untitled" [from the series "Dress" (2010)] contains six photos of cloth with architectural ornament patterns from Vienna 1960's taken from all angles. Another is "V8/10 ," a video that has a layer of quotes from Judith Butler (a scholar on gender theory) over a scene of a woman in a red dress moving around on a glass board. These quotes sound like the ideas of Lacan or feminism, but their meaning and interpretations could be understood in various ways.
In Western countries, people see the idea of "a sentence is equal to talking" as an architectural approach. Therefore, audiences see pieces as architecture as long as the sentences are rich in architectural components, even if a building does not appear in a piece.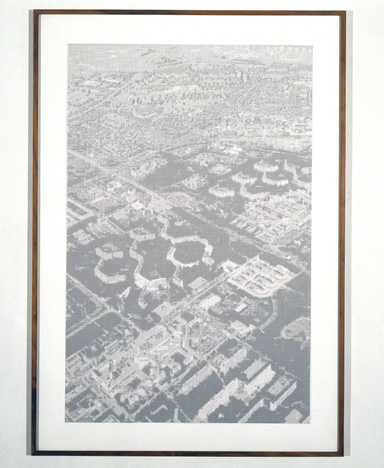 Bitter / Weber "image.source" 2000, 4 parts, A0 prints on paper, 133 x 93 cm each, Courtesy of Photo Collection of the Austrian State, permanent loan to the Austrian Gallery of Photography at the Museum der Moderne, Salzburg
Bitter / Weber submitted a piece called "image.source" (2000). The piece contains four prints showing the Bijlmermeer city expansion project in Amsterdam in the 1960's and 70's with quotes from leading figures in the architectural industry such as Saskia Sassen, Rem Koolhaas, Mike Davis and Walter Gropius. Moreover, they also submitted the "EN" series which was created during their six-week stay in Tokyo. The name of the series was taken from the Japanese style patio. With metabolism as its theme, the series focuses on how current Japanese architectures should be while potentially becoming autonomous.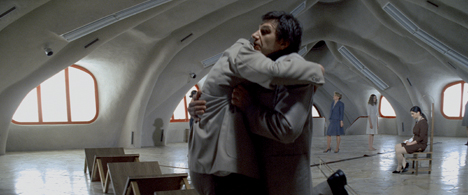 Markus Schinwald "Ten In Love" 2006, 35 mm film on DVD, color, sound (4 min 37 sec), Courtesy of the artist and of Georg Kargl Fine Arts, Vienna
Some people who wear weird objects around them are hanging out in a room. Although their mysterious services might make people feel incongruous, for some reason, they end up accepting the services naturally. Markus Schinwald says "'Ten in Love' (2006) is more so a poem than a movie. The film depicts unconscious emotions and desires over the characters' love and relationships at the cafeteria of a famous convent in Graz, Austria.
Moreover, 'Lukas,' 'Magnus,' 'Nicklaus' and 'Gunther' (2010) are pieces in which Schinwald added decorations and masks over old portraits which he bought at flea markets and auctions. From these pieces, audiences can understand Schinwald's respects for history. Schinwald believes that he exists now as a result of Austria's long cultural and artistic history. At the same time, Schinwald also believes that people should be supplying culture to the next generation instead of destroying it.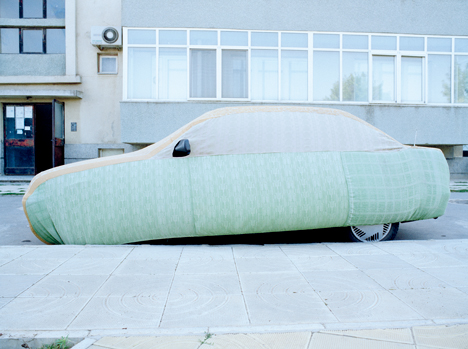 Andrea Witzmann "Otto & Ottokar", 2008, 2 parts, C-Prints, 100 x 134 cm each, Courtesy of the artist and of Layr Wuestenhagen, Vienna
Along with the pieces introduced above, more pieces are displayed at the exhibit. Ursula Mayer presents a movie with the theme of gender. Andrea Witzmann exhibits architectural pictures and pieces with texts that were used in a city project by Kenzou Takeshita in the 1960's. The pieces are shown in a window using the theme of metabolism like Bitter / Weber's pieces. Dorit Margreiter presents a stage set shown as contemporary architecture.
Guest curator Walter Seidl says "Architecture limits people's physicality, manners and actions. The limitations bring a change to an individual's consciousness and unconsciousness." Psychoanalysis takes care of the role of letting the changed consciousness and unconsciousness out.
People spend everyday making contact with architecture. All of the pieces at the exhibit make people reconfirm the meaning of physical and individual relationships between people and houses, offices, public buildings and many other types of buildings. Perhaps, one's attention towards buildings might be changed after viewing this exhibit.
Psychoanalysis:Gazes on Photo and Video Art from Austria
Date: May 29th – August 1st, 2010
Opening Hours: 11:00 – 19:00
Closed: Mondays (or Tuesday when Monday is a national holiday)
Place: Tokyo Wonder Site Shibuya
Address: 1-19-8, Jinnan, Shibuya-ku, Tokyo
Phone: +81-3-3463-0603
Admission: Free
Organizer: Tokyo Metropolitan Foundation for History and Culture, Tokyo Wonder Site
Co-Organizer: Austrian Federal Ministry for Education, Arts and Culture
Support: Austrian Embassy / Cultural Forum,Tokyo
Next Exhibit: Contemporary Art Museum, Kumamoto September 18th – November 28th, 2010
http://www.tokyo-ws.org
Text: Wakana Kawahito
Translation: Yumiko Miyagawa

[Help wanted]
Inviting volunteer staff / pro bono for contribution and translation. Please
e-mail
to us.