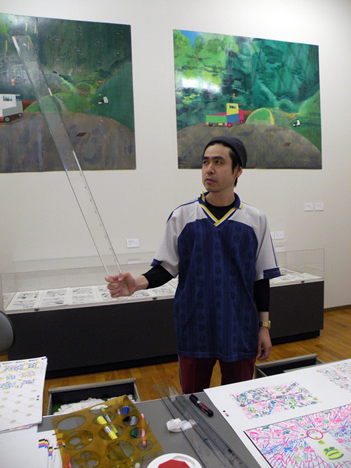 A cartoonist as well as artist, Yuichi Yokoyama's solo exhibition "All Documentation on Neo Manga: I'm Drawing the Time" is now exhibited at Kawasaki City Museum.
I didn't have any ideas what kind of man "Yuichi Yokoyama" was until I interviewed him. His works show us unforgettable views, a silence world, and it's almost like a piece of just moment. And one of the special features of his manga is his use of onomatopoeia. His works are very different from other Japanese manga. But everyone knows we all are fascinated by his works.
When I started to record, "Can I record too?" he said. One of the most amazing works is a series of tapes recorded with his friends during times such as dinner and on the phone since long time ago.
What would you do with those recorded tapes?
I always work listening tapes instead of music. I like to draw talking with someone. I think I can make good works in my relax hours.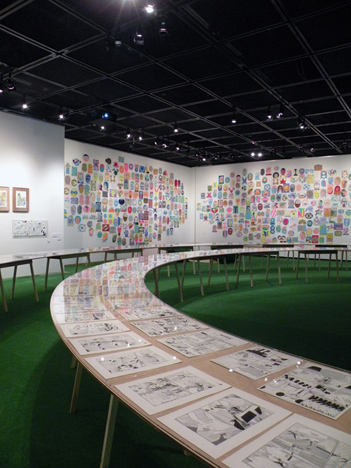 Exhibition view, Yuichi Yokoyama All Documentation on Neo Manga: I'm Drawing the Time
What is the most important thing you did in this exhibition?
I have never hold such a big exhibition like this. I wanna show all of my works including old pieces, because this might be the final show.
The exhibition space is also interesting. It's like an installation!
Yeah, people around me worked on a lot with ideas. What I only did was saying Ok though (laughs).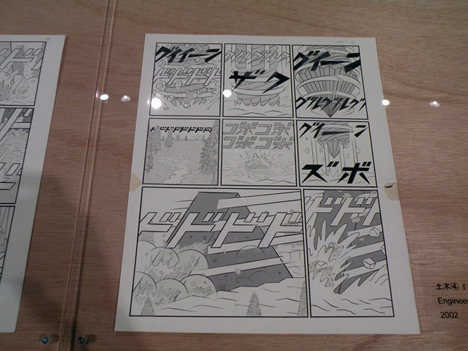 "NEW ENGINEERING"
You are highly acclaimed by international media which often features your works. What do you think about it?
I want to show my work as many people as possible. That's why I draw universal things without using emotional expressions and things that are common to Japanese. My piece also doesn't have dialog either.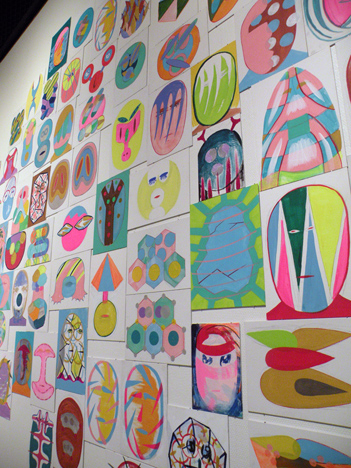 Painting works "BEAST and OURSELVES"
This exhibition also showcases your oil painting works including works made when you were at college. It will be treasure time for your fans. So, would you like to do oil painting in the future?
I would like to do it, but as a hobby. Because painting is difficult for me to express my idea, and I'm not interested in working on the same expression what forerunners have done before. I don't get excited. But in manga, I felt like building a house in an uninhabited island. I could worked on things I wanted to convey, with being assured of doing something nobody has done before. But I like to see works of other people, especially a Meiji-born painter Kunitaro Suda's work. I often see his works when I get sleep. I don't know why I like his works, but his work makes me quite emotional.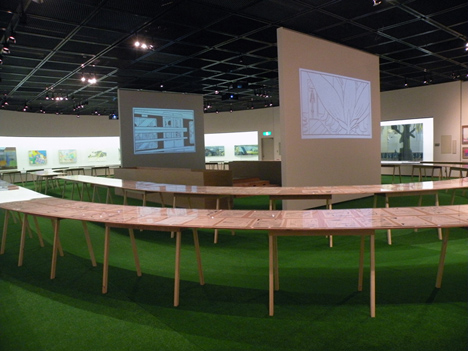 Exhibition view, Yuichi Yokoyama All Documentation on Neo Manga: I'm Drawing the Time
How's your working stance? And what's your source of ideas?
Actually I don't work in serial form. Basically I visit my client with finished work, which isn't a smart idea though. Of course there are cases to do commission work. But it's better to draw purely than to be commissioned, because I sometimes try to gain their favor. I want to draw purely.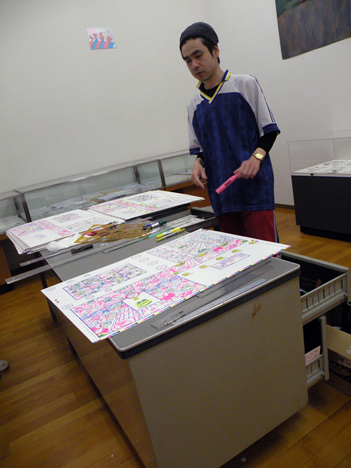 Open studio, Yuichi Yokoyama All Documentation on Neo Manga: I'm Drawing the Time
As for my inspiration sources, they are here and there. Things happened close to me and casual conversations become ideas. I think I like to draw manga things like casual conversation someone next to me did in McDonald's, and a man who is picking up a felll-off pen in a strained posture. I am working on the next work which is a short story of gag strip expressing the interest of words. It's difficult, but I don't want to do the same thing.
Finally, please give some massage to the readers.
Please read my books, whether you buy or rent!
I thought Yuichi Yokoyama is like a boy who likes scribbling and fishing with a quite pure heart. This exihibition is his manifestation about his past and current and future.
Yuichi Yokoyama All Documentation on Neo Manga: I'm Drawing the Time
Date: April 24th – June 20th, 2010
Opening hours: 9:30-17:00 (enter until 16:30)
Close: Mondays (open on holidays), the day after holidays (except Saturdays and Sundays)
Place: Kawasaki City Museum
Address: Todoroki Ryokuchi Park, 1-2 Todoroki, Nakahara-ku, Kawasaki, Kanagawa
Tel: +81-44-754-4500
Admission: Adult 600 yen, Student/Seniors 400 yen, Junior high school students and below for free
http://www.kawasaki-museum.jp
http://www.kawasaki-museum.jp/neomanga/
Text: Memi Mizukami
Translation: Mariko Takei

[Help wanted]
Inviting volunteer staff / pro bono for contribution and translation. Please
e-mail
to us.