Jade Klara is a Cape Town based Graphic designer and illustrator whose work has been featured not only in local exhibitions, but all over the world. Her interesting works tell of intriguing and strange characters that roam secret and playful worlds that once dominated your imagination as a child bringing in the mystery and intrigue of the story after it has ended.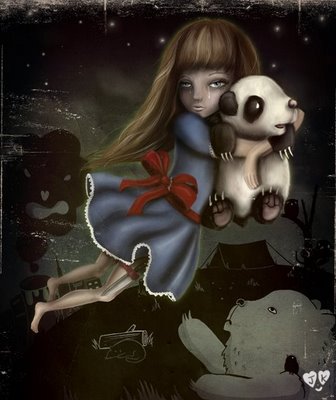 Fly Panda Fly
A little on your background. Where in South Africa are you from and where did you study?
I live in Cape Town and studied a B.A in film & media at UCT and a B.A at Vega where I studied graphic design. After, I worked at the amazing Amicollective, and now I am freelancing as an illustrator and have participated in exhibitions in London, Los Angeles and Cape Town. I have always loved drawing and I feel so blessed to be able to do what I love.
You were recently featured in Sweet Illustration, tell us more on that.
Eva Minguet contacted me while I was in New York last year about Sweet Illustration, a book featuring 22 female artists like Kukula, Camilla d'Errico, and Mijn Schatjie. I feel so honored to be a part of it.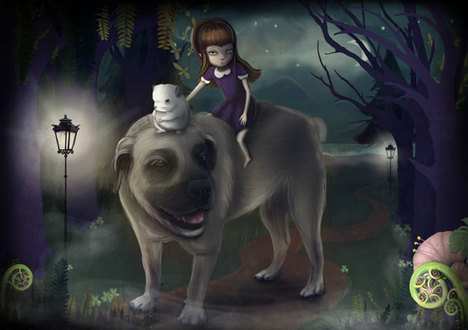 The Metro Tail
Your works are dark, innocent yet hauntingly beautiful, where does you inspiration come from and these scenarios in which your characters live in?
Some inspiration comes from my childhood. We lived on a ridge and at the back of the house was this wooded area. I remember there was rock that looked like a sleeping rhino. My characters seem to want to live in misty woody worlds. They remind me of Knysna's thick forests. South Africa is so beautiful. Innocence, femininity and strength are all important themes for me. Companionship and funny looking animals too.
What different kinds of mediums to you use for your works?
I paint digitally and use inks and pencil for textures and various elements. I have also started to paint again in acrylics.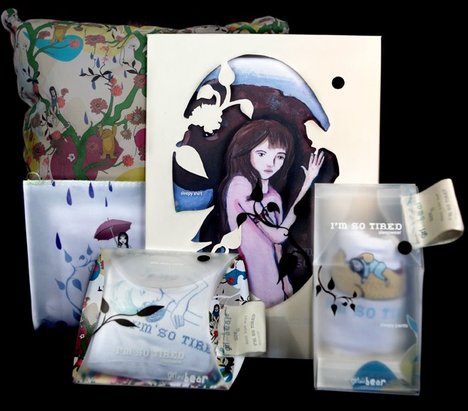 Girl & Bear
I see you also make products such as gifts, cards and pillows. When did you start making these and where can you find your goods?
I started making pillows and goodies years ago but got side tracked and never really made them seriously. I plan to make more things and have them available on my site in the future.
What can we expect from Jade Klara this year?
I'm taking part in an exhibition 'Sifting through the madness, for the word, the line, the way' at the lovely Salon91 gallery opening on the 28th April. Other plans include various collaborations and projects.
Text: Bertina Appel

[Help wanted]
Inviting volunteer staff / pro bono for contribution and translation. Please
e-mail
to us.