"To craft her F/W 2010-2011 collection inspired to marine deepness and for this reason called ´Oceánica´, Cora Groppo started from radiographic fish Pictures. Inside and outsider, bony and appearance are levels whereon Cora has defined garments shapes. Plastic chains creates spine living structure to fabric, while fish exterior is represented by "flippers" that rise up from arms, sleeves, elbows and zippers that opens like gills.
Leather details evoke scales, shile fish morphology becomes more and more clear on jacket sleeves, mantles and shorts that are more tight and stretch.
Fish prints, chiffon, satin, silk and chains application merfe and toggle together on dresses, becoming the icons of this Collection.
Dark and neutrals colors outline best "fish girl" character, evidently futurist". *
*Text extracted from coragroppo.com/2009/ingles/1280/memoria.html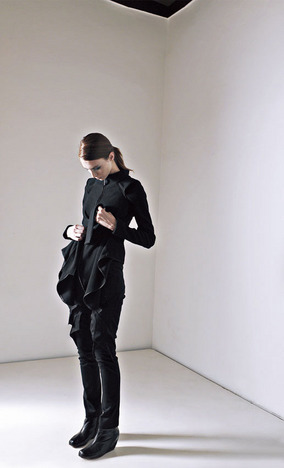 How did you decide that you wanted to be a fashion designer?
In 1989 I was in my last year at school and was planning to study architecture. But while I was attending the CBC, I changed my mind and decided to focus on fashion design.
Could you tell us the story of Cora Groppo?
The first store was the one on the corner of El Salvador St. and Armenia St. It was one of the first stores in Palermo, it was just natural for me to open a store in the neighbourhood, because I had been living there for several years. Later on, the area boomed. The second store was opened in Recoleta, in order to somehow aim at a different public. Two years ago, we grew and expanded with the Italian project: we became associated with some Italians, opened a store in Piazza Spagna, Rome, and we organized a project to distribute our produce all over Europe with them. We had our place in fairs (White Milano and Tranoi Paris), which promoted sales all over the world.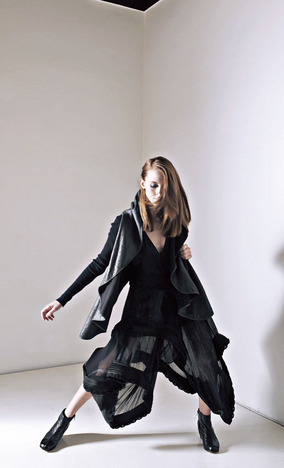 The aesthetic influences of the brand: Which are the usual sources of inspiration for the design of your collections? What about the last one in particular? What did you base yourself on?
The design is usually based on morphologic search. The idea behind each collection is to find a building resource to reinvent silhouette.
In the last collection, work sprung from a book, ICHTHYO, of X-ray pictures of fish.
Which are your favourite fabrics?
I work in different kind of fabrics, winter is my favourite season to design, I feel more identified with the winter´s textures. In the last Collection I have used leather, chiffon, satin, silk among others.
What´s Your favourite outfit on sale right now?
A leather line, which I began designing one or two years ago.
Jackets are certainly my favourite.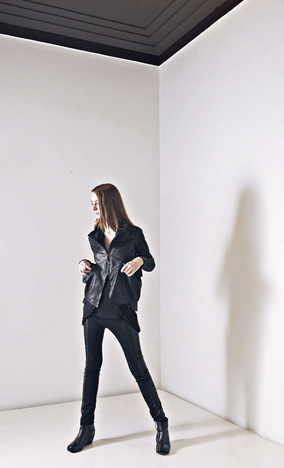 Which are your favourite International fashion designers?
Ann Denmelemester, Haider Ackerman, Preen.
What does fashion mean to you?
To me, clothing is like an object: I design items one by one. It is a permanent quest.
How would you describe the woman who wears Cora Groppo?
I would describe her as an Intelectual woman of 35 years old average, professional, interested in design, art and future.
Which are the next projects for the brand?
We want to enter in the markets of Asia and América.
Please tell me 3 words to describe the Cora Groppo spirit…
Modern, Austere, Dramatic.
Cora Groppo
Address: 4696 El Salvador St., Palermo Soho, Buenos Aires
Opening Hours: 11:00 – 20:00 (Sundays from 15:00)
Tel: +54 11 4833 7474
http://www.coragroppo.com
Text: Celeste Najt
Photos: © Cora Groppo

[Help wanted]
Inviting volunteer staff / pro bono for contribution and translation. Please
e-mail
to us.