Park Benches, Lamp Posts, Post-boxes – These objects in our urban landscape are often forgotten in a world where life moves at an incessant pace. STAMP, a post-box painting competition in Singapore is an attempt at changing this, one post-box at a time.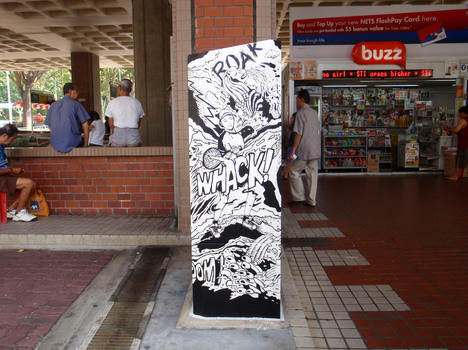 Brian Chia
Through an open call for entries, STAMP invites the public to be involved in the design and painting of these post-boxes in an attempt to beautify the urban environment. With the theme "SPORTS AND THE CITY", STAMP hopes to be a celebration of art, the cityscape and community spirit. SHIFT interviewed FARM, the organisers of the STAMP project, to find out more about the second edition of their post-box painting competition.
What is STAMP 02 about?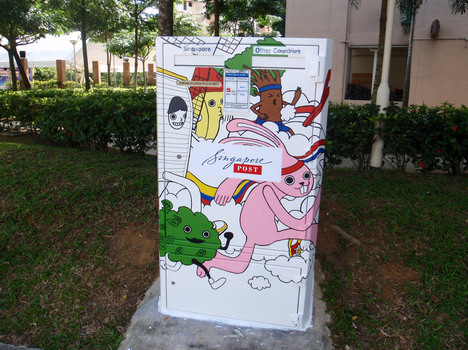 Frayn Yong
STAMP 02 is a posting box painting competition and it is a follow-up to the hugely successful STAMP first organised in 2007. STAMP 02 celebrates the Arts, our City and Singapore's winning bid to host the Singapore 2010 Youth Olympic Games. The intention of this competition is to bring art closer to the community and show them that art is indeed accesible to everyone.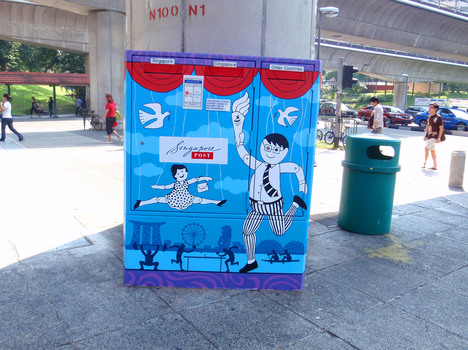 Kwek Jea Chang
How does STAMP02 differ from STAMP01?
The 40 selected locations for STAMP 01 were concentrated in the city center and paid homage to the areas of Business, Shopping, Civic and Culture. For STAMP 02, we are showing our support for the Youth Olympic Games and the 40 locations are located in the vicinity of sporting venues for the Games. The winning bid to host the Games is significant as Singapore is being recognised to have the caliber to hold a sports event of such magnitude.The spread of locations for STAMP 02 covers most parts of Singapore and allows greater exposure for the project.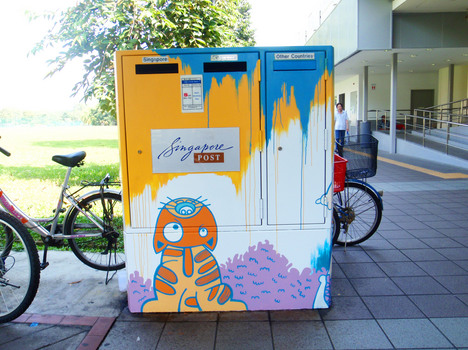 Sheryo Ang
Why post-box?
Everybody has a certain affection towards their favourite posting box and it is this affection that adds an additional level of purpose to the project. Street lamps are ubiquitous as well but people do not have a personal connection to them and painting them would not be as meaningful as painting posting boxes. Posting boxes are also very widely distributed and they are are accessible to everyone.
How relevant are post-boxes in today's world of emails and IM's?
Emails and IM are indeed very effective ways of communicating. They are instant and you can do so much more than just write text. However they can never replace the joy and excitment of receiving a hand-written letter. Hand-written letters take time and effort to send out but the receiver knows they are penned with affection. Such personal touches cannot be recreated on a computer.
Will we see a STAMP 03?
STAMP is a very meaningful project and if the opportunity arises, there will be a chance of STAMP being a recurring project.
Text: Adib Jalal
Photos: FARM

[Help wanted]
Inviting volunteer staff / pro bono for contribution and translation. Please
e-mail
to us.