A biennale that was once thought to be impossible carried it through.
Commemorating its 10th anniversary, the original plan for Biennale de Lyon was to have it led by the doyen curator, Catherine David, until she suddenly stepped down only several months before the opening. The prominent French international exhibition could not be cancelled or postponed. Thus, they made full use of their worldwide network and selected Hou Hanru who has experience curating over 20 biennales. His goal was not to become Katherine David's successor and he curated an international modern art show in only a few months. Something that many art people thought would be impossible.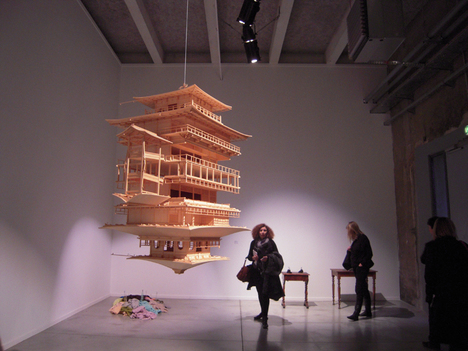 Takahiro Iwasaki – Reflection Model, 2001
Hou Hanru, a San Francisco based Chinese curator, takes interest in the function of modern art and cultural policy in urban space as well as how boundaries between public and private are drawn. He is one of the highly sought-after young international curators on par with Hans Ulrich Obrist and Daniel Birnbaum. He named the 10th edition of the Biennale of Lyon "The spectacle of the Everyday" which arouses "Society of the Spectacle" by Guy Debord.
Based on this theme, he categorized 4 chapters and each was captioned in different colors.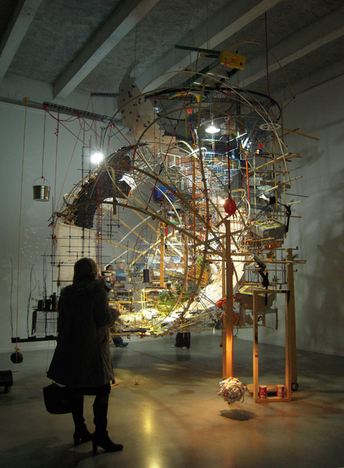 Sarah Sze – Untitled (Portable Planetarium), 2009
"The magic of the thing"
Michael Lin is known for coming across space with kitschy oriental motives printed on wallpaper. He purchased all the items from hardware store in Shanghai, and installed each container box like museum archiving according to shape, colour, and function. Sarah Sze's installation involves sheer fragile coincidence putting various daily objets together as usual.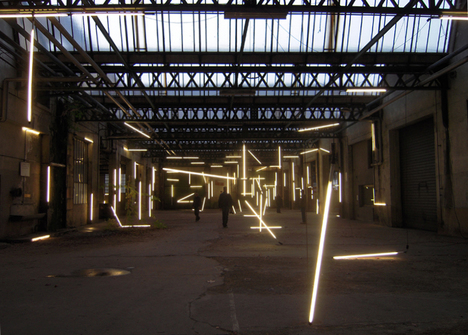 Pedro Cabrita Reis – Les Dormeurs, 2009
Pedro Cabrita Reis, who brought a neon installation occupying the 800 square meters site of a ruined reinforced concrete building. And a mass of sculptures by Takahiro Iwasaki made a deep fine poetic impression. Exactly touched by "The magic of the thing".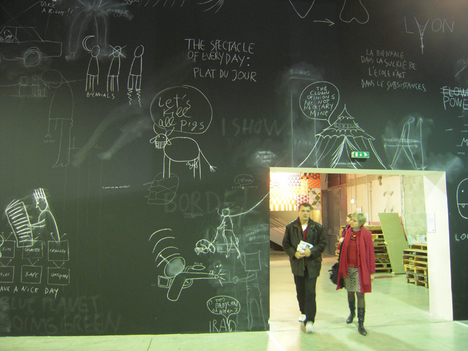 Dan Perjovschi – installation view
"Celebrating the drift"
In this chapter, video installations and photo images by Adel Abdessemed, Oliver Herring, Yilin Lin and HeHe, among others, capture absurd situations in familiar daily street scenes that somehow inflame viewers with a realistic fear while they are amazed and entertained witnessing and feeling other people's affairs. A blackboard on the wall is Dan Perjovschi's peculiar work. Little by little but everyday, he added some messages on it, which contained direct social criticism comically and made a great impression.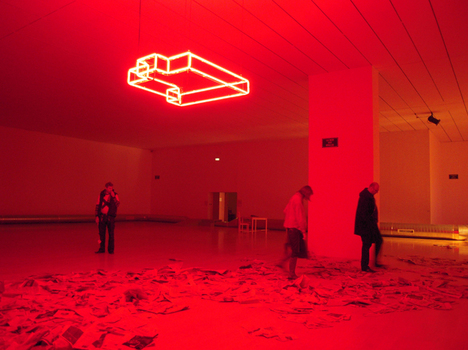 Sarkis – Le monde est illisible, mon coeur si, 2002
"Living together"
Katerina Seda, who focused on a town or certain community as a social unit, and Sarkis's work are remarkable in this chapter. Nevertheless, Alan Bulfin's work had the most impact. In his video work, a girl playing with other adolescents on a lawn in a quiet residential quarter dashed some liquid over herself before standing on a camera. Then her brother or her male friend threw something at her and her body went up in flames while all the kids were romping around her. Finished in low quality like they were shot with a cellphone camera or home video, that made his story ring true. And you will be compelled to rub your eyes in front of his work.
"Another world is possible"
monir fatmi's copy machine take over with hanging black long hair like video tapes and Yangjiang Group's exotic football gambling house were all regarded as utopias, however, they gave inspirations to imagine another world with new public order while looking at our modern society with critical eyes in this chapter.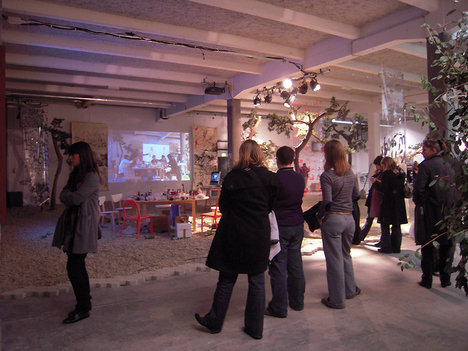 Yangjiang Group – The Pine Garden-As Fierce As A Tiger, 2009
In spite of a super short period for preparation in 8 months, nearly 60 artists were asked to participation and more than half of the works were newly created for this biennale and offsite exhibit. Based on the idea of a spectacle discovery in an ordinary day, Hou Hanru took notice of the relevance between the actual world and art, and completely pushed it out encouraging artists to get into the local community in order to link this biennale to this bourgeoisie's city, Lyon whose outskirts were also known for its sheer volume of immigrants and unsafe neighborhoods.
Even though art and media industries in France criticized this biennale saying it was "Too theoretical and nothing was appealing", "Only works in conformity with social morals", "Lacking an objective point of view and thoughtful approach on social change", Hou Hanru was able to bring out Lyon Biennale's characteristic art work from both "mainstream" and "alternative" as well as modern artists' situation and relation with society in indefinite border of globalization.
As he refers to it, "An exhibition itself is not my goal, there should be a stage where diverse ideas and controversies are presented." even though some said it was hypocritical and way too simple it still seemed that this biennale accomplished his one and only aim.
Biennale de Lyon 2009
Date: 17th September 2009 – 3rd January 2010
Place: Lyon Museum of Contemporary Art, La Sucriere, Foundation Bullukian, Bichat Warehouse
http://www.biennaledelyon.com
Text: Kana Sunayama
Translation: Yoshitaka Futakawa
Photos: Kana Sunayama

[Help wanted]
Inviting volunteer staff / pro bono for contribution and translation. Please
e-mail
to us.