Seeks out some new interpretation on manga and animation.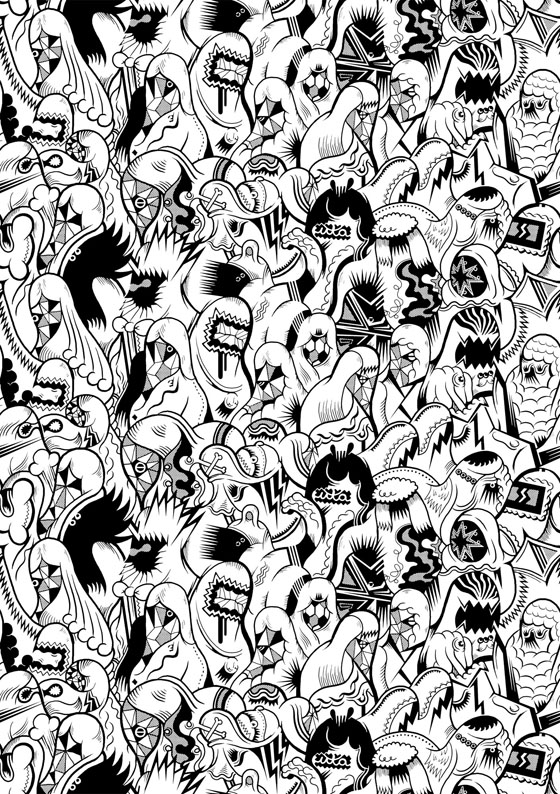 Fantasista Utamaro, he puts his hand to the works that send out eye-chatchingly pop and intense colors. His works that are strongly influenced by manga cover the whole fields of Illustration, textile, graphic, and visual image. In his solo exhibitition "COUNTERSTOP" at PUBLIC/IMAGE.3D that kicked off January 29th, his diverse boundlessly spreading patterns focusing on textile works succeed to create Fantasista Utamaro's microcosm.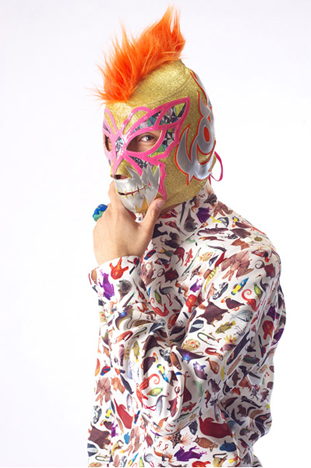 Please introduce yourself.
Born in 1979. Having experiences as a freelance designer, office worker, and again freelance designer, I currently work as a cartoonist, illustrator, textile designer, graphic designer, animation director, as well as represented by a creative management, A/M, in order to expand my activity on a large scale. As a member of manga creators group, mashcomix, I'm involved in the activity such as manga, art, and design.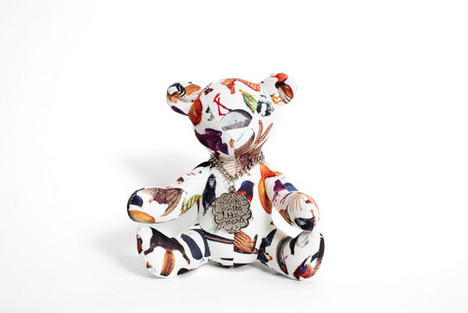 Your broad productions cover manga, illustration, textile design, graphic design, animation, etc. Please tell us how did it result in current situation?
I grew up watching a lot of anime and manga in my childhood. That created the tide, I think. I really liked drawing and wanted to get involved drawing business in the future. Therefore I went to an art university. It was just a coincidence that I passed the textile course. Sometimes I got some work like CD cover design in school days, and it led me into the graphic design industry after graduation. I used to work for some production company and advertising agency, however, I chose to be a freelance seeking for free expression.
Could you tell us about your textile work "Utabric"?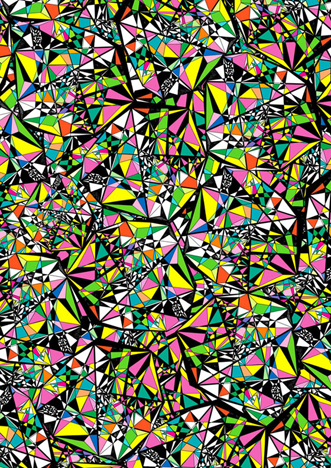 Utabric "BAKI2OPTICAL"
I made it for my wife's wedding dress. It is an image of asymmetry kaleidoscope.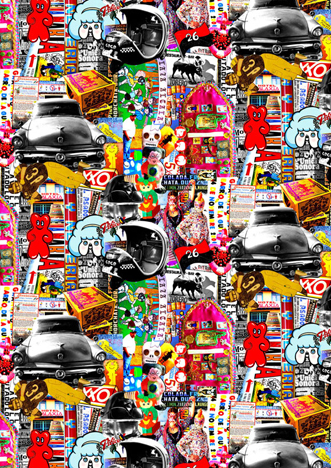 Utabric "MEXICO : EN LUNA DEMIEL"
It is a collage of inspired images during my honeymoon trip to Mexico. A decent from my memory.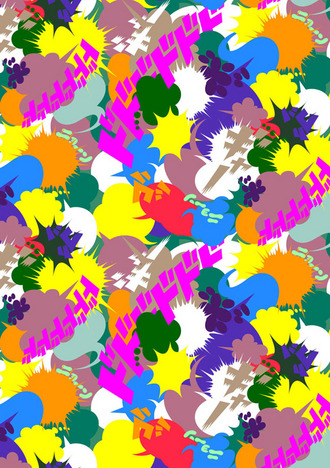 Utabric "MANGA CAMO"
I thought it was fun to make a camouflage pattern with speech balloons from manga. I cannot tell what I camouflaged… And it carries an image to create one big object that consists of small ones.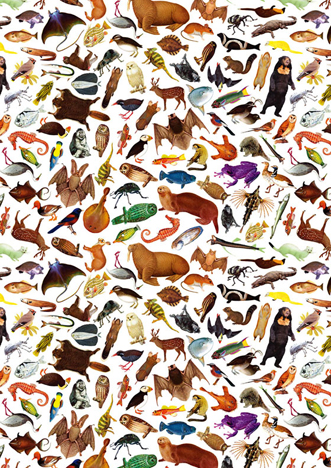 Utabric "ANIMAL"
I put it into a form from my idea in my wish list. A little surrealistic and attractive botanical illustration on the cute side.
Regarding your solo exhibitition "COUTERSTOP" at PUBLIC/IMAGE.3D, please tell us about the show.
Since textile design is the main theme of the show, I prepared trying pictorial approach to textile. Patterns are infinitely expanding and increasing. You won't see these boundless increase on display, however, each image lasts for ever. This state is similar to count stop of game score counter and so this explains why I put this title for the show. All textile are used in various objects.
Having a motif with diverse cultures like music and anime for this show, you collaborate with a fashion brand "GALAXXXY" and an idle group from Akihabara, "Dear Stage". How does it go?
I designed a stage costume for Dear Stage with GALAXXY. We plan to have a special live performance by Dear Stage who will put on the costume at the reception party . And I also designed T-shirts collaborating with GALAXXXY.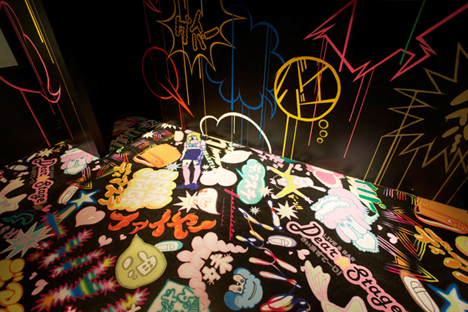 And talking about collaboration works above, how did it start?
I became a big fan of Dear Stage since I had a chance to work on their interior design 2 years ago. I had a keen interest with GALAXXXY for a long time. I was hoping to collaborate with them who contain an apt sense of the Tokyo culture. And I got their consent for this proposal as I was offered this show.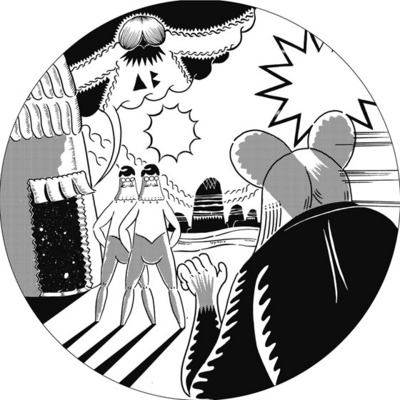 It seems your works are based on expression from manga. How did you start building on manga expression?
Manga is an fantastic culture representing Japan. I believe that my generation is influenced by it more or less. Taking it creatively, I seek out some new interpretation on manga and animation my own way.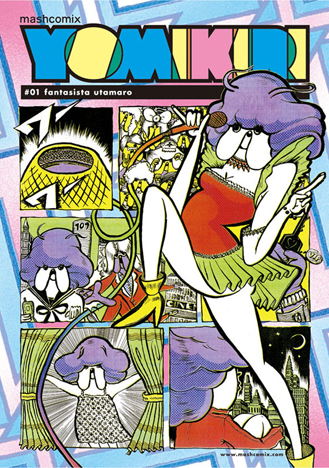 mashcomix YOMIKIRI Vol.01
Please tell us about an activity on manga creators group "mashcomix".
It began at a school festival in 1999. Though I may sound repetition, I have worked without staying only in manga magazine, under the concept that a group of generation, who grew up influenced by manga and animation, would build a new interpretation on manga and animation. The example work is "mashcomix house" that turned an entire house into manga, and an interior decoration for a restaurant "TOKYO BAR".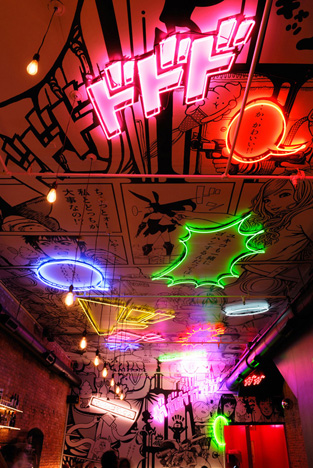 Tokyo Bar
What is the best inspiration from manga?
I would say "Kiseiju" (Parasyte). It gave me a big impact on my junior high school days with a fresh idea on ecology. My first manga series (published only in school) was "Kisei Achako" that completely came from "Kiseiju". A story about a girl who parasitizes to somebody's right hand. That was a quite brutal story. Each character is non-fictional and real teachers or students at school. A scary delinquent boy was also up and did something stupid and so on.. Overall, it was pretty good as other say it is except a summons when it came out.
Is there any other inspiration on your work something like object, person or event besides manga?
My memory. I try to create things making full use of my memory. Everybody has his own experience and so do I. I intend to be conscious of my own thought strongly and hoping to apply it to my own work.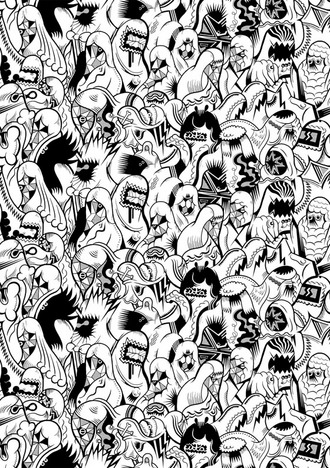 Utabric
What do you plan to challenge ahead?
I would like to do creative work foreign basis.
Please share with us about your upcoming schedule.
I will participate an art festival "Kuala Lumpur Design Week 2010" this May.
Fatansista Utamaro "COUNTERSTOP"
Date: January 29th – February 14h, 2010
Open: 12:00 – 19:00 (closed on Mondays)
Opening: January 29th, 19:00 – 22:00
Special performance: Dear Stage
Place: PUBLIC/IMAGE.3D
Address: 1F 2-32-2 Ikejiri, Setagaya-ku, Tokyo
Phone: +81-50-8882-0087
Admission: Free
http://www.public-image.org/3d/
Text: Mariko Takei
Translation: Yoshitaka Futakawa

[Help wanted]
Inviting volunteer staff / pro bono for contribution and translation. Please
e-mail
to us.