Creator's Park vol.1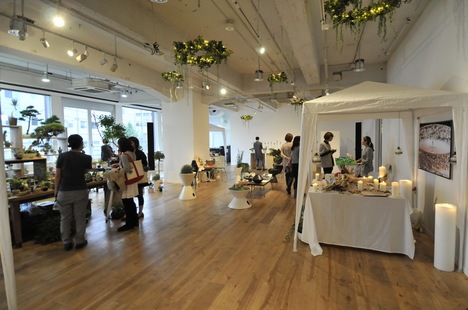 For 3 days from Oct. 22nd to the 24th, "CREATOR'S PARK vol.1" took place at CLASKA in Meguro. The commemorative first event used "green" as its theme. It was a great success including work exhibits, sales and presentations by Japan original creators who carry something to the next generation. Let me introduce some noteworthy pieces from the site.
First, "Let's enjoy on the rooftop of Claska!" An agricultural gardening group "VALLICANS" brought a roof garden into an open space. A new model for a rooftop garden named "community garden" was a collaboration with WEB TV "plants+", VALLICANS is a farmwork visual group who do rice harvesting. A stylist ,Fumihiko Okabe, leads the members who have both various backgrounds and buzzcuts. A functional and fashionable coordinate proposal for farm working was shown along with original T-shirts that featured prints of vegetables harvested in each of the 12 month and towel with their logo on it. They presented a fresh gardening idea with a messenger bag for guerrilla gardening full of functions and also agricultural products for sale including rice harvested by VALLICANS members.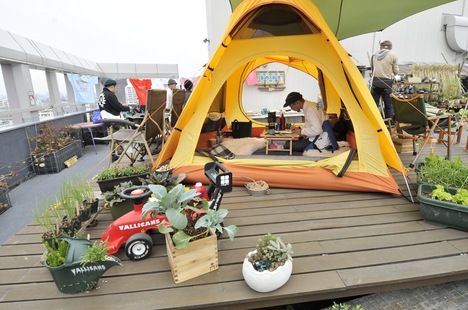 Also, a sneaker planter from "2-tacs" was formed into the shape of a NIKE AIR or an ACG sneaker then baked and colored in an original way. The idea to transform into a planter, its real molding and coloring made a great impression. Besides that, an open-air garden cafeteria, succulent plants for sale and a tent for outdoor furniture style on a rooftop all had magnificent styling and suggest a way to enjoy a community garden splendidly under the blue sky in Autumn.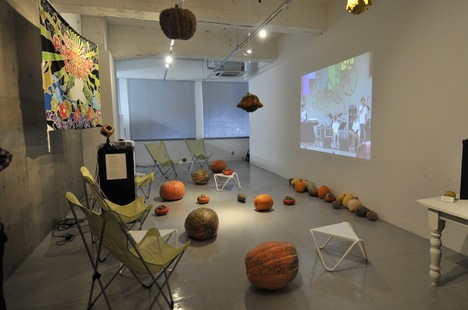 On the 2nd and 3rd floors at the site, "plants+" shared topics to live with green through moving pictures that have a concept of an organic lifestyle living with green. They had a special screening about their process and activities. Since May in 2009, plants+ kicked off WEB TV with Lucas B.B. and Seikou Ito as the central figures. Originating with a lifestyle magazine called "Planted" that focused on a life with green, it became a totally brand new media full of moving pictures that should've been around before.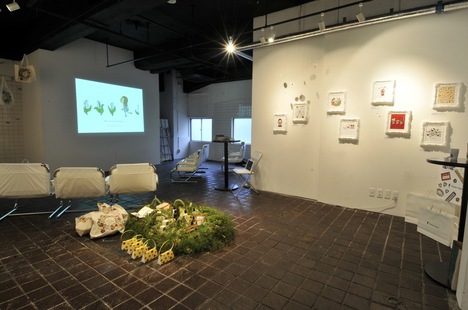 This was his first solo show for a remarkable character creator, "tarout". "Fine Jewelry Gourmette-chan" for Dior and "run run ran" for Nike+ are among his masterpieces along with his illustration on the "Caramel Eclair Latte" cup for Starbucks that is about to decorate this holiday season.
Tarout is known for to cherishing his characters' profiles and background stories for his creative activities. The secret of his lovely character will be seen in his detailed creative process of work.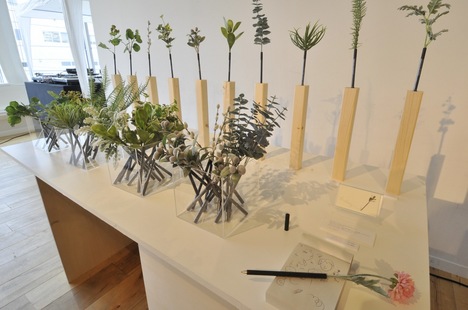 The "bonboog" is a variety store brand by "SALCO" targeting adults. They have a fresh point of view, relating the slight sways of a flower to a pen writing. That became an idea for "botanical pen" which is a pen with an artificial flower on top. There is a floral series featuring vivid anemone and queen lace with tiny flowers and also herbal series including subdued moss green dusty miller and Boston fern. And they are rising in popularity among young female customers. A new release in 2009 was a botanical pen with a real dried flower. It must be a topic of conversation at a wedding ceremony or reception desk. It helps just ordinary writing to be a little something special.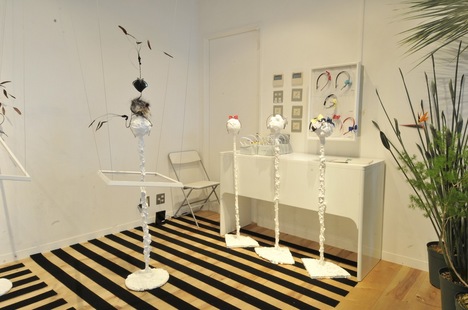 "NOBUKI HIZUME" is a talented new comer introduced in media including "Souen" magazine and even recognized by the Agency for Cultural Affairs. Currently, he has studied in Paris since 2008 as a member of the Japanese Government Overseas Study Program for Artists. The so-called emerging head piece creator's works, unlike just another consumer product, aim to be like an eternal living organism, his presentation is intended to be an object d'art as it is. Its beautiful figure embodies both formative and architectural elements, and its originality catches a viewer's mind at sight. There is no design drawings in his making process. He is engaged in making a body while touching and expanding its material. A head piece that never makes up to a user goes in and out of art and fashion fields with agility.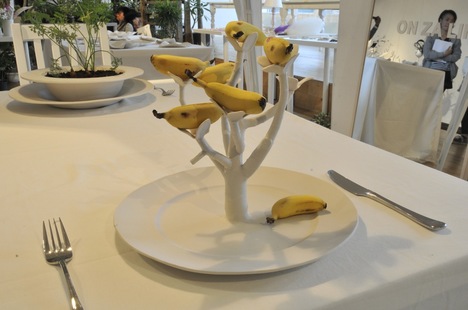 Lastly, let me introduce "ON ZA LINE". Their concept is focused on what brings a user brings to their product rather than what they make. These duo use a ceramic material and turn it into "leaf dish" reflecting the veins of a leaf clearly, such as a moss laid ceramic ring or a leaf dish plate which contains plaster casts of leaves either taro or Farfugium japonicum. If you would like an organic fresh vegetable, they recommend us serving a whole table with their planter "The Garden as Science Fiction". That is the way they design seeking a life with green.
CREATOR'S PARK vol.1"green"
Date: October 22nd - 24th, 2009
Place: CLASKA
Address: 1-3-18 Chuocho, Meguro-ku, Tokyo
Tel: 03-3719-8121
http://www.creatorspark.info
Text: mina
Translation: Yoshitaka Futakawa