Known for his brands BOTANIKA and TAISHI NOBUKUNI, the fashion designer Taishi Nobukuni explores his creativity with high quality tailoring, attracting people with his overwhelming presence as a designer. Having studied the traditional British bespoke tailor under Charlie Allen and trained under John Galliano, his technique has been fully exercised on his brand TAISHI NOBUKUNI, making good use of traditional techniques with his own way of arranged way of tailoring. SHIFT interviewed the emerging designer Taishi Nobukuni at his 2010 SS collection.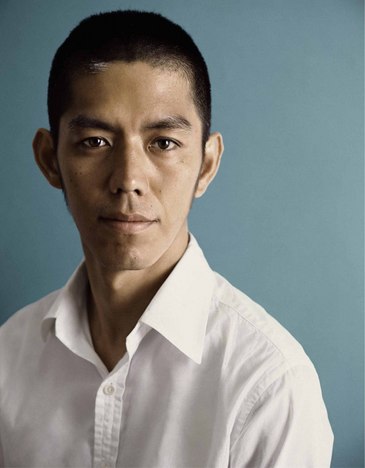 You created BOTANIKA, a brand expressing comfort which many people would feel, out of TAISHI NOBUKUNI, a brand pursuing your personal preference. Please tell us about the change in your vision in fashion.
At some point on, I came to experience several different things sequentially including exercising yoga, surfing, vegetarianism, and practicing Buddhism. All that changed my life and sense of values. Thinking about the entire background rather than the foreground and details of things, I launched BOTANIKA since my new interests inspired the transition to something beyond personal intention. Putting it briefly, it meant I had grown up.
The consciousness could be divided into 2 different types: one is the conceptual understandings intellectually generated by building knowledge of the differences of things and the other is the sympathetic and intuitive awareness based on the integrity felt by one's heart. The series of lifestyles I came across was to link to restore the latter intuition and sympathy. Through the change, I had an experience as if I held a conversation with trees, feeling an awareness beyond verbal communication.
It has been said that when dyeing organic cotton, it is difficult to achieve enough color. How do you approach the original dyeing for items of BOTANIKA?
What is toxic about dyeing is "mordant" a substance to set dyes rather than dye itself. To keep from using mordant, which contains high metal component to stabilize the natural dye, I use artificial "reactive dye". This represents a good example of a misunderstanding of the idea, natural=nontoxic. It's something like an eco bag made with chemical fertilized cotton. For print items, I tried various attempts using egg shells and squid ink as mordant. What I want to try in the future is to bleach without using bleaching agent.
How did you get interested in tailoring?
I get excited just looking at lapels for collars. The interest could be something that I keep deep inside me. I am intrigued most by the sculptural form among other elements of clothing, and it could be said that lapels are one complete format expressing the form for men's fashion.
The late Kazuhiko Kato, a Japanese musician and producer, dressed fashionably. It was generated from the reliable relationship between Mr. Kato and one tailar for a long time. The tailor is totally familiar with the person knowing everything from his favorites to his body size. The more the tailer knows about a wearer, the more the wearer dresses fashionably. I was very impressed by his perfect outfits and his own sense of coordination.
Read more ...

1
2
[Help wanted]
Inviting volunteer staff / pro bono for contribution and translation. Please
e-mail
to us.