Living in a big city like Barcelona that has being banalized by the design boom, its difficult to find someone who stands up and takes the risk of giving the opportunity to show or promote the most interesting proposals from the local scene. This is acheived in the old D.I.Y style.
Barcelona is a expensive city where there is an anarchist group of young talented people creating new situations in the art field without the awareness of the cultural institutions. However this subterfuge group of artists are having it more and more difficult to show their work.
This is why a place like DUDUA is a little universe to catch up with what is really happening nowadays in the city. But it is still a risky business; an act of courage by Alicia (the owner) to have an space like this and its the prefect excuse to make this subculture not disappear.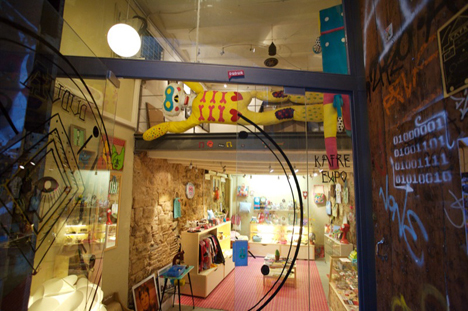 During the last few years there have being a few other attempts to run new spaces for the underground scene, but most of these have being closed due to economic problems. It seems that DUDUA have kind of found the formula to keep going, supported by the same artists they promote and it has become a place were you can find jewels that you cannot find anywhere else.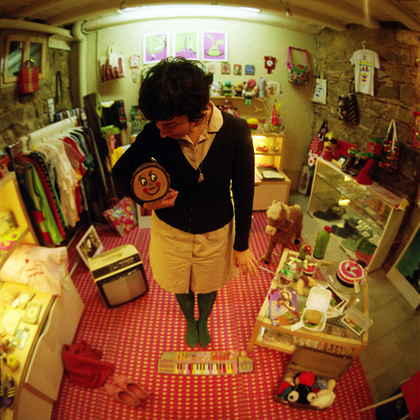 DUDUA is a shop, one of the most charming ones you can find. Full of D.I.Y products. hand-made clothes, bags and purses, fantastic home made jewellery, there´s also some toys, lots of nice things for home, a great selection of books, dvd`s and records, and of course Original art.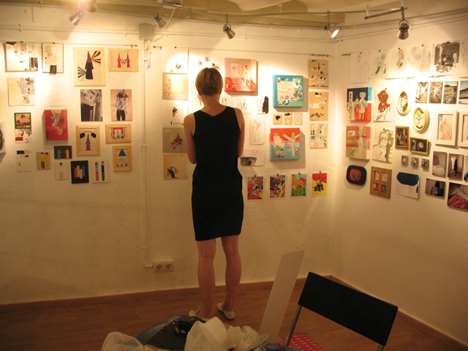 The shop is a gallery as well, showing the mixture of works from local artists and bringing some fresh of international talent to show. Barcelona is a city where locals are the one's who live and work in town and not just ones who were born here.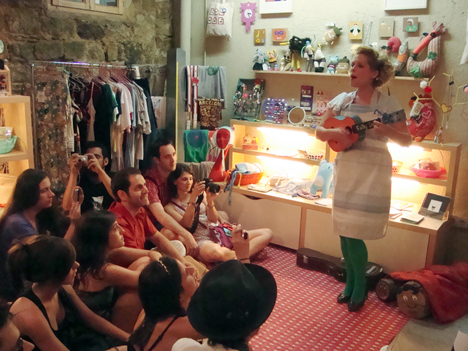 One of the most interesting parts of DUDUA is their love for music, so the shop has also become a venue to present concerts from the best bands in town and international artists too. Bands like Las Burning Ladillas, Sibyl Vane, Uni and her Ukelele or Animal Hospital have already played in DUDUA.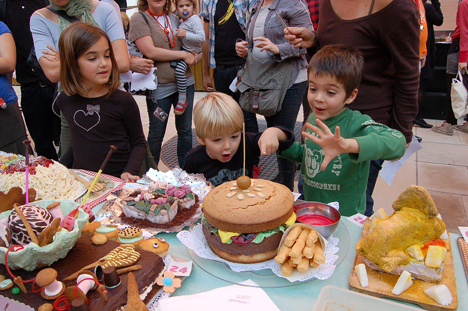 The public participation is also a important point for DUDUA so they make several workshops for children and adults… most recently the Sonar festival asked them to do a workshop for the first edition of Sonar Kids.
And one of the things that most surprises me of all its the incredible FANTASY Cake Contest they hold. This has become so successful that its already their 3 year in a row that they do it.
But im sure i must forgot something about DUDUA, so I ask Alicia (owner) a few questions about it.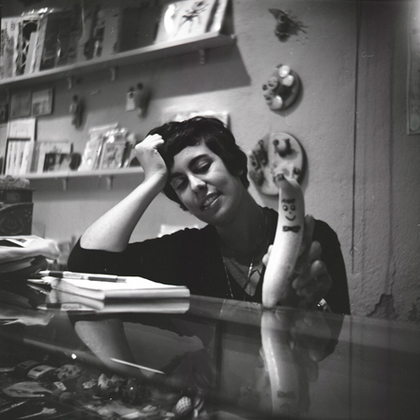 Hey Alicia, how did DUDUA start and when?
I've started in 2006 after I finished my studies. Me and my friends were doing a lot of stuff and it was very difficult to find a place to sell or show our work here in Barcelona.
I had the idea of opening an art space and store on mind for long time and that was the time to do it.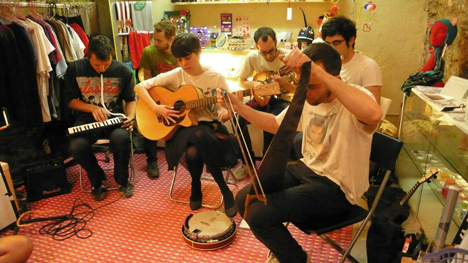 What does the name mean?
If you look for it on the dictionary Duduá means Doo Wop that is a style of vocal-based rhythm and blues music but in fact I was looking for an easy name to remember and that was the same in Spanish and Catalan. And if I have to be honest I didnt want to think about the name very much.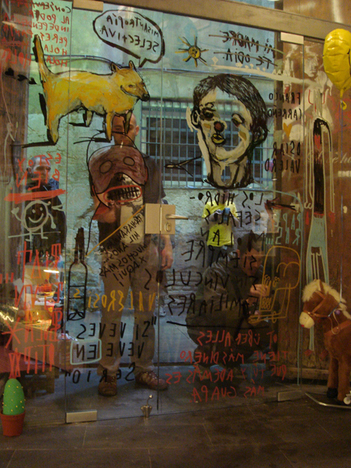 In the past 4 years many independent galleries, bookstores and shops have shut down. Is is difficult to sustain DUDUA?
Yes, Its very difficult. Before the economic crisis was difficult and right now is even more. But we have to keep doing things every month.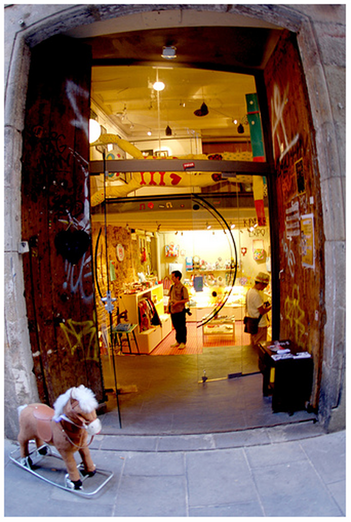 What are the upcoming projects in the art, music, and shop?
In Octobter, Jordi Ferreiro, member of the artistic duo Comte d'Urgell is having a solo exhibition at the gallery. Also we're starting crochet and amigurumi class next week and we're designing new workshops for winter with some local artists.
In December we'll organise a craft fair in a popular bookstore downtown and I'm very excited about it.
Thanks so much and long life to DUDUA…
DUDUA
Address: c/Rossic 6m Barcelona
Tel: 93 315 04 01
http://www.duduadudua.com
http://duduadudua.blogspot.com
Text: Julio Cesar Palacio from Panopttic

[Help wanted]
Inviting volunteer staff / pro bono for contribution and translation. Please
e-mail
to us.