"It´s a wonderful challenge to try combine our personal life and work".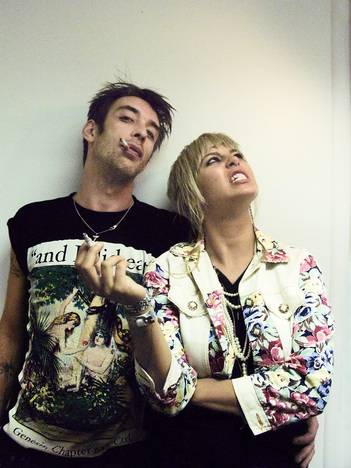 Photo: © Victor Moreno
First time we met each other was in Stockholm. A few months ago the band came over with the tour of Face Control (Sub Pop, 2009). After a talk, we realased about we got few friends in common, including the guys from super fresh finish brand CTRL.
Afterwards we have been in touch and then a new opportunity called Flow Festival showed up. Back to Helsinki to play there we couldn´t miss this new chance and do some promo material for the band. Alexei Perry and Dan Boeckner is a rad couple carrying warm hearts. At Flow fest we got lots of fun. The festival and its organisation was great. It´s located at Suvilahti, a Power Plant about 10 minutes walk exit from the city. Festival drew 40 000 visitors to Helsinki's Suvilahti during four days which matched its high expectations. The event expanded from that of last year's both in terms of the festival area and duration. All of the four days of the sixth Flow Festival drew a nearly sell-out crowd, and both three and two-day tickets were sold out in advance. The Line up was rather well, including Grace Jones and local band Joensuu 1685 that in own words of Dan they ended up as best band of the festival.
But we also got time to talk about their tour, U.S, Canada and Szechuan food.
What came first, marriage or band?
They came roughly at the same time actually. I think I proposed to Dan about three days into our love affair and, simultaneously, we started working on each other's projects.
I think we are given the opportunity to express different opinions on our shared experiences which is a unique facet of being both married and creatively coupled. We may travel to the same places and witness the same things but our takes on this world are so unabashedly different which elucidates a wonderful challenge to try combine them in our work.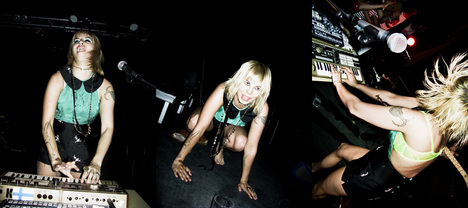 Sub Pop instead to a major ?
Well, the folks at Sub Pop came to our wedding and gave us salad bowls and beautiful gifts. It is a rarity to have such meaningful relationship with your label so I feel very lucky for that. We have argued on many things – as all good friends do – but I have the freedom to be frank and angry and they are frequently supportive. And when they are not, we manage compromises.
How is currently music landscape in Canada?
Perhaps it isn't in the cities of Canada that most of music really emerges. Considering that most of Canada is made up of dumpy hollow strange little rural towns and most of the cities are made up of the people who chose to escape those places, I would argue that the heart of Canadian music is born in the more remote and humble wild loosely populated hamlets and villages. I spent many of my years in a tiny town with pump wells and dirt roads and no traffic lights called Salem and Dan grew up in a mostly-abandoned logging town on Vancouver Island called Lake Cowichan.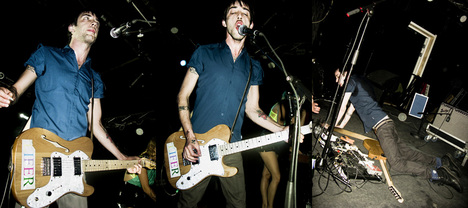 How are the connections for bands between U.S and Canada and how Europe looks like from that perspective?
I'm not sure what connection exists between bands in America and Canada exactly, other than the fact that bands frequently tour between the two countries and sometimes share labels. Both countries seem far too large to me to try to really draw parallels, between cities or otherwise.
You hint at the fact that Canada and the US are "barely no different," but I don't think you would find those words uttered from either side of the North American border. The differences are substantial actually. I don't particularly feel as though I am part of "the biggest industry in the world;" instead I feel that I am part of a flawed nation that I rally against frequently in my own way – as likely I would feel in any nation in the world.
Including all of the ones in Europe. There are problems everywhere.
How is Montreal in particular for a musician?
We happen to live in a really creative area of Montreal called Mile-End; it is full of artists and musicians and writers and families from all over (particularly Poland, Italy, Haiti, Israel, Greece, Portugal and french-speaking African countries.) I feel incredibly lucky to live there. It is abuzz with energy.
As for bands there are a lot of great metal bands that don't get enough acclaim and there are a lot of Quebecois Pop that get far too much. And there are a lot of wonderful musicians that we're friends with – folks in The Witchies, Silver Mount Zion, Arcade Fire, Think About Life, Megasoid, Jerusalem of My Heart, Sam Shalabi just to name a VERY FEW. And as for venues, I will always most treasure La Sala Rosa because we got married there. Also: Casa del Popolo, Il Mitore, Zoobizarre, Metropolis are all great. And as for rehearsal spaces, people really tend to share all their resources. That's one lovely thing about Canadian mentality: we grew up believing in a sort of social democracy of sharing everything in our communities and there's very little competition – as would exist in, say, Brooklyn.
About your persona side. How is an average day into the live of Alexei and Dan in Montreal?
Hmmmm…. We are very rarely there these days actually but when we are we do a lot of cooking szechuan food, reading big fat non-fiction books, having coffee at Olimpico and working on new things into the wee hours of the night.
There´s a Finish flag adhered on your Korg. Could you let us know more about this romance with Helsinki?
Our love of Helsinki resides mostly in the fact that we have met some of our favourite people in the there. I also love the Finnish nature – black humour appeals to my inmost sensibilities – and the bleak/beautiful architecture.
As for new CTRL stuff, I can only foresee more amazing miracles from them. They are wildly awesomely talented and I am proud to love them.
Flow Festival was great. For Dan it was about the seventh time in the city. We always have good time in Helsinki.
Where are you going after here?
We flight to New Zealand. Then comes Australia and we´ll be touring around Asia, China and go down to play in Hanoi and Bangkok. Then back to Europe, including the UK tour.
Exciting ! You should take advance and film something of that.
Yes, we have in mind to get some footage from all this.
Handsome Furs
Cantact: Sub Pop Records
Address: 2013 Fourth Avenue, Third Floor, Seattle, WA, 98121 USA
Tel: (206) 441-8441
http://www.subpop.com
Text: Victor Moreno
Photos: Victor Moreno

[Help wanted]
Inviting volunteer staff / pro bono for contribution and translation. Please
e-mail
to us.