In 2009, Linz will be a capital of culture and a host within Europe.
A motto frequently associated with Linz, the capital of the province of Upper Austria and the country's third largest city, is the short rhyme In Linz beginnt's – meaning, literally, that Linz is the beginning of all things (let's not get into the less tasty details that would mean telling you all about how this rhyme is only the reply to another, previous version of In Linz stinkt's – Linz is stinky – which worded the formerly catastrophic smog-related situation in this industrial town, thanks to ambitious air cleaning measures now a thing of the past however!). Even though the said motto might represent a somewhat too ambitious way of viewing things, one can only hope that by entering the EU's rotating programme of Capitals of Culture, this regional centre will reach a greater degree of visibility and turn into a regular destination on the travel maps of truly committed friends of high culture.
As a matter of fact, ever since I got registered as a cultural journalist at the PR office of Linz09, I have received tons of information concerning a vast variety of theatre and music festivals, exhibitions, special activities organised around town and so on and so forth… Indeed, so many events take place throughout the year that I have seriously been pondering over the impossibility of drafting a summary review of Linz09 at all. And yet, after taking a closer look or two, and paying the city that's only a one-hour train ride away from Vienna a visit, I picked some favourites that I would absolutely like you to know about.

© VS 43/Renate Gratzl, Gerda Kocher
Since Public Art is one of the areas I specialise in, I was very happy to see that Linz09 – unlike many other Capitals of Culture, which frequently treat this genre all too superficially – dedicates a lot of attention to art projects situated in public places. An initiative that focuses on different parts of the city month after month (and bestows the title of "cultural capital district of the month" on each one of them) invites visitors and inhabitants of Linz to explore the town and encounter very beautifully conceived and unpretentious art projects driven by the genuine commitment of the people who live in these quarters.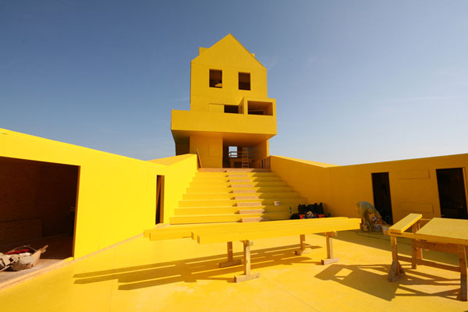 Bellevue, The Yellow House. © fattinger, orso, rieper
So, in July, the project Zsammsitzn (Sitting Together) aimed at reactivating social dynamics in the courtyard of a residential building through a range of activities that were offered to the residents – and, indeed, to everybody else who wanted to come. In addition to such multi-faceted neighbourhood projects, and there was a great number of them, a temporary house was erected in an artificial landscape park – The Yellow House or Bellevue has been a very popular meeting point from June to September, with cultural soirees, cooking events, improvised talkshows and many other events taking place.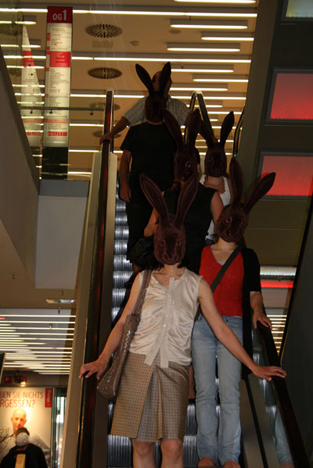 © Kunstraum Goethestrasse
Equally interesting are the initiatives powered by the skills of everybody at Kunstraum Goethestrasse, where a series of events and exhibitions entitled City of Respect has been going on since 2007. The so-called Sick Rabbit (Der Kranke Hase) brings up the topic of exclusion of individuals that do not function according to a set of common rules and norms. The appearance of persons wearing rabbit masks all over town (the masks can be borrowed in Kunstraum Goethestraße or in a temporary tree house in the Volksgarten gardens) are a really entertaining contribution to the year that sees Linz as a Capital of Culture (these appearances are documented on the project blog /).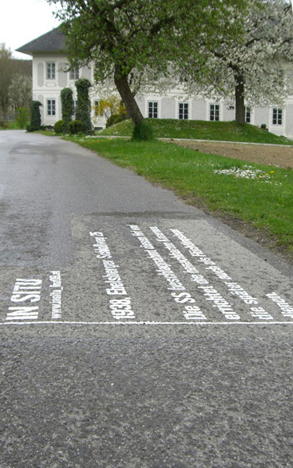 © Dagmar Hoess
A third project I find particularly convincing and, indeed, unforgettable, is In Situ: a total of 65 spots all over Linz are highlighted with generous stencil graffitis sprayed onto the ground. These – disturbing, for some – aesthetic elements and, really, mementos are explicit reminders of historical events that occurred on or near these very spots during the terror regime of the National Socialists. Linz was the first bigger city that played an important role in the life of Adolf Hitler, who was born nearby and came to Linz before trying his luck as a rejected art student in Vienna. It was Linz he preferred by far to Vienna and for which he had important plans. As a consequence, the organisers and artistic directors of Linz09 decided that they did not want the role that Linz played for the National Socialists to go unmentioned during the city's year as a Capital of Culture, and so they picked up the topic of Linz-related history between 1938 and 1945 in a very open and respectful way. In Situ is one of the projects conceived to render this aspect of the town's history visible and anchor it in the memory of visitors and city users alike.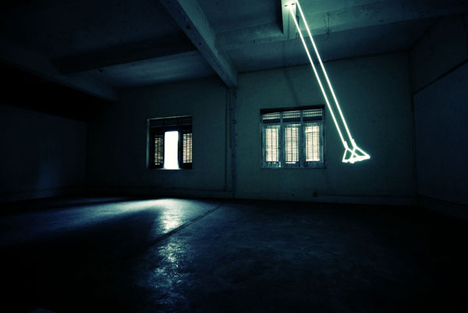 Su-Mei Tse – Swing, 2007, installation view from the Singapore Biennale, 2008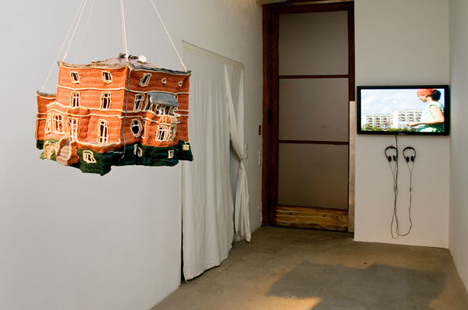 Julita Wójcik – Making things more beautiful, 2007. Photo: Otto Saxinger
Even though it is not the biggest (nor the most expensive) museum for contemporary art in Linz, the OK Centrum für Gegenwartskunst came up with a very good and convincing programme for 2009. First up was the anthological exhibition Biennale Cuvée, which brought together an entertaining selection of positions from biennials all over the world. No need to travel to ever-varying art hotspots if you get this kind of exhibition in the Capital of Culture near you… After that came the show Höhenrausch (High Altitude Euphoria), which is the third part in an exhibition trilogy that expands the museum space and annexes empty shops and shop windows (in 2007) or caves and cellars (in 2008). Works by very renowned artists are on display along a path leading over the roofs of Linz for Höhenrausch (Erwin Wurm, Liquid Loft, Pipilotti Rist, Roman Signer etc.).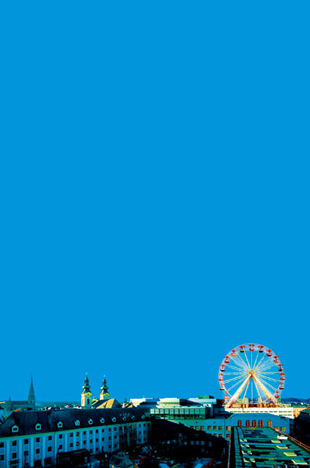 © OK
The landmark element is probably a giant wheel that was erected on the roof of a building and offers courageous visitors the once-in-a-lifetime chance of flying high above the rooftops of Linz. Not to be missed, really (open through October 31).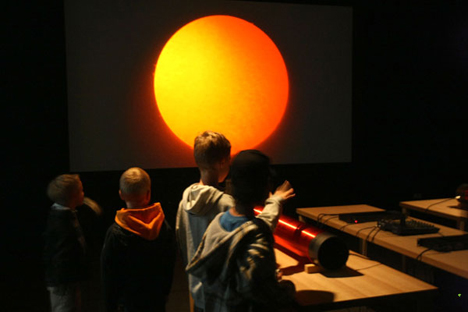 EarthStar: David Haines (UK), Joyce Hinterding (AU), 2009 © Ars Eletronica/rubra
It would probably be possible to write an entire book about the festivities and aesthetic feasts that take place throughout the Linz09 year, yet many a tale has to remain untold. Anyhow, it would be unfair to forget about the city's internationally recognised festival for electronic arts, the Ars Electronica Festival. 2009 saw the 30th edition of the event take place (in the brandnew Ars Electronica centre – a stunning architectural landmark), which was dedicated to the fascinating overall topic of Human Nature and the period of the so-called anthropocene, where the influence of mankind on planet earth has taken on a dimension unimaginable in earlier times.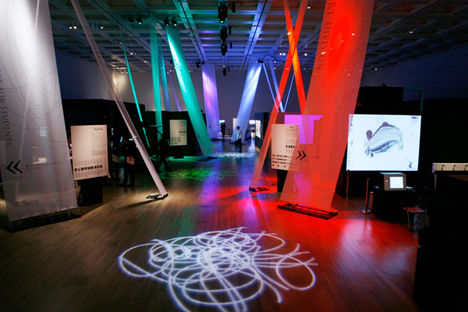 Japan Media Arts Festival © Ars Electronica/rubra
As a new "human nature" may be about to emerge, the Ars Electronica Festival presented its visitors with a unique overview of the current state of electronic affairs. Interestingly, the Japan Media Arts Festival also came travelling to Linz – another great facet of the Austrian-Japanese friendshipt the year 2009 is evidence of!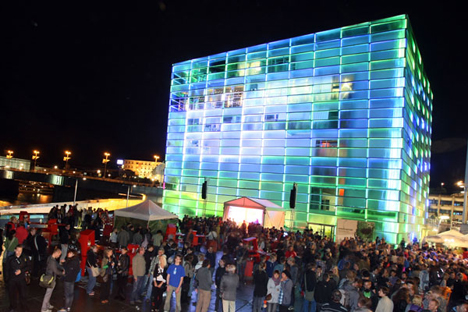 © Ars Electronica/rubra
All in all, and this concerns Ars Electronica as well as the countless remaining events, Linz does appear to be a truly sparkling cultural capital. And it will hopefully not loose all of its splendour, once the days of 2009 are counted…
For all programme information please check out the website of Linz09 and click through to the single events.
Text: Daniel Kalt

[Help wanted]
Inviting volunteer staff / pro bono for contribution and translation. Please
e-mail
to us.