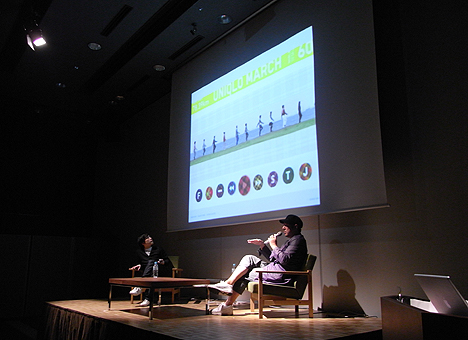 PUBLIC/IMAGE.METHOD Session 4 "Koichiro Tsujikawa x Naoki Ito"
In the next session, Koichiro Tsujikawa, a visual artist working on various fields, such as art direction, MV, CM, and short movie, and Naoki Ito, in charge of plannning and designing in any media from CM and the Web to installation including LOVE DISTANCE, BIG SHADOW and UNIQLO MARCH, discussed the freedom of interactive art.
Though you may associate "interactive" with the words like freedom or instinctive, they did claim that to be interactive should be to put and include restrictions. Ito once thought why a haunted house was interesting, and Tsujikawa said that constant fast-fowards or fast-rewinds make the movie too boring.
These two episodes seem to have no relation, but there's one common conception in the sense of "restriction". Audience only feels what stirs their emotion because of restriction of arbitrary property or freedom. Also in the interactive business, getting this meaning wrong could project improper freedom, which leads to weaker impact of them. It is an unique idea that comes only from creators who study appeal power to users in practical works.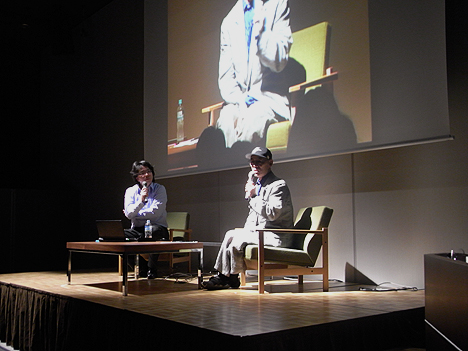 PUBLIC/IMAGE.METHOD Session 5 "Yugo Nakamura x Yoshiyuki Tomino"
The last session was with world-wide interactive designer Yugo Nakamura, and Yoshiyuki Tomino, the master of Japanese animation. These professionals who have poured over the function of movement in animation talked about what exists behind the movement.
In this peried when it's possible to create animation by yourself due to the development of various tools, Tomino sounded the alarm about how many people are swayed by the tools. The splendid creativity alone can make the works accepted by people, and his hysterical works such as Mobile Suit Gundam or Dunbine are no exception. And what supports the creativity is a talent for drawing, which must exist behind the movement.
Yugo Nakamura, who has so far expressed many kinds of movements through the Web as one of the pioneers, paid attention to the animal existence behind the movement. He said that it is the existence of anima what makes the movement affect people's feeling. The idea seems to be reflected in his latest works iida or UT ZOOM! as physical motion pictures.
Now that a multiple of digital motion's expressions became possible, the movement people instinctively feel good and the expression comes to the front. All the same, there are expressions that only the professionals could do and it needs two sensitive nerves to achive it.
The conference took place in a way where all 6 couples from different fields have each talked and seemed to result in great success, in terms of choice of artists, contents, and the conference style. This movement ought to spread all over Japan, and it is the mode people expect. What education and entertaiment will they provide us with next? Don't keep your eyes off from "PUBLIC/IMAGE.LABEL".
PUBLIC/IMAGE.METHOD
Date: May 16th, 2009
Place: Bellesalle Roppongi
Host: ANSWR INC.
Planning: PUBLIC/IMAGE.LABEL
Sponsor: ADOBE SYSTEMS
http://www.public-image.org
Text: Tatsuhiko Akutsu

[Help wanted]
Inviting volunteer staff / pro bono for contribution and translation. Please
e-mail
to us.