Austrian Accessory Designers
"You can never have enough hats, shoes and bags"

was the advice Joanna Lumley aka Patsy Stone fed to the avid fan following of the glorious Absolutely Fabulous britcom. Indeed indeed, we feel tempted to add. So that's why, following a motto of wear-it-well-from-head-to-toe, AUSTRIANFASHION.NET and Shift magazine would like to take you on a tour of the most outstanding and remarkable accessory design studios in Vienna. This comes as another part in our ongoing series of designer portraits realised throughout the Japan-Austria-Year 2009.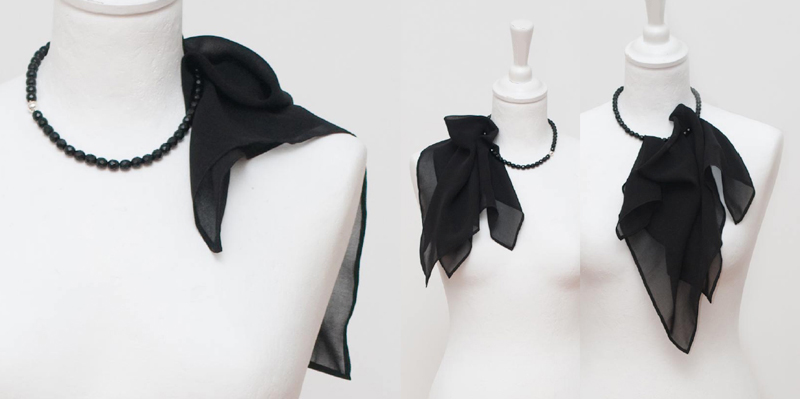 © Sonja Bischur, Photo: David Auner
Sonja Bischur
After studying jewellery design at Vienna's University of Applied Arts and in Pforzheim/Germany (which is of course highly recognised for the outstanding quality of its goldsmiths and watchmakers) Sonja Bischur launched her career as a freelance jewellery designer and created pieces for theatre, film and opera productions as well as music videos. The great creative strength of Sonja lies in the reconstruction and reframing of traditional concepts of jewellery while focussing on the interplay between jewellery and the human body. Her designs are often constructed around materials and minute elements from "outside" the realm of gems and gold, such as textiles, pine cones or little pieces of wood. Her fall 2009 collection is characterised by a lot of wool and shawl-like necklaces as well as the refined use of scarves combined with distinguished-looking black crystal-beads.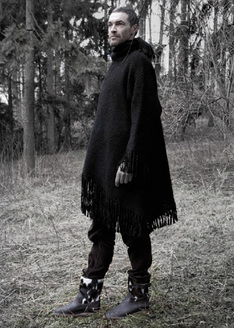 © Rosa Mosa, Photo: Manfred Veigl
Rosa Mosa
The design duo Rosa Mosa is a great insider's tip for all those sextillions of shoe lovers out there. Austrian Simone Springer and Japanese Yuji Mizobuchi met in London where they studied footwear design at the world-famous Cordwainer's college. After joining creative forces and launching their label Rosa Mosa in Vienna, they have rapidly made themselves a very good name among those who know and want to know. Their fall 2009 collection (as most of their previous ones) is characterised by the use of finest leather, the intelligent revitalization of traditional hand-crafting techniques and a superbly thought-out construction of shoes that are made to last.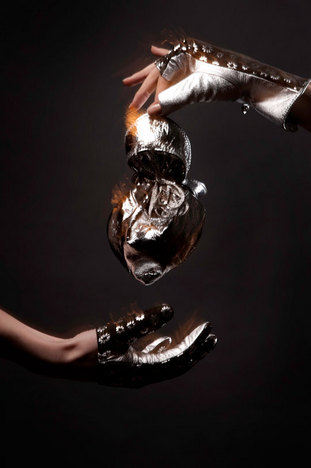 © Nina Peter. Photo; Mato Johannik
Nina Peter
"Fits you like a glove" must have been on the mind of designers Nina Peter and Gregor Pirouzi (a former creative consultant at Versace, Vivienne Westwood and Helmut Lang) when they launched NINA PETER in 2003. The glove label's rapidly growing fan following certainly lays witness to the fact that what the world still needs are perfectly fitting gloves made of beautiful leather and pepped up with a stud or two. The fact that Nina's family runs a business with over 150 years of glove-manufacturing experience Handschuhpeter Wien certainly helped in bringing together contemporary design and the skills of a very demanding craft. Collaborations with Agent Provocateur and Superfine are another proof (if needed) of the international recognition of NINA PETER.
Florian Ladstätter
With a university degree in Advanced Metal Design and another one in philosophy, Florian Ladstätter was probably bound to come up with something very special. A fashion jewellery line, it was to be. His good reputation has led to collaborations with Hussein Chalayan or Elizabeth Arden and purchases by the Victoria & Albert Museum. Even though people may find it a bit hard to pin down the essence of continuity in his work, the designs by Florian Jewellery are always a result of Ladstätter's reflection about the ontological potential of adornment. A generous use of beads and pearls, ropes and resin characterises his approach of jewellery design (even though he has been heard saying that turning to more precious materials is a viable option for the imminent future).
Mühlbauer
You can leave your hat on – but make it a Mühlbauer. At least that's what siblings Klaus and Marlies Mühlbauer will tell you, who continue a great milliner's tradition based in Vienna and revamped their parents' business which they took over in 2000. Since then, Mühlbauer headwear has turned into the must-have of the fashion-crowd and is, we hear, a frequent appearance on the streets of Tokyo just as well as New York. Traditional millinery skilles combined with a decidedly witty approach may well be at the source of the great success that Mühlbauer has been experiencing since their internationally acclaimed fall 2003 collection. Six years on, the formula still is "stylish without exaggerated seriosity", and indeed a lot of these hats will need a courageously forward-thinking head underneath. But it would seem that there are enough of them around.
Text: Daniel Kalt from AUSTRIANFASHION.NET
All images show the fall 2009 collections. Photos courtesy of the labels and © Mato Johannik/Nina Peter, Manfred Veigl/Rosa Mosa, David Auner/Sonja Bischur