Photo © Jordi Bover
Why have you been interested in teaching dance?
Because people want dance. Dance is one way to think about the body and plastic medium…it expends our possibility – this is a live medium.
For instance, one early morning in Taiwan, I went to a temple on the top of a hill. There were people practicing Tai Chi; away from there, about 30 men and women were gathering to dance samba. I think this is great idea. There were old people getting in touch, hugging and moving on rhythm. There were male and female connections, but nothing serious. It was just a morning exercise. This is a fundamental way that social dance is used for therapy…like Tai Chi. Samba is much more popular than Tai Chi. Tai Chi is kind of lonely, but with social dance one can do it with old friends…this is what dance can be. Look at the great dancer; it makes your nerves feel more alive…you can feel an incredible movement. For example, when I sometime watch hip-hop dancers on TV, I can feel movement in my body – they energize you little bit. Martial arts and dance help complete the possibilities of the body and give practice to movement.
Then, you think dance should be fun?
No I did not say that. But I do think it sometimes can be fun.
So, what is dance?
For dance, development of the body and language of the body is in the action that the body does. So, you actually have to do movement.
The skeleton stops growing when you're 22 years old, but my best dancing happened in my fifties. So, there was thirty years of development to make something happen, and I was never able to find any other way. I needed it to acquire what I wanted to do. It is great physical energy, far more balance and sophistication, so that in my fifties I thought it was fabulous.
At that time, I was dancing a two-hour dance program that included a 45-minute solo. I might be able to dance because of the development, but most people do not do this.
What inspires you the most?
Other dancers. If I listed the dancers I knew: Fred Astaire – the first ballet dancer I saw, Cunningham Dance Company, Simone Forti, and Lisa Nelson, who taught me the beauty of creating new dance.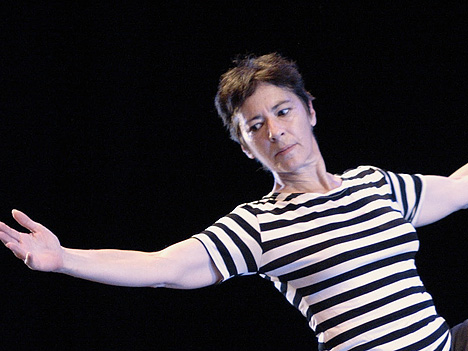 Lisa Nelson "Night Stand", Photo: Jordi Bover
You are working on this project with Risa Nelson, how did you get to know her?
We have been making duets since 1978. We are thinking about making a new piece for 21st century, which will be a work performed in Tokyo this time.
You live on an organic farm. What connection do you make between dance and farming?
It is the same…how to keep my body alive. Some of the exercises are for the body, which I call dance, and others I call farming. I use form in farming that I use for dance. For example, I cut my glass to bring consciousness to my spine – likewise in the workshop.
Read more ...
[Help wanted]
Inviting volunteer staff / pro bono for contribution and translation. Please
e-mail
to us.