A florist who creates punk art using plants and flowers.
Makoto Azuma is an owner of the flower shop Jardins des Fleurs as well as an artist who not only explores the visual beauty of colors and shapes that are given off from plants and flowers, but also creates works of art from them. In his works you can capture the opposing essence of dynamism and subtlety or hard and soft. So far, he has exhibited in various places nationally and internationally including a show at colette, a performance for Les Soirees Nomades at Fondation Cartier, a solo show at NRW Forum in Germany and etc. He has also actively showcased his creation for 2 years in his own private gallery AMPG which was closed in last March. Shift had a phone interview with him.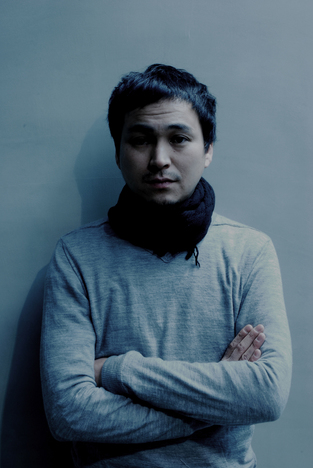 Please introduce yourself.
I've been managing a flower shop as well as working as an artist using plants.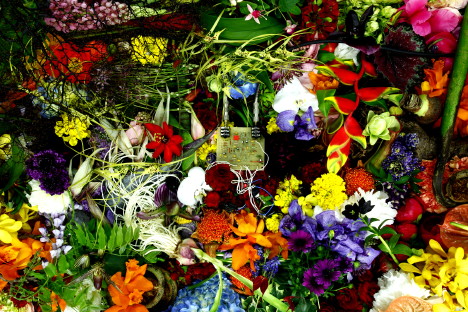 "Distortion x Flowers" Eye of Gyre / Tokyo / 2009
Could you tell us about your ongoing projects?
My solo exhibition "Distortion x Flowers" is shown at an art space Eye of Gyre in Omotesando, Tokyo and opened May 15th. With the photos I am showing flowers, which were inspired by various sound distortions created using effect units. Photos are taken by my buddy Shunsuke Shiinoki.
Also, I did collaboration with Daido Moriyama. The group collaborated exhibition will be held at Epsite Gallery from May 28th. Here I did some doodle illustrations on Mr. Moriyama's photos. I'm interested in illustration and doodles lately. As my flower works can't last, I've been doing sketches to leave traces of my creation and showing them to the audience.
And another one is a part of an art project which is in progress in Naoshima, Kagawa. Shinro Otake has designed a sento (bathhouse) and I did the plantings around the sento. I made a punk cactus garden in a greenhouse, which looks quite manic.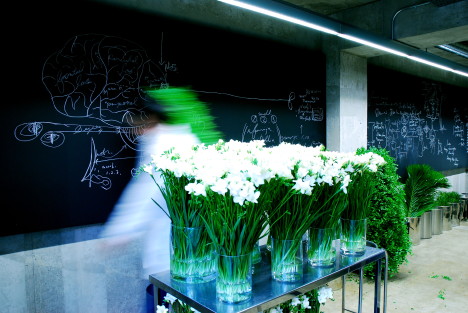 Jardins des Fleurs, Tokyo / 2009
You've been managing a flower shop Jardens des Fleurs. First of all why did you decide to start a flower shop?
Ever since I formed a band in junior high school, I decided to move to Tokyo to do music. And I was looking for a job and just found a job at a flower shop in the classified section. The flower shop was located near my house. That was how I got involved in this world. I wasn't interested in flowers, nor did I like them at all. Until then I didn't know this kind of world existed. So as I got into this world, I was shocked by it and got interested in it.
After that how did you get your idea to make a work using flowers as an artist?
Everyday I work with flowers, and that's basically a kind of job to provide a work of art using flowers for customers. As doing so, I realized I wanted to make more direct relationship with flowers. I got a desire to pull out more of the distinctive features of flowers and to make flowers something as I imagined them. There is a way to do in Ikebana, but I didn't feel right doing it that way. I was wondering how I could fill the desire, and then I decided to start doing it in my own way.
What did you make for your first work?
It was a hanging pine tree. Before working as an artist, I used to make a Christmas tree made of dried sardines which was displayed in a hip store. People liked it and I was like it's interesting and wanted to get into it more seriously. Since then I think I've been looking for my own expression.
Read more ...
[Help wanted]
Inviting volunteer staff / pro bono for contribution and translation. Please
e-mail
to us.