We know that Cassian Lau is a successful businessman in the local fashion world, but he thinks it's the time to shift back to his lifetime passion – painting, and now he's presenting himself as an artist. He started off his art career with an incredibly exciting exhibition called "Electric Claustrophobia". Cartoon characters are packed in each of the paintings, but when you look deeper, social issues lie in every single corner of the drawing and they are waiting to be discovered by the viewer. The love-and-hate relationship between Cassian and his hometown Hong Kong has given him the inspiration to create this lovely collection, as this city is one of the busiest cities in the world. Watch out for this new name in the art circle!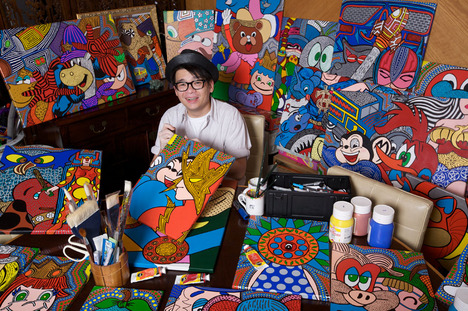 Please tell us about yourself and your background.
I was born in Hong Kong and emmigrated to Canada when I was 6 years old. I majored in Graphic Design and Art administration at university in Canada. After graduated, I came back to my hometown to develop my fashion career and I opened a fashion boutique called "Sistyr Moon" with my wife. I was the first one who imported the famous fashion brands like Hysteric Glamour, Silas and Dita… to Hong Kong. I have a great passion for fashion, but at the same time, I've never given up on drawing.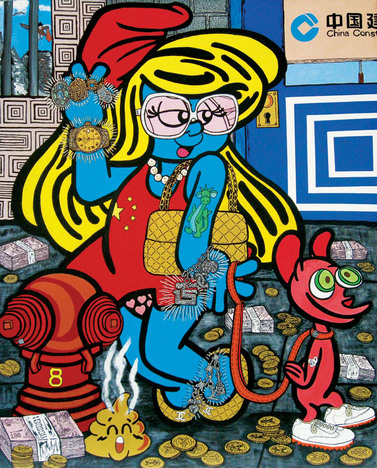 You chose art as your major in the university, so why did you decide to start your career in the fashion industry?
After graduated, I came back to Hong Kong to look for a job. It was quite hard for me to find a balance between something I like to do and earn money to support myself. And then one day a friend asked me if my wife and I were interested in having a business together in the fashion industry. Then we started off with a small shop in Causeway Bay. After that my partner wanted to start her own wholesale business. Then my wife and I opened a shop called "Sistyr Moon" to import some new fashion brands to Hong Kong.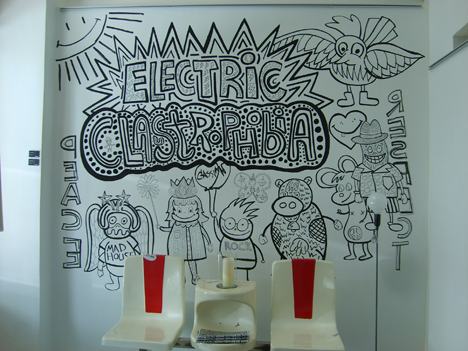 Let's talk about your very first solo show "Electric Claustrophobia"? Can you tell us the concept behind it and what is your inspiration for the collection?
"Electric Claustrophobia" is an expression of how I see and feel about Hong Kong, as it's the place I was born. Living in such a crowded city make me feel suffocated, the politics and recession make people stressed. At the same time, the bubbly busy lifestyle in Hong Kong mixed with international influences make living here so exciting and so electrical. This whole scene inspired me to create this collection of artwork. Inspirations could be from the news and anything I heard about Hong Kong. At the end of the day, I'm still from Hong Kong. I care about what's going on in the city and I wish to make a change if I can by carrying some social issues in my artwork.
Comics have been a huge influence ever since I was little. So I use cartoons as my way to sugarcoat the social issues that are hard to swallow and I love to see people smile after viewing my artwork. Also, living in a commercial city, art holds little meaning to the general public. I would like to make art that will be easily understood by people. And the more they look at it, the more messages they can find in each painting.
For the show itself, I have divided it into two categories – Allegory and Electric Claustrophobia. Each painting has a slightly different message about how I see society, but under the same umbrella of the concept "Electric Claustrophobia". Based on the colors and the patterns, all the painting can be combined into one big picture.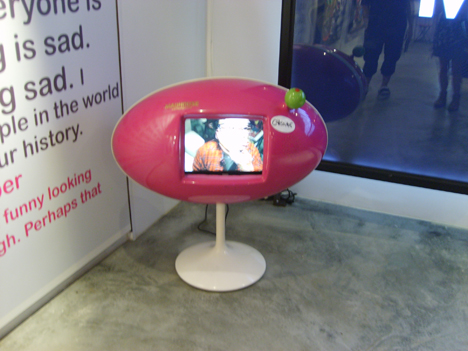 What is electrical about the collection?
There is a strong sense of dynamic electrical feeling between these characters. I have modified the original characters by adding the patterns; the patterns are translated through my eyes.
Read more ...

1
2
[Help wanted]
Inviting volunteer staff / pro bono for contribution and translation. Please
e-mail
to us.