The festival of Austrian film takes place in Graz from March 17 – 22.
Now in its eleventh year, Diagonale is the festival of Austrian film and attracts everybody who is somebody in Austrian film-making to the the country's second biggest city for five days. One can only agree with the new festival director Barbara Pichler, who, in a statement given during the official press conference, referred to 2008 as a particularly good year for Austrian cinema. This is mainly due to the fact that Stefan Ruzowitzky's drama "The Counterfeiters" received the Academy Award for best international film exactly one year ago. Götz Spielmann's "Revanche", on the list of nominees in 2009, failed to repeat this success but restated the potential of the country's small scene. Consequently, the goings-on in film-making were met with increasing interest internationally as well as on a level of national cultural politics. After some years of drabness in terms of film-funding, the decision made by Hollywood's film academy certainly brought cultural politicians to reconsider the current state of things. In this given context, Diagonale 2009 is particularly important to underscore and promote the potential of Austrian film.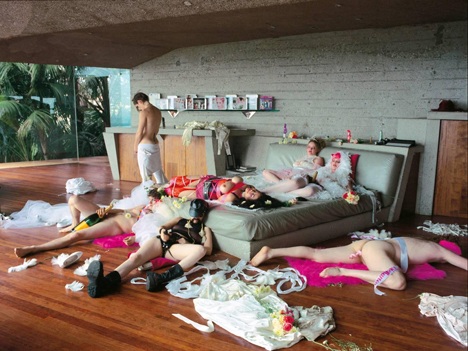 ConceptFilm – Dorit Margreiter, Angelo View Drive (Prequel) 2004, C-Print, 80×120 cm, 2/3
© Courtesy: Galerie Krobath Wimmer, Wien
A very dense week's programme includes no less than 237 films and videos that will be shown in four participating cinemas. Various festival sections cover the widest imaginable range of film-making. A great number of national or world-premieres are brought to film-lovers who delve into the romantic charm of Graz for a few days. Full-length feature films, short films, documentaries, experimental films and animations are shown alongside a retrospective selection of films that came out in 2008 and a selection of foreign movies with a share of less than 50 % Austrian capital in the overall production costs. And of course, the festival wouldn't be a real festival were it to take place without an award ceremony: an impressive panoply of prizes worth a total of over € 170,000 will be given away during a gala on March 21.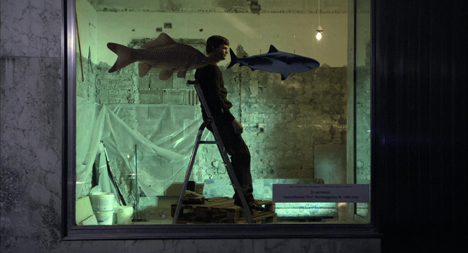 KleineFische – Marco Antoniazzi © Novotny Film
If we are to take a closer look at some of the films that will be screened, a good one to start with is the festival's opening film "Kleine Fische" (Little Fish) by Marco Antoniazzi. An interesting portrait of different personalities unfolds as two brothers must renegotiate their relationship after the death of their father, who has left them a slightly run-down fishmonger's store.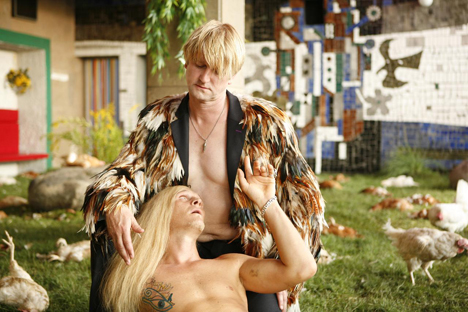 Contact High – Michael Glawogger © Luna Filmverleih
Another potentially entertaining film is "Contact High" by already well-established director Michael Glawogger. A bizarre and slightly surrealist road movie takes viewers on a journey to Poland, where the protagonists find themselves in the midst of strange goings-on in the beautiful city of Cracow and other places.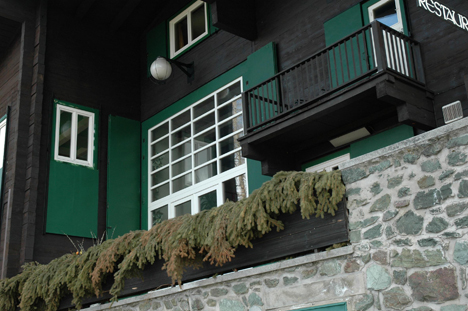 Loos Ornamental – Heinz Emigholz © Amour Fou / KGP
After the huge success of Erwin Wagenhofer's documentaries "We Feed the World" (2005) and, more recently, "Let's Make Money" (2008) and the Academy Award nominated "Darwin's Nightmare" (2005) by Hubert Sauper, Austria has definitely found its place on the map of aficionados of the genre. The documentary section of Diagonale pays respect to this circumstance and showcases a variety of approaches. Heinz Emigholz is the director of "Loos Ornamental", which takes a look at the life and work of renowned Austrian architect and aestheticist Adolf Loos in images only and without a word being spoken – quite a challenge for the ever-avid cinema audience. "Dacia Express" by Michael Schindegger tells quite a different story, or a whole lot of them, as it embarks on a train journey from Bucharest to Vienna and invites travellers to have their say.

Oceanul Mare – Katharina Copony © Katharina Copony
Katharina Copony's documentary "Oceanul Mare" is also set in Bucharest, albeit in quite a different context: a look from outside onto an outsider's position in the Romanian capital. Copony chose to accompany a group of Chinese immigrants in Romania and to depict their integration process in one of the European Union's most recent member states.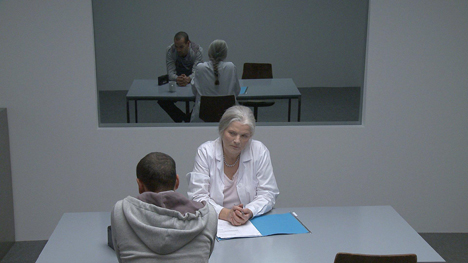 Interrogation Room – Dariusz Kowalski © Dariusz Kowalski
As every year, numerous events take place in Graz during the time of Diagonale. The city's most important art institution Kunsthaus Graz hosts the show "Interrogation Room" with works by Dariusz Kowalski (March 6 through April 26), who also directed the festival trailer. The exhibition "CONCEPT FILM (I)" is the first part in a series of exhibitions conceived by art association Medienturm. It showcases works by artists Dorit Magreiter and Ursula Mayer, who investigate the correlation between film and positions in contemporary art. So, to make a long story short: if you ever planned on visiting one of Austria's smaller cities, there might never be a better occasion to go to Graz than during the time it turns into the country's buzzing film-making capital.
Diagonale 2009
Date: March 17 – 22, 2009
Place: Graz, Austria
Text: Daniel Kalt from AUSTRIANFASHION.NET
Images: All images courtesy of the directors and film companys and Diagonale 2009
[Help wanted]
Inviting volunteer staff / pro bono for contribution and translation. Please
e-mail
to us.