MINIMUM INTERFACE EXHIBITION
The potential for art and design can be discovered at interface.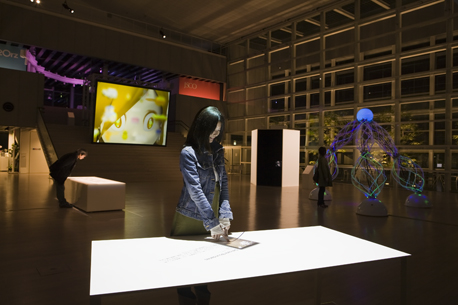 An interactive relationship with an interface hits our five senses at full blast. Minimum information without verbal communication provokes our senses directly and takes us to a new domain. The Yamaguchi Center for Arts and Media [YCAM] holds an exhibit "Minimum Interface" and suggests an attempt at analyzing the communication design based on the interface. Shift held an interview with YCAM's curatorial team. Taking a close up on the unknown potential of the interface.
Please introduce yourself.
I am Daiya Aida of Educational Prevalence. I usually plan and manage a gallery tour where visitors enjoy an exhibit encountering new various discoveries besides original workshops that help to deepen your understanding of media.
For this exhibit, Minimum Interface, I composed a curatorial team with Kazunao Abe – Chief Curator and Assistant Curator, Rina Watabe.
Could you tell us about a concept and contents of the show which already started from November?
"Interface" which transmits all information, especially user interface design has been taking a big part in this modern information society. We suggest a different point of view of the interface at the exhibit "Minimum Interface". A word in the title "minimum" doesn' mean a gestalt minimalism. Rather, it is our intention to throw the existence of interface itself into relief by limiting and organizing diverse interface functions. For example, "What interface will be left when we extremely restrict verbal information?" This would be a good opportunity to think about it during the exhibition.
There are 8 participating groups of domestic and international artists. Please tell us about their works.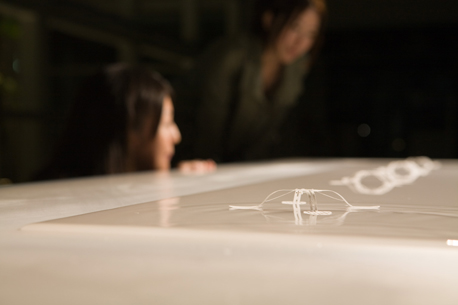 "Floating Compass" LEADING EDGE DESIGN
We are showcasing 12 works created by 8 groups of artists and designers. The 6 works among them are brand new and commissioned by YCAM.
LEADING EDGE DESIGN has brought a water strider look-like "Floating Compass" that carries an imperceptible sense of "touch" with super water repellent technology as well as a navigation system "on the fly". You can take a look at a magnetized strider turning around on the water surface.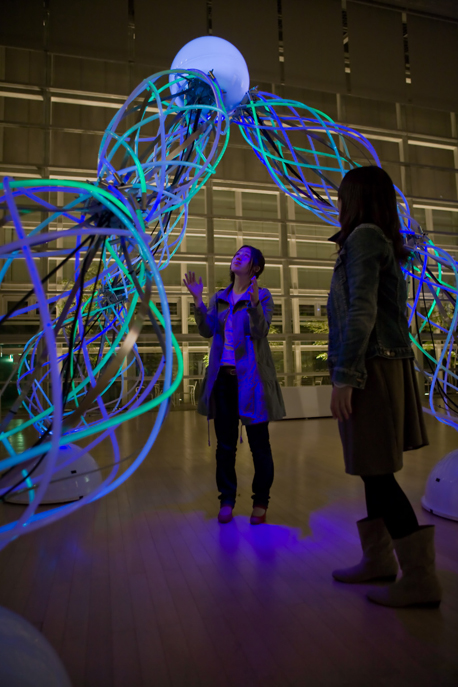 "Liquid Space 6.0" Daan Roosegaarde [Netherlands]
Next, Dutch architect, Daan Roosegaarde's work "Liquid Space 6.0". It is a 4-meter high organically formed object with 3 arms and reacts to a viewer's approach by changing LED lights and sounds as well as its form slightly.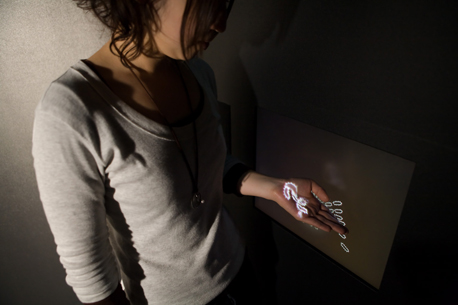 "Delicate Boundaries" Chris Sugrue
"Delicate Boundaries" by New York based artist, Chris Sugrue, is a work with bugs in a monitor that start getting together where you raise your hand and then they climb up on your body one by one. Both shape and position detection technologies enable it to define a delicate border between virtual and physical, vision and feeling.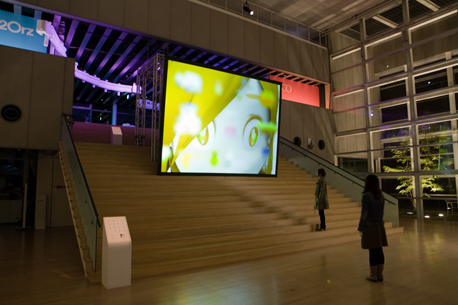 "lineup" (front entrance) "H2Orz" (left) "JSCO" (right) SHINCHIKA
SHINCHIKA is a group of grads and students from Kyoto City University of Arts. Their works are made by exchanging files on the internet. They brought 3 works this time including a new piece. Producing an animation making good use of 2D illustrations, 3DCGs, and real pictures, what's more, they turn the data they modeled in motion picture into a draft for paper craft, and expand it into a real object piece leaping over the boarder (interface) between 2D and 3D.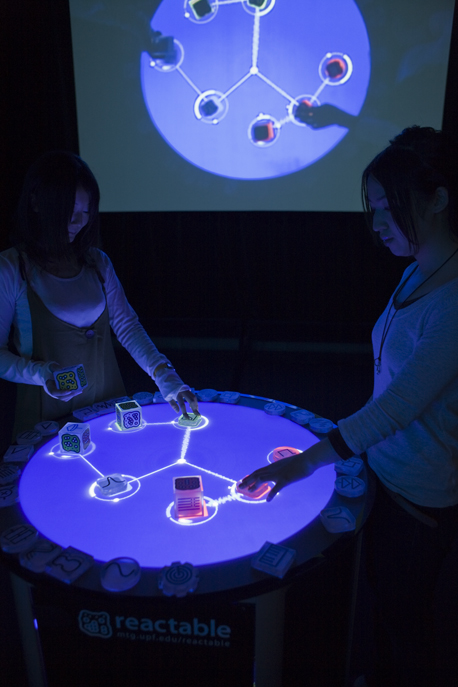 "reacTable" Sergi Jorda, Martin Kaltenbrunner, Gunter Geiger, Marcos Alonso, Music Technology Group at Pompeu Fabra University [Spain]
The reacTable by Music Technology Group at Pompeu Fabra University in Spain is an electronic instrument which has a large following including top musicians. By moving effectively functioned blocks at will, you can produce both music and image with a new conception with even more than one player at same time. This will be their first exhibition in Japan to be experienced as an installation format.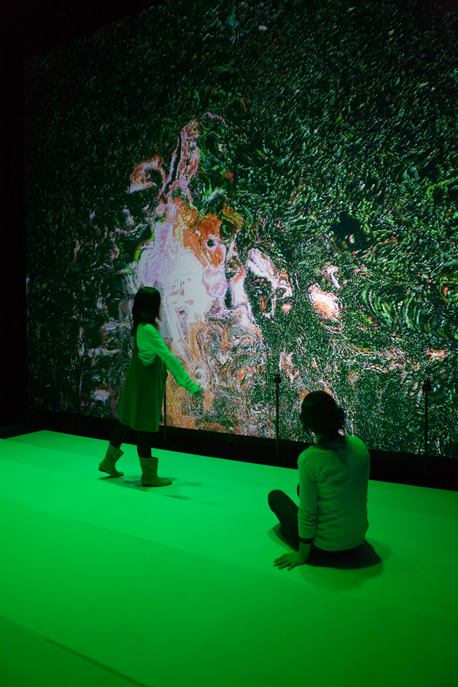 "Purityφ – Abstract Fluid Interface" Akihiro Kubota
When you stand in a field of "Purityφ – Abstract Fluid Interface", the work by Akihiro Kubota, 4 digital cameras (= computer) capture your movement as a data of light stream through their lenses. A computer program (optical flow program) analyzes it and deform into dot patterns. By doing so, it can be projected on a large screen as a sort of moving picture. This work is like an abstract motion picture reminds your eyes as an optical interface.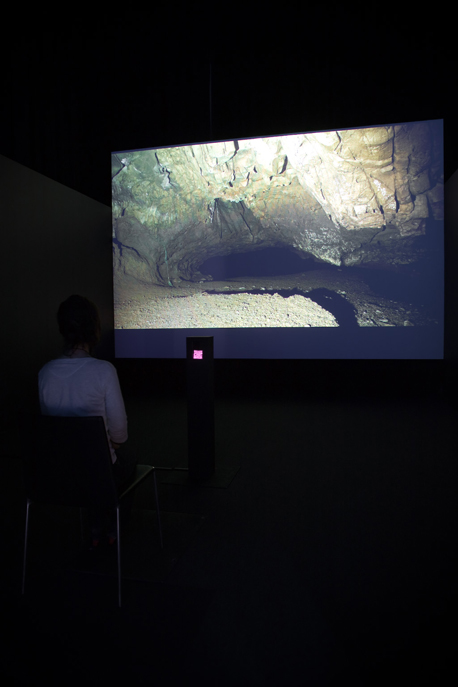 "Depth of the Field – Processing Photography Blink Series" Syunsuke Takao
"Depth of the Field – Processing Photography Blink Series" by Syunsuke Takao is an installation that detects a viewer's unconscious blink and controls a big screen slide show. This is a work that lets the viewer reconsider the meaning of a picture that intercepts time.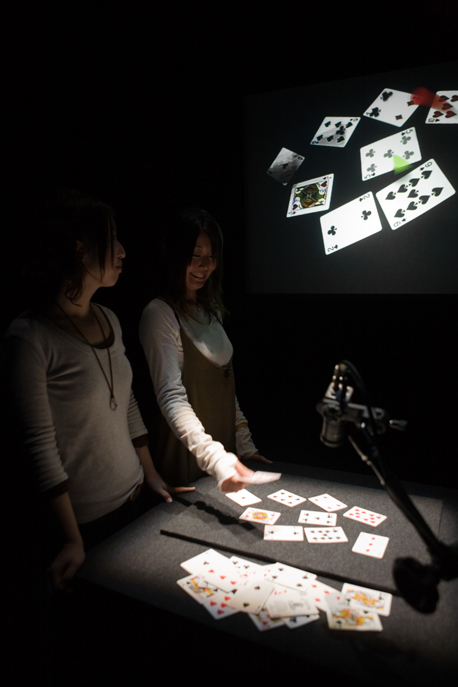 "Card Play" Zachary Lieberman, Theodore Watson
Lastly, "Card Play" by Zachary Lieberman and Theodore Watson features a new development platform for media art, "openFrameworks". This is a work made specially for this exhibition that captures the movement of real cards as an interface and operates all image detections, pictures, and sounds on a real-time basis.
The minimum interface is a group exhibition, which is rarely held at YCAM. Please tell us about the progress or any episodes you strived.
A group exhibition is a rare format at YCAM since we usually hold solo exhibits with new commissioned works. The environment for interfaces have been changing day by day, that is why we selected this format for this exhibit joining artists from various fields such as art, design, and architecture so that we could focus on the theme diversely.
We also deliberated on the interface theme on another meta-level for the show. It is about a role for museum and art center in a society and an exhibition as an event format.
For instance, we opened a navigation design for the show which we commissioned LEADING EDGE DESIGN. We asked them to suggest a navigating function at the art center as "interface for the show". Generally, art works never provide a viewer information in one way. You have to appreciate them actively and positively so that it gives you an interactive relationship physically and mentally that provides you rich tastes beyond understanding given by simply displayed knowledge. We totally rebuild the way a viewer's interaction during the show cooperating with the curatorial team and YCAM staffs this time. Then we came up with an idea of first navigation gimmick that gives a viewer unusual surprise and a sense of touch.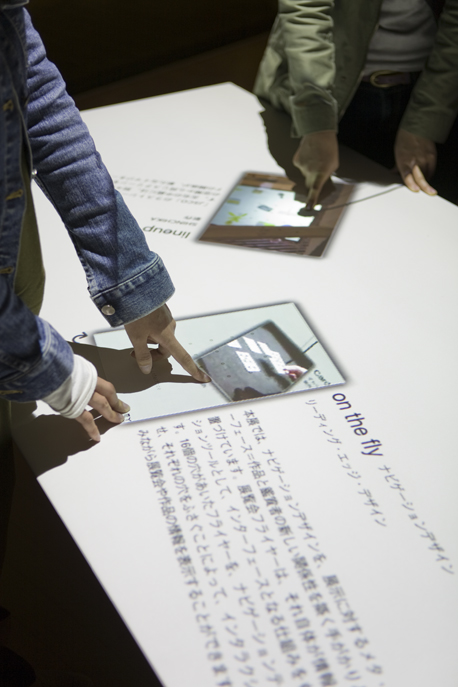 "on the fly"
Graphic Design: good design company
Navigation Design: LEADING EDGE DESIGN
Known as a developer for Suica, LEADING EDGE DESIGN constructed all the information systems for the venue. Please explain their work.
Fist of all, they reviewed the "flier" which has been a reasonable notice tool for exhibition, and turned it to a mysterious key that allows one to get more information. Because of the theme "minimum interface", they limited it to a minimum of verbal language there, but also left something of a curious sense of existence.
A projector on top of the table shows an image toward the flier when you raise it on the table nearby the entrance. An elaborate shape detection technology enables to trace a movement of the flier. Moreover, by covering any of those 16 holes in the flier with your finger, each hole corresponds to specific display information (information of the work on view, exhibition concept, video and still image, script of the related event) with sounds. Besides that, an animation will be drawn from your fingertip that covers the hole of the artwork, and it will be lit by a spotlight to let you know the exact location. A sequence of these movements guide him for deeper imagination. A special sampled human voice sound corresponds in long-tone as he covers the hole as well.
Please tell us about a new graphic design besides the navigation system for the whole venue mentioned above.
A good design company is in charge of the graphic design. 3 of us including LEADING EDGE DESIGN and YCAM had a discussion about "Precisely, what is interface?". We got aware of the primary meaning of the word "interface" again, and achieved an idea of incorporating holes in the flier (It could be one for cell) that simply connects two locations at minimum. Literally, there is a minimal amount of information on the flier. You cannot stop showing secrets to anybody whenever you get it including this one using these two fliers. This reveals a trick but "A title of the exhibit, 'minimum interface', appears in 16 holes when you put a flier on top of the other upside down. In addition to that, it becomes a key to pull out information at the navigation table when you bring it to the museum. I hope that these 'are gimmick triggers that lead to discovery and action" sequences boost flier's fascinations as a publicity tool. Without increasing a word message, on the contrary, by limiting its function, we are able to present a combination of the latest media and the most primitive media for human being, paper, This flier itself will be a graphic presenting the concept for the show.
What is the highlight for the show?
Each piece is remarkable and high quality including the first public exhibit, "reacTable". You can experience "comfortable sense of touching = interaction" that can be produced through a high speed computer processor. Please come and visit to experience these cozy and unique senses of interface that cannot be conveyed enough by language. The word interface has become commonplace of late. But perhaps, we use it within a limited scope? We try to approach not only specific man-machine interfaces but also from the senses of visual, skin, and space to various outer interfaces such as other world and other people. There is the root of query what the substantial interface for human beings as "information, world, inner, existence" is. Forget about all the complicated theories. We would like you to enjoy physically and instinctively these interfaces that intervene between object and information.
What do you think of the future of interface diversities related to art and design? (What do you expect for that?)
In my opinion, both artists and designers have to consciously and unconsciously consider interface. It is not too much to say that a history of art and design is a pile of researches on a way of conveying information in a broad sense. I hope that human beings will have a rich relationship between their body and information as a result of interface's diverse expansion. I would like to challenge us to review a relationship between signs or icons and this so called physical sense which hasn't been organized yet.
Please tell us about your future project for YCAM.
On the basis of Japanese cultural policy for the future, we are accountable as a public cultural facility in the province. We would like to do our best so that people recognize us as a cool facility besides the ones in metropolis like Tokyo and Osaka. Challenging to put it to good account if there is an advantage for small scale venue. It will be a key factor for us to shift our activities based on creation not just consumption.
Minimum Interface Exhibition
Date: November 1st, 2008 – 8th February, 2009
Place: Yamaguchi Center for Arts and Media [YCAM]
Address: Nakazono 7-7, Yamaguchi, Japan
Tel: +81-(0)83-901-2222
Opening Hours: 12:00-19:00 (10:00 – on weekends)
Closed: Tuesdays (Wed. as Tue. is holiday) / New Year's Holiday )12/29 – 1/3
Admission: Free
Artists: Akihiro Kubota (Japan) / Sergi Jorda, Martin Kaltenbrunner, Gunter Geiger, Marcos Alonso, Music Technology Group at Pompeu Fabra University (Spain) / LEADING EDGE DESIGN (Japan) / Zachary Lieberman, Theodore Watson (US) / Daan Roosegaarde (Netherlands) / SHINCHIKA (Japan) / Chris Sugrue (US) / Syunsuke Takao (Japan)
Text: Mariko Takei
Translation: Yoshitaka Futakawa
[Help wanted]
Inviting volunteer staff / pro bono for contribution and translation. Please
e-mail
to us.