HEART OF SHAPES BY KEIKO + MANABU
I felt like if I became a dwarf. Having more than double of my height, many of big, shiny, silver and gold colored, and heart and star shaped paper structures were built up in the entire gallery space. As a kid, I used to make such objects. But here, you can walk in and pass through the big paper structures. I feel like as if I came to the wonderland.


Photo: © Takumi Ota
The installation was made under the theme of "the secret hide-away for adults" by a design team with architectural backgrounds, KEIKO+MANABU, founded by Keiko Uchiyama and Manabu Sawase whose creative approach covers in a wide range of fields "from jewelry to urban planning" including product, graphic, interior, architecture and urban planning that can be found around the globe.
Approximately 40 art objects are meticulously calculated and displayed. Taking 3 weeks to prepare for cutting paper, they also took the last 10 days to a week within the 3 weeks to assemble the paper at the same time. The production was done in a huge gymnasium of Oji Paper who has cooperated for the installation material and production.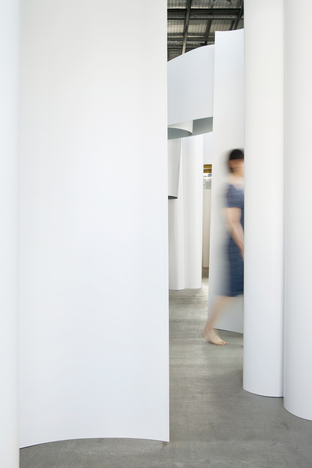 Photo: © Takumi Ota
Having used recycled paper which usually used for the insole for chocolate packaging, the paper is again going to become recycled paper after the exhibition. Contrary to the architectural structure which remains in existence for years once it has built, the paper structure is exhibited for 3 months long limited .
So far, they usually use hard materials. For this exhibition, they chose to use paper as a material.
"In the architectural and interior projects, we usually make models with paper at first, and at the end the actual building is made with concrete, metals and woods. On the other hand, for around 1 year, we started to make the exhibition booth with paper for its short-term show. We also found out the large sized paper art objects we made on the wall were well-built and stable for almost a year. We have been noticed the possibility of paper. So we came up with the idea to produce a space design constructed by very large, thick, firm paper as a material. While looking for it, we finally found out the cardboard at "OJI PAPER LIBRARY" in the Oji Paper head office located in Ginza. Made out of recycled paper, this gorgeous processed paper shining in gold and silver can be recycled again. This means you will have little waste after the exhibition ends. We wanted to represent this concept by all means and chose this paper."
Compare to the past their space design projects which usually required a rigid aspects of the making process using hammers, cranes to build and welding, for this exhibition they created softly.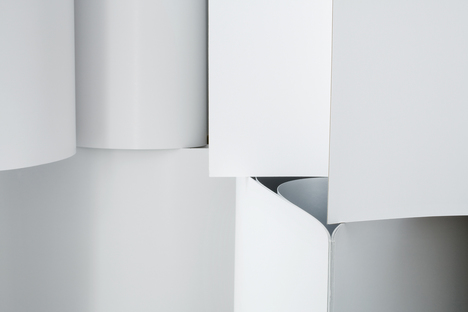 Photo: © Takumi Ota
"As you take a piece of the 2 dimentionally laid out papers and build it up, it is transformed into the 3 dimentional shapes. The action reminds me of serene and soft senses I felt as if I was trying to design some kind of wind or to give a shape to the wind in a moment."
Regarding their first solo exhibition in the form of installation, "We were able to realize the soft space design only made by paper, which brought a nice and magical experience remaining inside as an actual sense. We are happy to see visitors regardless of their age and gender enjoying the playgound-like space, especially to see the pleasantly surprised face when they go up the mezzanine turning around to take a look at the installation."
They are now trying to apply the sense of shapes and space they captured from the exhibition, Heart of Shapes to make a use for the urban planning and architectural projects.
Well, looking at all those shapes, I feel like baking cookies. It is for sure this exhibition will make you happy.
Heart of Shapes by KEIKO + MANABU
Date: November 22nd, 2008 – February 8th, 2009
Place; DIESEL DENIM GALLERY AOYAMA 2F
Address: 6-3-3 Minami-Aoyama, Minato-ku, Tokyo
Tel: 03-6418-5323
Open: 1F STORE 11:00〜20:00 2F GALLERY 13:00〜20:00
Close: Non-regular Holiday
Host: DIESEL JAPAN
Curation: Masaaki Takahashi (BRIZHEAD)
Text: Wakana Kawahito
Translation: MarikoTakei
[Help wanted]
Inviting volunteer staff / pro bono for contribution and translation. Please
e-mail
to us.