Past, Present, and Future of Katsura Moshino.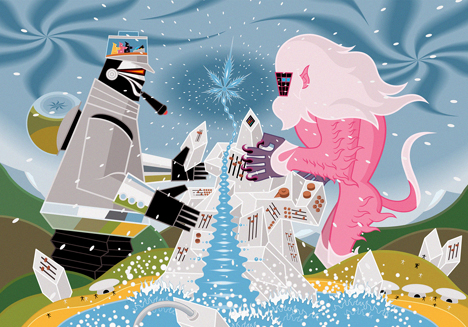 Katsura Moshino is an intriguing artist to listen and talk to about the state of graphic design or illustration. Having worked on videos and products since the 80s with free use of illustration, he has had a major impact on generations of artists that have followed him.
Based in Nagoya, Japan, he managed to disseminate himself and his work throughout the world. His solo exhibition after a 7 and a-half year absence will be organized in Tokyo. The exhibit will be comprised of revisions of his past works.
Taking time in his busy schedule on the eve of the exhibition, he talked to us about his past, present, and future.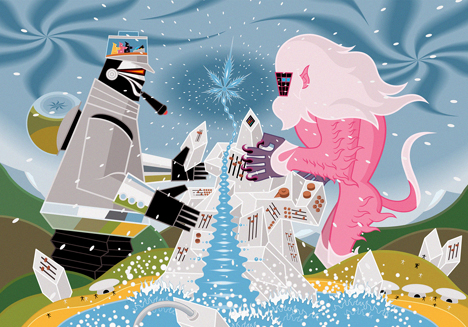 World Famous Final (1999) © phil co.,ltd.
The poster visual for World Famous, dedicated to Mad Professor
First of all, could you tell us yourself?

My name is Katsura Moshino. I was born in Kobe-machi, Anpachi, Gifu on the 5th of January in 1968. I've been working on multiple mediums including designing videos with a focus on illustration. I was invited to Nagoya Institute of Technology as an associate professor, I teach the study of design and video of industrial design and create video works with graduate students.
Can you give us your background up to your present job?
When I was a high school student, I was in a punk band and belonged to an art club. That was why I somehow hoped to work as an illustrator of an American comic or record jacket. A lot of record jackets in those days were illustrated by famous designers or illustrators. It became my dream job.
When my friends started DJing and rapping around 1985, I was often asked to design club flyers with my strange illustration style, and to print them for cheap, taking advantage of skills acquired at the printer I worked on during the day.
I worked for some printers as a part-time worker. Taking one of those as an example, it produces spatial image films utilizing CG or composition. It was also the first place I used a MAC II. Believe or not, the memory was 4MB and HD was 5MB! I began to illustrate in my present style, which took much time and was difficult to produce without a fine printer. It was hard times and conditions; DTP, as it is now mainstream, was not yet recognized. But I never got fed up because I thought it would be favorable to replace RGB image in CG with CMYK and directly print it onto a printmaking film of 4 colors at a high resolution.
Finally at the finishing stage materials were shapelessly printed, because in those wobbly days all processes from the balance of colors to the cleaning of displays was left to the designers. So I hated graphic designers that charged a lot, offered a cheap commission but had no ability of designing at all. Though I had other reasons to hear the possibilities of digital, the clear difference in color between my work and print is crucial to me, so the fact that the idea of DTP was put to practical use was quite impressive for me.
Starting in 1990, held events with many DJs, and devoted myself to various kinds of music including Hip-Hop, House, Techno, Raggamuffin, Jazz, and Soul. I spent all my leisure time discussing with local DJs and musicians, like "Please illustrate jacket like this!" or "the album of so-and-so is far-out!" or "why not superimpose videos like this on the music?". The waitress in restaurant often gave a black look at us every time we asked for refills of coffee.
Then I quit the print company because I felt it would become tedious and bring no future for me. Instead, I decided to focus on my own work which I hadn't given the time to take seriously yet. At the onset, I was so poor and ignorant, but after spending 10 years sticking to my ideals and being bold in all the genres I worked in, I came to know what clients expected of me, which made me an impression—I finally became a professional.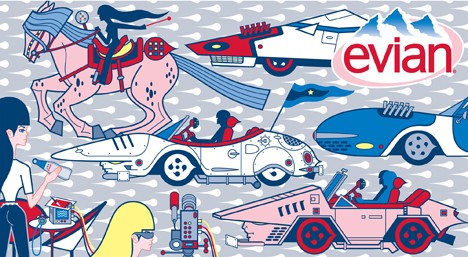 Evian World Campaign (2003) © phil co.,ltd.
Car, the bottle label for Evian World Campaign; others Girl and Jazz
You work in many different fields like illustrator, graphic designer, art director, and video creator. Which do you value most?
None of them. To list all my titles is nothing more than an easy way to explain who I am. Actually, all of it mixed together is my work, I think. For the last 5 years or more, I've never called myself an illustrator, which could mean the tidemark of creation. Saint-Laurent is never labeled as an illustrator because Saint-Laurent's style sketch is an illustration.
At the same time, I tried to revitalize the illustration scene in Japan since 90s. The illustration boom in Japan, which is said to be caused when Hiroshi Tanabe and me appeared, set afloat a few new talents, but on the other hand generated many low-caliber knock-offs.
The influence may have made the image of illustrators horrible―plodding and easy enough for anybody to illustrate. They are not to be blamed for that. But I can commit industrial products by developing illustration, and graphic design as an extension of abstract painting. Elaborate illustration deals with so many objects: for example, make-up, clothing, furniture, and cityscape in case of figure paintingーthat it becomes necessary to be in charge of the entire art direction process from clothing to furniture. Also, in 2003 the machine power of Macs in producing videos has come to reach practical use level, so equipment had the capacity and ability to meet and accomplish multiple works.
I'm a great lover of studying and analyzing things and applying various technologies to my work. My job title will increase more and more, but having one title doesn't always mean to be serious about it, and it's possible for all titles to settle down into a certain one as I get older. I will exercise one thing or another while I can what I really want to do.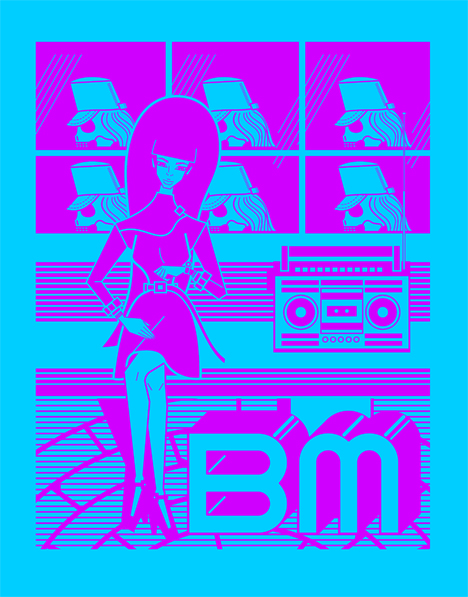 Bench Onnna Sarekobe (2008) © phil co.,ltd.
The main visual for the solo exhibition "BALCK MARKET". Darkened printed version
Congratulations on your solo exhibition in Tokyo for the first time in 7 and a-half years. Please tell us about the concept, naming it "BLACK MARKET" and the works.
Thanks. The concept this time is what is called "Pleasure Service". Pleasure means joy. Actually, I have no TV in my room. That's because it, as you know, provides light pleasure by human-made RGB and stereo sound information, but at the same time drives the masses crazy as a subliminal, brainwashing tool only to please and find sponsors. Some make consumers buy foods poisoned with out of use ingredients in the U.S., others encourage them to buy false "healthy housing", resulting in a lot of sick people. Instead of TV only one fine illustration on the wall could make the surrounding far more exquisite.
"BLACK MARKET," the same title as the small exhibition in Nagoya last year and literally means, "to go anything out". It includes framed illustrations, garbage seemingly brought by visitors stuck to the sole of their shoes, objects made on first go, all of which will impress a spatial image on the whole―"it looks like a black market."
The ORB "Vuja De" PV (2008) © phil co.,ltd.
I heard you do all the processes yourself from playbook to camera and animation in video works. Please tell us the difficulty and advantage.
The benefit of doing animation alone is that I can start working on the spot without any permission for added materials or changes in scenarios.
When it comes to all video works, the difficulty of doing it alone is that it needs a lot of time, which obviously takes up a lot of my lifetime.
Another difficulty is that the more high quality the finished work is, the more likely it is to mistakenly be construed as a piece that has been subcontracted to a large video company. Why not make it obligatory by law to list all the credits of staff?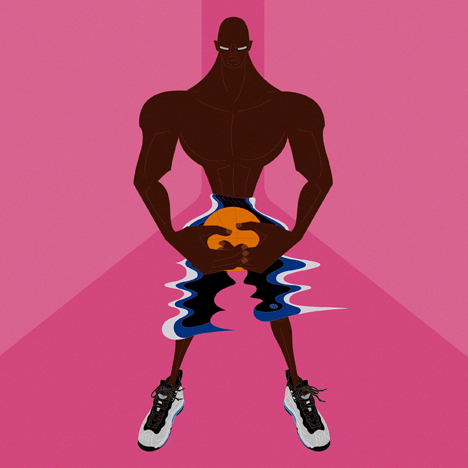 D.L. (1998) © phil co.,ltd.
For NIKE's basketball campaign developed in 15 cities, North America
You brought in computer graphics (2DCG) as a pioneer in graphics. When did you first meet 2DCG and was there any difficulty in the process?
As I said before, I first touched a MAC II in a CG company I worked in when I was around 20 years old and struck by the illustrative work of Bézier. But what with the specs of the machinery (memory is 4MB and HD 5MB) and the situation in which the colored work could be visible only on display due to the delayed development of the color printer. Even to illustrate a simple character took little memory so I made all kinds of efforts, finding wrong functions in software and making full use of those.
I could go on and on about other difficulties. But it was very attracting to prowl through the areas that nobody knew, utilizing my ingenious attempts.
The jacket graffiti of Multidirection was commissioned by United Future Organization, the DJ producer which sold the CD in over 32 countries in 1993, was illustrated through such a trial and error process.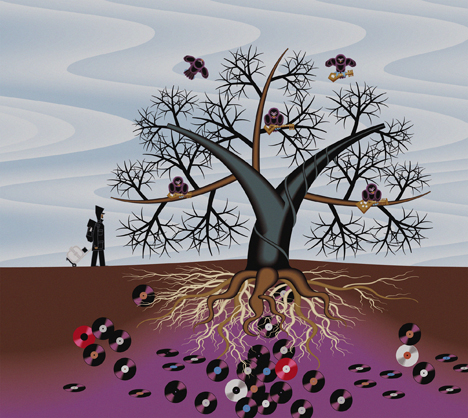 Artwork for CD "DJ KRUSH-Reload" (2001) © phil co.,ltd.
For DJ KRUSH's album including his representative mixes
You provided lots of musicians and DJs with works and you yourself are also a great DJ. Could you tell us the relationship between music and work?
I owe what I am to music.
Certain kinds of music has something like a human pulse, which musicians call vibe or soul. Instead of DJing full of vibe and soul, I often do illustration or video full of them.
When I was a high school student, I played in a band, but I felt ashamed to meet so competent a classmate and quit.
As I grew into my 20s, I was as interested in music and DJ as ever. But most of my friends were very good DJs or musicians and it seemed spazzy of me to start a band or begin DJing.
Conversely, people would follow the examples I set with my illustrations. But I felt disgusted to think of them starting to repeatedly illustrate something akin to the praised one or to torturedly study illustration from the basics in art school.
The collaborative work with such DJs and musicians is my starting point, and hopefully that pure vibe and soul that I put into the work could reach people uninterested in music.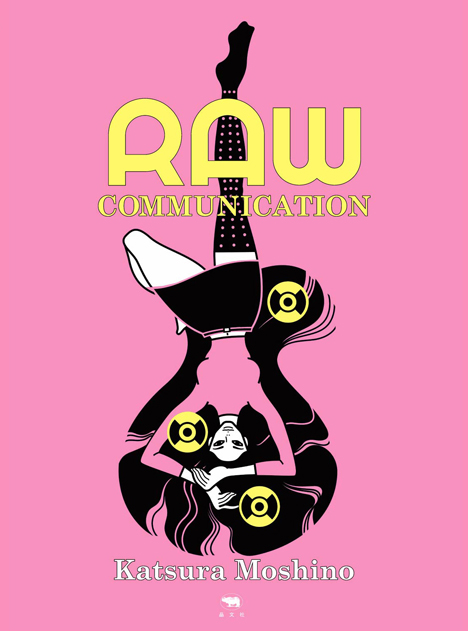 2nd portfolio "RAW COMMUNICATION" (Shobunsha) © phil co.,ltd.
Your illustration often shows a fashionable and girly perspective, and what do you think of the relationship between fashion and graphics?
Fashion photography in 60s and 70s obsessively seems to me interesting as a modern sculpture. Also cars in the age often startle me.
Though my father had no taste in fashion, he loved to watch foreign movies. As I remember looking through a crevice in a sliding door to watch
Dirty Harry, it may have largely influenced a formative experience of my early childhood.
I keep up with the fashion trends only generally and seldom buy new clothing because I like cheap imported clothing, which unconsciously makes me dressed in fashion at any time.
My ignorance in fashion might make me illustrate flight attendant uniform or suit of jazz man when I try to materialize the image which occurs to me.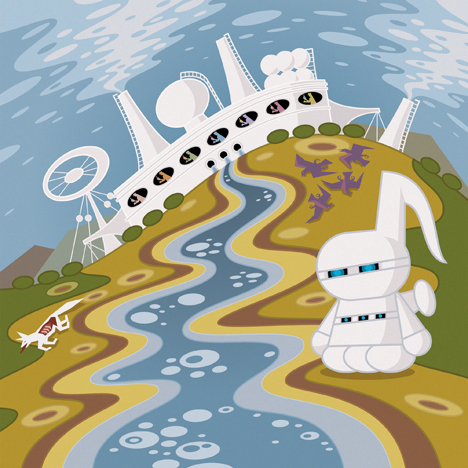 Artwork for CD "Nobukazu Takemura-Sign" (2001) © phil co.,ltd.
The overseas edition of "Sign" includes animation for 10 minutes
When do you get an idea? Please let us know your source of inspiration if any.
I don't know for sure about it. As far as a motif of a character is concerned, I like to transform quite unpopular characters into another, sometimes getting stuck with two unpopular ones.
When the theme is good, it is likely to be able to illustrate clear object at first so what is left is to form an appearance.
And as far as music, good ideas often occurred to me when listening to music, and either an idea of record jacket comes. The more frequently I listen to the music, the more images that come to mind.
Among these that I produce achievable work reflecting artist's idea.
Please tell us your favorite music, fashion, and private life.
I like all kinds of music: Soul, Punk, Rock, Jazz, Funk, Hip-Hop (both E&W), old N.Y. House, Reggae, Dub, Electronica, Contemporary Music, Ambient Techno, and Film Music. Especially, I've been so close friends with club DJs that I might never go out without talking about music.
As for fashion, I like cheap used clothing so I don't (or can't) wear expensive clothing, though not down on looking at. But, when I happen to see quite beautiful dress, I think, "if I were a Italian good-looking man, I could wear it." Nevertheless now I became 40, I can wear the jacket that didn't fit me at all before and make bold with Dirty Harry-like fashion.
In private, I take care of my dog, play around with used cameras, wash cars, or go around buying used books up.
Please let us know how enthusiastic you are about the exhibition.
While writing this interview, I got so excited as to have an ulcer in my stomach. I'll keep it up as far as I don't die.
Please tell us your future plan or goal.
Too many to list. Anyway I'll notify you when they are ready. As far as the exhibition is concerned, I will upgrade it more and more. Please look forward to it.
LACK MARKET / Katsura Moshino solo exhibition
Date: November 21st – December 3rd, 2008
Place: Gallery Speak For
Address: SPEAK FOR B1F, 28-2 Sarugaku-cho, Shibuya, Tokyo
http://www.galleryspeakfor.com
For inquiry about Artist, please contact to phil co.,ltd.
Text: Kazumi Oiwa
Translation: Tatsuhiko Akutsu
[Help wanted]
Inviting volunteer staff / pro bono for contribution and translation. Please
e-mail
to us.