In 2006, PowerHouse Books, an independent publisher of art and photography books founded in 1995 opened it's doors to the waiting public. The result is a 10,200 square foot showroom and retail space that invites casual passers by and art aficionados alike into a fascinating world of eclectic photography and art. The company which was founded in 1995 has aimed to redefine the art and photography book genre by collaborating with both established artists as well as previously unknown ones. LeRoy Neiman, Helen Levitt, Magnum Photos, Danny Lyon sit alongside relative newcomers such as Jamel Shabazz, Boogie, Christoph Bangert, and Peter Sutherland.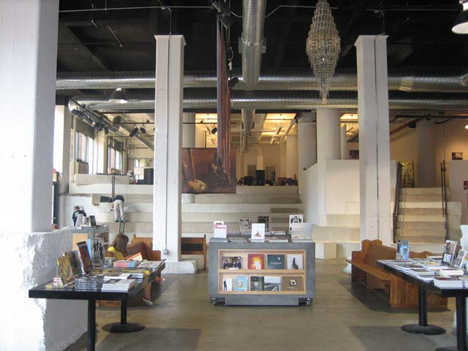 The arena itself has become a hot spot creative ventures within the artist community; Hosting exhibitions, parties, and live performances ever since it arrived in Dumbo. But even if it's just the books you're after, it's a great opportunity to see a fascinating and diverse range of work. I've spent a fair amount of time in the arena pouring over photography books and fining myself losing track of time. The large space invites people to walk around, take their time and soak it up even if you've no intention of buying anything. There's also a range of magazines, cards and other designy things that could tempt the tactile senses, but for me seeing the books that make a trip to the arena worthwhile.
If you do manage to make it out the door, the neighborhood that powerHouse finds itself in is worth exploring almost as much as their books. A great setting with many historical remnants of old New York. Cobbled streets, industrial buildings, nestled between Manhattan Bridge and the iconic Brooklyn Bridge. Dumbo is an area of increasing change and has recently emerged as one of New York City's premier arts districts. Many regular events now thrive in this historically rich part of Brooklyn and the powerHouse arena sits smack bang in the middle of it.
Miss Rosen, Associate Publisher of powerHouse Books who has worked at the company for a number of years was kind enough to help me on a couple of previous Shift articles on Peter Sutherland and Boogie, both of whom have been published by powerHouse. She also gave me some great insight into her work for this article…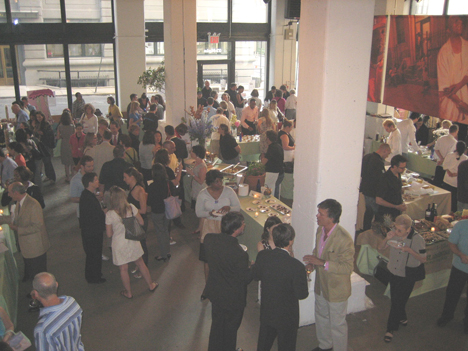 How long have you been working at powerHouse Books?
I joined in 2000 when it was just Daniel Power and Craig Cohen working out of a tiny office on Varick Street in Manhattan.
What's your role?
I do a few things around here, including; Associate Publisher of powerHouse Books, Publisher of Miss Rosen Editions (my own imprint at pH, started in 2005), Senior Vice President of Marketing and Publicity for powerHouse Books, Publicity Director of the New York Photo Festival, Editor of powerHouse Magazine.
What's the best thing about working at powerHouse?
Freedom, responsibility, originality, creativity, inspiration, and opportunity. powerHouse Books is my life.
Which is your best selling book?
I'm listing the top three as they are very different projects and will give a sense of the scope of our publishing programme: New York September 11 by Magnum Photographers (300K worldwide) Lovemarks: The Future Beyond Brands by Kevin Roberts (150K worldwide), Back in the Days by Jamel Shabazz (50K worldwide).
If you had to save one book from a catastrophic fire which would it be and why?
The Destruction of Lower Manhattan by Danny Lyon, which documents downtown Manhattan before the area was razed to make way for the World Trade Center in the late 60s. Most documentation of this site was kept at the WTC and disappeared on 9/11. This is book is nearly all that remains of this part of NY's past, which is one of my favorite subjects. In that vein I'd also save Crosstown by Helen Levitt, if only because she is the best photographer of New York we've ever published, Seven decades of NYC street photography, and you realize, nothing has changed.
How do you go about selecting new Artists' to publish and what's your main criteria?
We select work that inspires and excites us, artists who passionately pursue their subjects and bring us into a world we never knew. Photographs that make us feel they are part of the album of our own lives, that we are not merely voyeurs but participants in the continued documentation of life on earth.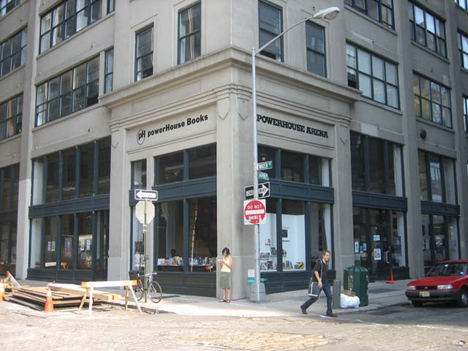 What's the best part about working in Dumbo?
I like to call Dumbo "Monaco" – it's not Brooklyn, it's not NYC, it's a lil city-state within New York that has it's own feeling of grandeur and grime, the true beauty of the city.
What's the worst?
I never complain.
The powerHouse Arena and Dumbo should be a definite in terms of things to check out in New York when you're twiddling your thumbs and need some visual stimulation!
The PowerHouse Arena
Address: 37 Main Street, Brooklyn, NY 11201
Tel: 718-666-3049
http://www.powerhousebooks.com
Text: Garry Waller
[Help wanted]
Inviting volunteer staff / pro bono for contribution and translation. Please
e-mail
to us.