The mysteriously anachronical baron lives in the mountains of Romania.
One story is about to be born in Romania of the previous communist country where the fashion scene is not established yet. The name of the chief character is Rozalb de Mura, who is a fictional person that the staff of this fashion label "Rozalb de Mura" has created. He is an attractive baron who appears when they create for new collection of the label. With his passion for travelling in time and in space as well as with extreamly curious about everything, Rozalb de Mura presents the idea and interests into fashion, which is very unique and maverick in its design that shows beautiful scenery of Romania. We were able to hear a story from Mr. Olah Gyarfas, a fashion designer and a protege of the Baron, Rozalb de Mura.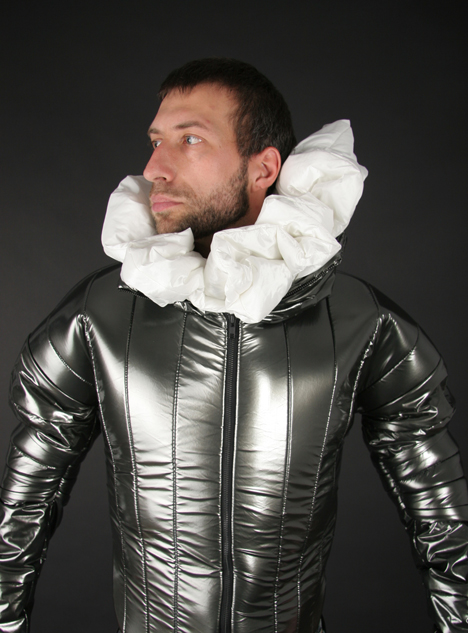 Olah Gyarfas, designer for Rozalb de Mura
Could you introduce yourself including your background?
I live in Miercurea Ciuc, somewhere in the mountains of Transylvania, Romania. Where the air is so pure and strong you get dizzy when you breathe in. Generally it's terribly cold in the winter. A lot of snow and all seems empty and quiet, which suits me perfectly. Nevertheless I dream of mindscapes made of red, African soil with tropical lushness and black, muscular bodies hooked in irresistible rhythms.
It's great when a job turns into an adventure, when you get to build something, to create the magic of a story. So there is this mysteriously anachronical baron, whose name is Rozalb de Mura. A generous spirit, an enthusiastic traveler in space and time, extremely curious and inquiring, passionate about art, music, nature and science. I'm totally happy to be one of his protégés, and work as a designer under the label.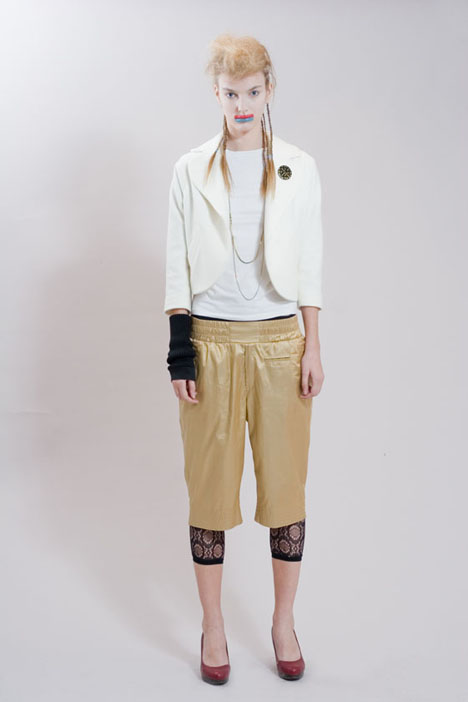 Rozalb de Mura FW 07/08 Collection 'A cracked smile and a silent shout'
Could you tell us your recent activities?
Well, recently, there was a Rozalb de Mura runway at the Pasarela, a Romanian-French fashion festival in Bucharest in end of May, then the participation to the Paris fashion fair Rendez Vous Homme few days ago.
Besides, there's the exciting process of working with various artists. Rozalb de Mura's relation to contemporary art, music and film is a strong one. And anyway, in the 21st century, boundaries between fashion, art, design became charmingly flow.
Together with the team I work with, we are involved in interesting multidisciplinary projects. Rozalb de Mura commissioned the British sound artist Mikhail Karikis to compose the music for our show at Ideal Berlin and he commissioned us to do special pieces for his performances and for his remix album that will be released this fall. Another recent project was designing a special bag for the Contemporary Art Biannual in Berlin – "When Things Cast No Shadow".
Since I'm passionate about interior design I had the chance to work with Liste Noire, an interior design team that came up with the three different looks of the Rozalb de Mura store.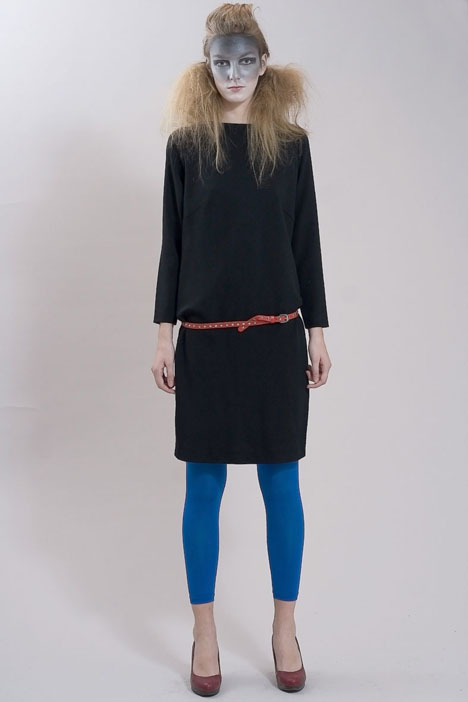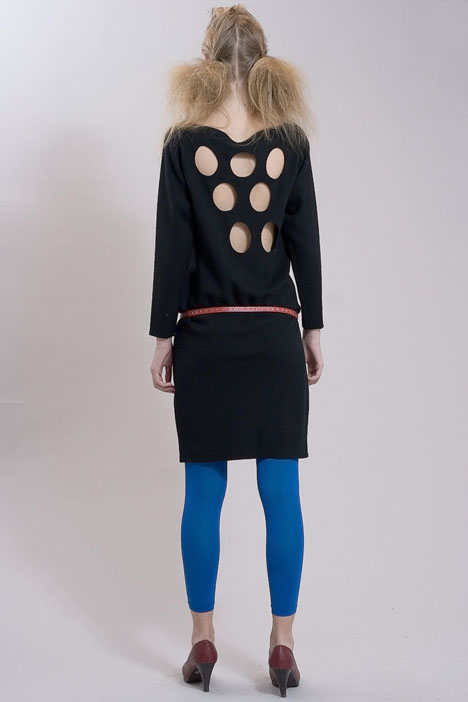 Rozalb de Mura FW 07/08 Collection 'A cracked smile and a silent shout'
When and how did you start to get involved in fashion design?
It was more of an instinctual draw to this field. The Fine Arts School in my Transylvanian hometown introduced me to painting, which definitely was a milestone in my future evolution. My decision to choose textile design at the Fine Art University in Timisoara might have been influenced by my background. My mother is a tailor. As a child, I've always been surrounded by clothes, textures and patterns, people trying on new things, the excitement and beauty of it all. I've always loved sculpture and clothes had something of its three-dimensional feeling.
Read more ...
[Help wanted]
Inviting volunteer staff / pro bono for contribution and translation. Please
e-mail
to us.