The mysteriously anachronical baron lives in the mountains of Romania.
One story is about to be born in Romania of the previous communist country where the fashion scene is not established yet. The name of the chief character is Rozalb de Mura, who is a fictional person that the staff of this fashion label "Rozalb de Mura" has created. He is an attractive baron who appears when they create for new collection of the label. With his passion for travelling in time and in space as well as with extreamly curious about everything, Rozalb de Mura presents the idea and interests into fashion, which is very unique and maverick in its design that shows beautiful scenery of Romania. We were able to hear a story from Mr. Olah Gyarfas, a fashion designer and a protege of the Baron, Rozalb de Mura.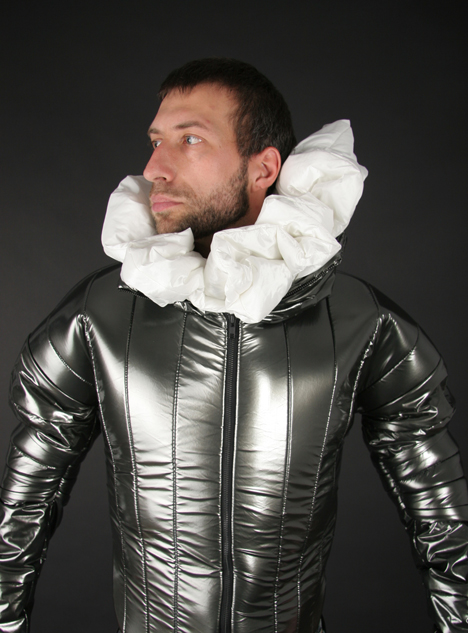 Olah Gyarfas, designer for Rozalb de Mura
Could you introduce yourself including your background?
I live in Miercurea Ciuc, somewhere in the mountains of Transylvania, Romania. Where the air is so pure and strong you get dizzy when you breathe in. Generally it's terribly cold in the winter. A lot of snow and all seems empty and quiet, which suits me perfectly. Nevertheless I dream of mindscapes made of red, African soil with tropical lushness and black, muscular bodies hooked in irresistible rhythms.
It's great when a job turns into an adventure, when you get to build something, to create the magic of a story. So there is this mysteriously anachronical baron, whose name is Rozalb de Mura. A generous spirit, an enthusiastic traveler in space and time, extremely curious and inquiring, passionate about art, music, nature and science. I'm totally happy to be one of his protégés, and work as a designer under the label.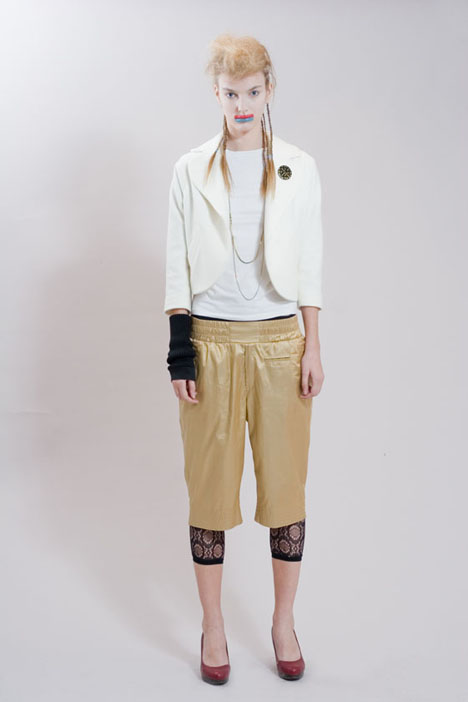 Rozalb de Mura FW 07/08 Collection 'A cracked smile and a silent shout'
Could you tell us your recent activities?
Well, recently, there was a Rozalb de Mura runway at the Pasarela, a Romanian-French fashion festival in Bucharest in end of May, then the participation to the Paris fashion fair Rendez Vous Homme few days ago.
Besides, there's the exciting process of working with various artists. Rozalb de Mura's relation to contemporary art, music and film is a strong one. And anyway, in the 21st century, boundaries between fashion, art, design became charmingly flow.
Together with the team I work with, we are involved in interesting multidisciplinary projects. Rozalb de Mura commissioned the British sound artist Mikhail Karikis to compose the music for our show at Ideal Berlin and he commissioned us to do special pieces for his performances and for his remix album that will be released this fall. Another recent project was designing a special bag for the Contemporary Art Biannual in Berlin – "When Things Cast No Shadow".
Since I'm passionate about interior design I had the chance to work with Liste Noire, an interior design team that came up with the three different looks of the Rozalb de Mura store.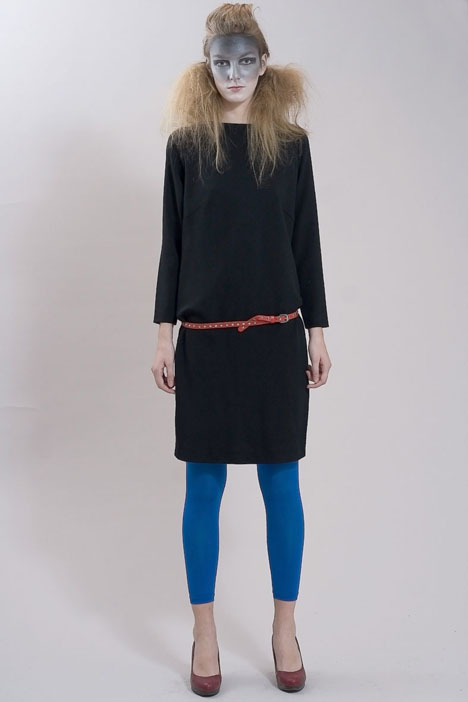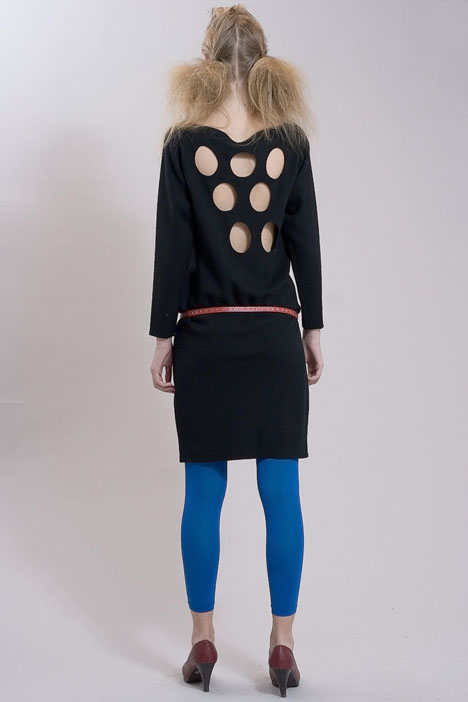 Rozalb de Mura FW 07/08 Collection 'A cracked smile and a silent shout'
When and how did you start to get involved in fashion design?
It was more of an instinctual draw to this field. The Fine Arts School in my Transylvanian hometown introduced me to painting, which definitely was a milestone in my future evolution. My decision to choose textile design at the Fine Art University in Timisoara might have been influenced by my background. My mother is a tailor. As a child, I've always been surrounded by clothes, textures and patterns, people trying on new things, the excitement and beauty of it all. I've always loved sculpture and clothes had something of its three-dimensional feeling.
Could you talk about your Fall Winter 08/09 collection "The Thing"?
For the Rozalb de Mura FW 08/09, I loved the mystery and austerity conveyed by the sheer blackness of an all black lot. What I had in mind was the feel and look of an ancient lava specimen. It's as if all pieces have been immersed in a black viscous liquid, and then brought to surface bearing the lobe-like traces due to the solidification process. I wanted a combination of organic excess and black camouflage, with many hidden details: curved cuts, hidden pockets, two-in-ones, false folds and other secret traits that sometimes only the wearer can really appreciate.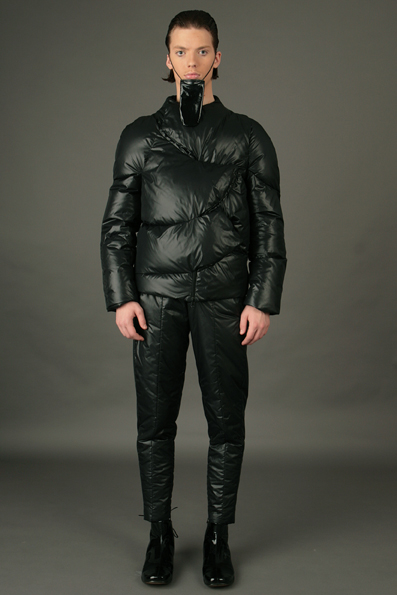 Rozalb de Mura FW 08/09 Collection 'The Thing'
In the FW 08/09 collection, the dominant use of black color and the form of clothes with the mask-like accessory on face is very impressive. It seems as if the clothing was protecting oneself. How did you come up with those ideas? What was the inspiration?
The fascination I have for the sheer, latent forces captive deep down under somewhere. A mineral cocktail of lava, science, something very archaically ancient and literally down-to-earth. I might have been unconsciously influenced by the magnificent landscapes surrounding my home. Not volcanic, it's true. But still, it's nature, in its splendidly indifferent, almost crashing-you-down beauty. The Carpathians mountains and forests with their vaguely menacing air about them, lakes and wood and rocks, rough textures and materialities.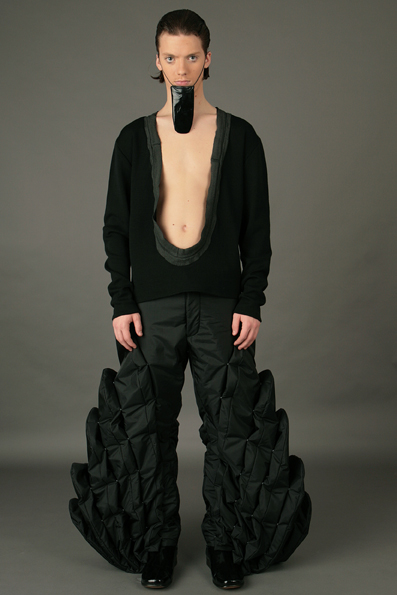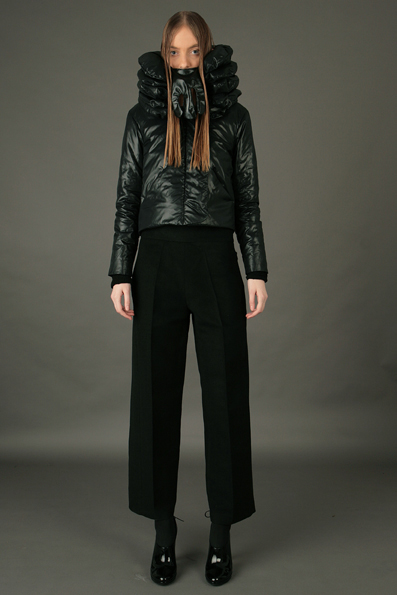 Rozalb de Mura FW 08/09 Collection 'The Thing'
It seems that the sewing is difficult because of the exquisite workmanship for the detail parts of clothes. Did you have any difficulties to complete your collection? Also did you focused on the use of textiles and materials particularly?
Rozalb de Mura production is extremely accurate – I consider this to be essential. Especially since most of the young designers have problems with the quality of the production or the fabrics. Our label is benefiting from the long experience of the factory in Miercurea Ciuc, that has a high quality reputation in making coats and jackets for international brands. As the production facilities are next to my studio, I'm in a continuous coming and going between them. Each decision is crucial, even the minutest detail can influence, improve or ruin the whole look of a garment.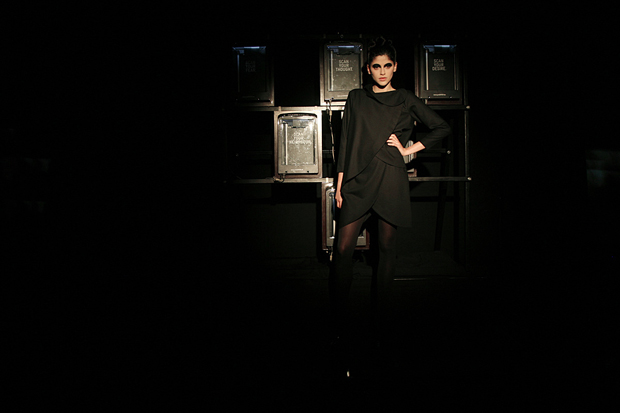 Rozalb de Mura show at IDEAL Berlin (February 2008)
What does the machine tools on "The Thing" image imply?
It's a tool used by volcanologists to collect and study lava samples.
Could you tell us about Romanian fashion scene?
I belong to an ex-communist country, in which the scene is quite small and still struggling to coagulate. It is still quite conservative and underdeveloped. Until recently, most of the fashion meant oscillating between the "entirely sexy" or an impressive kitsch without humor. I think this was because of an unsavory mixture of long years of communist regime, some Balkan influences and lack of openness and curiosity.
In Romania, there is not much infrastructure, nor support for developing a business in this field, so you have to imagine your own solutions. Consequently, things are quite hard for a young label. There are also some really talented young designers, struggling to present their vision and to build a business.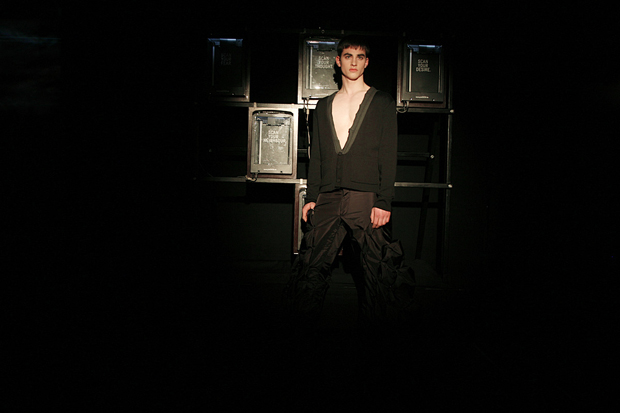 Rozalb de Mura show at IDEAL Berlin (February 2008)
Could you tell us about your work environment? What's your interest in music, book, etc. for your spare time?
Miercurea Ciuc, the place I live and work, is a small town in Transylvania. My studio is warm and austere in the same time, with chocolate brown walls and massive wood benches and table. A lot of old frames, paintings, white porcelain, fur. And of course, manically ordered objects on my huge working table.
I'm chaotically eclectic in my music choices, from electronic minimalism to the syrupy and foolish flamboyance of the '80s. The weirdly beautiful music of the Swedish duo "The Knife" was the inspiration for the Rozalb de Mura FW 07/08 collection, "A cracked smile and a silent shout". I was entranced by their wicked and strange universe, their elaborate sounds.
Recently, gorgeous Sabina from the Brazilian Girls visited us in Paris. She picked some Rozalb de Mura pieces to wear on their North American tour promoting the forthcoming record – New York City. I got the secret password and listened to the stunning, eclectic album. There are three songs that blew me – L'interprete, St. Petersburg and International. I'm excited, it seems we'll work together again quite soon.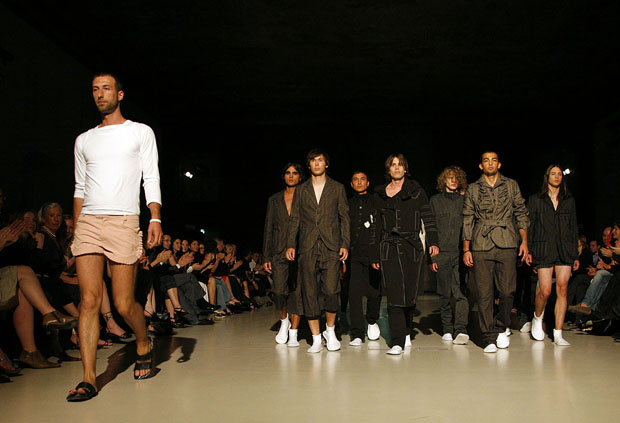 Rozalb de Mura show at the Unit F festival (June 2006)
What (things, people, fashion, etc.) were you influenced by?
Every time I start a new collection, I try to discover a "place" I've never been to. It can be disconcerting at the beginning; nevertheless this feeling of being lost in a totally new world pushes me a bit further. Although my collections are generally built around a concept, there is an immense pleasure in letting myself guided by intuition and sudden gusts of inspiration. That could come from unexpected sources, a strange face or an exciting laugh, a dashing personality, a leaf, a beautiful room, light patterns, a colour that haunts me. Details that smilingly and fleetingly present themselves before me, waiting to be picked up and exploited. Certainly, the experience of living in Romania could not but leave a mark on me and my work.
What is the most important thing in your fashion? And what is fashion for you?
A fascinating way of expressing myself: from love fantasies to exuberant curiosities or austere minimalism. Searching for answers. Allowing myself to be wondered. A way of submerging into other worlds. Quite close to acting, in a strange way.
Please leave a message to the readers.
There's a lot of wisdom and beauty in nature. This is what I yet again realized while chopping logs in the yard of my house near the woods. It's both physically exhausting and hypnotically relaxing just to chop wood and let your thoughts wander about. Time is indeed the greatest luxury of all.
Rozalb de Mura Store
Address: 9-11 Selari str., Curtea Sticlarilor, 1st floor, Sector 3, Bucharest, Romania
Tel: 00-4-0724-331-201
http://www.rozalbdemura.ro
Text: Kazumi Oiwa, Mariko Takei
[Help wanted]
Inviting volunteer staff / pro bono for contribution and translation. Please
e-mail
to us.