FABRICE HYBER "SEED AND GROW"
A man came to Tokyo to sow "seed". His name is Fabrice Hyber, is an artist representing France creates a lot of works about environment.
Now, "Seed and Grow", an exhibition at WATARI-UM museum in Tokyo reveal what his "seed" is.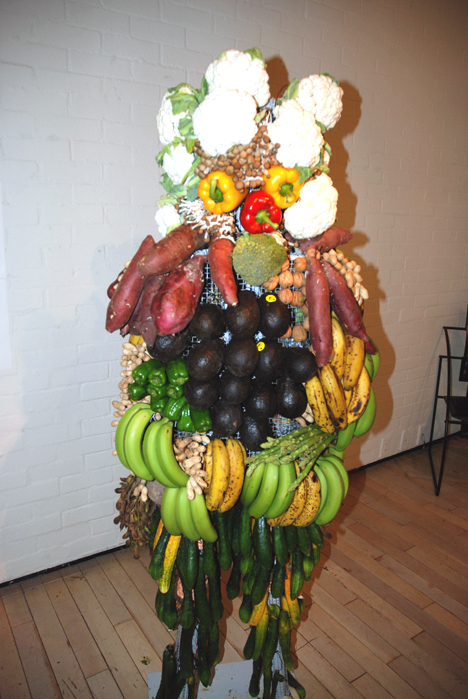 According to G8 Hokkaido Toyako Summit and other social issues, to feature of ecology and environment is fashion. It is kind of dangerous to make "eco art" right now because it might be regard as just trendy. Fabrice said "I will seed ideas like I seed the forest. Several years ago, I made up my mind to create forest in France, I realized that I would do the same thing as I'd ever done in art." . Like he said, his works should not be thought of the part of the ecological and environmental boom On the contrary, the recent movement might be the result of his art activities.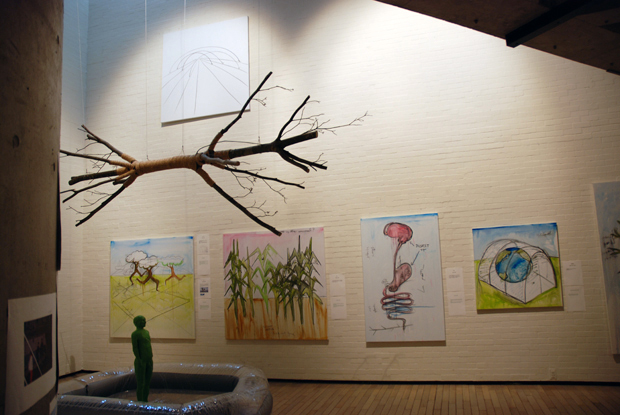 At the exhibition, the scarecrow shapes bear welcome you at the entrance and works follows such as MIT MAN, contains cauliflower's head, avocado's chest, green pepper and banana's hip and cucumber legs(this is a vegetable man made by various vegetable to shape each body parts, collaborated with a scientist of Massachusetts Institute of Technology). Various drawings about experimental ideas of agriculture and projects of making honey bee in the city….most of his works' relate with experiment, city, agriculture and environment.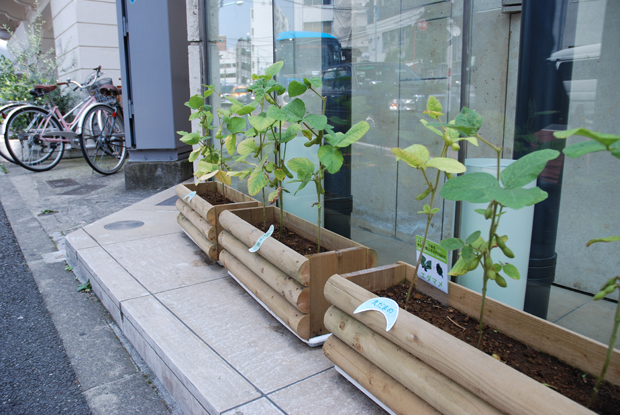 In addition to the exhibition, "Art makes the town vegetable garden" project involved all across the Aoyama neighborhood. For instance, at the front of fashion store, you would see green soybeans in the flower bed beside the busy street a lots of car across, as well as aubergine fit to eat the field at the intersection. This fact surprised me.
By indicating the process of things, Fabrice Hyber has been giving viewers the opportunity to think of environment around you.
Like everyday's meal and little border in the street from your home to station, to sharpen your sense to observe little things in your daily life is important. Thinking of your surrounding environment is connecting to other big issue. The exhibition reminds me that.
Fabrice Hyber "Seed and Grow"
Date: April 26th – August 31st, 2008
Place: Watari-um, The Watari Museum of Contemporary Art
Hours: 11:00-19:00 (Wed -21:00)
Admission fee: Adult 1,000 yen / Student (under25years) 800yen
(Ticket with signature is valid throughout the exhibition period.)
Address: 3-7-6 Jingumae, Shibuya-ku, Tokyo, Japan
Tel: 03-3402-3001
Fabrice Hyber: Born in Lucon, France in 1961. Lives in Paris. In 1997, at the 47th Venice Biennale he presented the fresh idea of making the French Pavilion function as television station and taking all the events during the Biennale into the work, became the youngest winner of Golden Lion. In 2000, to commemorate the millennium he created the work , whose motif is environmental problems at The Arc of Triumph. He set out for the stage sets and the costumes in the ballet "Les 4 saisons (The 4 soasons)" of choreographer Preljocaj in 2005. Next year, the new sculpture "Le Cri, L'ecrit" was installed in Jardin du Luxembourg in Paris. The same year, in the suburb of Paris he created "the Artery", which consists of layed ceramic mosaics of 1000 square meters. In October 2007, the exhibition "Food for Thought" collaborated with scientists was hold at Le Laboratoire, new art space opened in the heart of Paris, which produced a great sensation.
Text and photos: Wakana Kawahito
[Help wanted]
Inviting volunteer staff / pro bono for contribution and translation. Please
e-mail
to us.