ROBERTO CUOGHI EXHIBITION
Roberto Cuoghi is one of the most interesting Italian young artists – born in Modena in 1973 – who bizarrely owes part of his popularity to a will to disappear.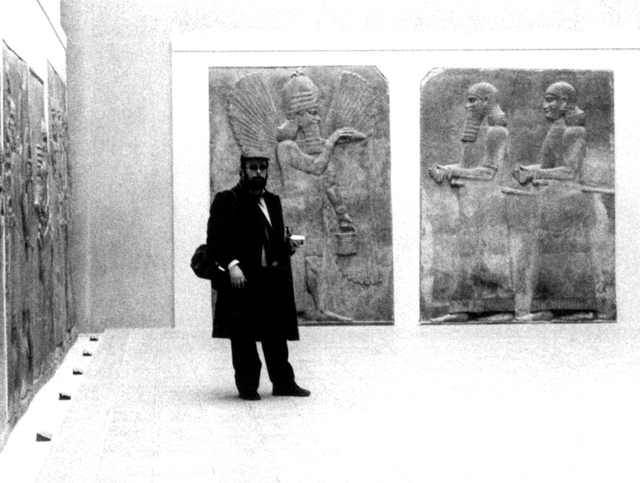 Roberto Cuoghi in Louvres museum © Roberto Cuoghi
In a reverse dandyst act of self-editing, refinement and artificiality, Cuoghi has started to wear the clothes that his father gave him and began to gain weight to fit them, only to found himself transformed in a 60 years old looking man – receding hairline and greying beard included – when he was in his late twenties. The process of transformation, far from being harmless to the artist's health has been the base for a series of works which held allusion to Andy Warhol's identity-play with cartoonish, super-stylized appearances.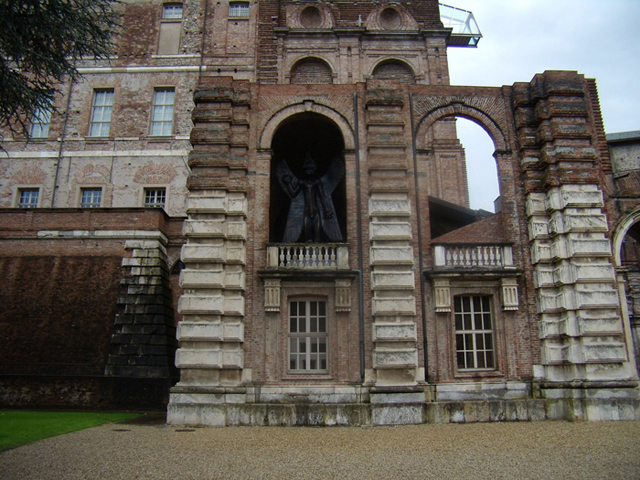 Pazuzu sculputure at Castello di Rivoli © Roberto Cuoghi
The show at Castello di Rivoli is comprised of a six meters tall statue representing the Assyrian mythological creature Pazuzu (the demon starring in William Friedkin classic horror movie "The Exorcist", 1973): Cuoghi had the permission from the Louvre museum to digitally scan the original sculpture – measuring just a few centimenters – to create this identical gigantic twin now disposed at the top of an unfinished staircase, overlooking spookily the Piedmont valley in front of the museum. The idea is that Pazuzu should create a sort of mystical protection to the museum, seconding the law of fighting evil with evil.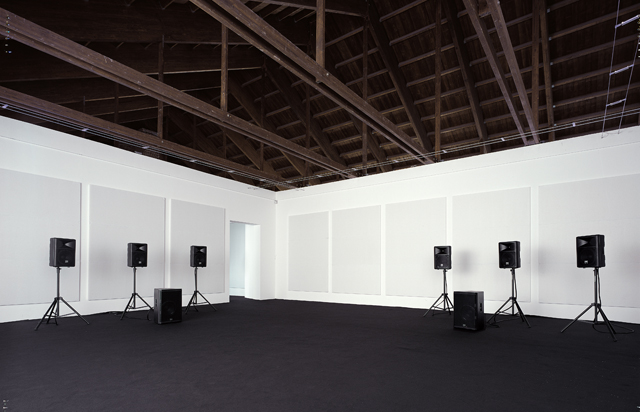 Suillakku sound installation © Roberto Cuoghi

On the third floor of Castello di Rivoli, there is the second half of Suillakku: a sound piece of the same name in which Cuoghi has used an almost interminable list of traditional, new or invented instruments and his voice – digitally metamorphose to reproduce timbres of both sexes and different ages – to create a fictional Assyrian lamentation that once again is supposed to drive away the forces of evil. The sound is distributed in several rooms through an highly sophisticated system that allows the listener to have a complete idea of the piece only after different walks trough the different rooms. Suillakku is not only a conceptual piece and also has a strong musical value (also highlighted from the post-musique concrete attention to the means to the diffusion of the sound): a son of a punk-dadaist fake ethnic music tradition, maybe an ironic statement on the cult of otherness and originality, Suillakku is also a perversely beautiful and haunting music experience.

Roberto Cuoghi Exhibition "Suillakku"
Date: May 6th – July 27th 2008
Place: Castello di Rivoli
Address: Piazza Mafalda di Savoia, 10098 Rivoli, Torino
Tel: +39 11 9565230

Text: Francesco Tenaglia

<!- Rubicon OS Player -->