GLAZED PARADISE BY MARK JENKINS & MIHO KINOMURA
Glazed Paradise.
When you are walking on the street, you would see a person put his/her head into a garbage vain or crash at the wall. I recommend to look at that carefully because this might be a piece of art work.
Mark Jenkins is an installation artist to make sculpture by using daily life goods such as plastic wrap and vinyl.
This street-based artist visited Japan at the first time, in order to exhibit his works which is collaborating with Miho Kinomura from STUDIO.D.O.G.INC at the DIESEL DENIM GALLERY AOYAMA in Tokyo.
The theme of exhibition is "Glazed Paradise". Knowing what Mark's Paradise is, I interviewed with both Mark Jenkins and Miho Kinomura.

Firstly, I ask Mark about this exhibition.
Could you please elaborate on each works at the exhibition?
PICNIC with the 3 seated figures inviting a fourth person (the viewer) was the main installation for me. The idea here was 4 figures (the participant included) getting ready to use a pair of chopsticks on a rubber boob. It's both a comical piece in the absurdist sense but also something for deeper contemplation. Across from the viewer we have the skull headed figure (death) that stares to the girl (to the viewer's right) as if it is her symbolic breast perhaps. This girl who is lost in herself I think is in many ways the main character. And to the viewer's left we have the dog-headed figure in pajama's, tongue out, staring at the boob representing our animal greed for sex. Above we have the baby dropping in seeking nourishment. And so it's about tensions between, sex, death, greed, the need for nourishment, etc.–a sort of confusion in balance with itself through the construct of this meditative circle.
The other main installation (untitled) is the kneeling girl with the floating angel and the ducks. Again the blond haired girl is the main character. And again, she is lost in herself with her hair in front of her eyes. She kneels to the bald apparition but with legs spread while the ducks swim to her in a way of returning the womb but with a sort of sexual edge. As in PICNIC it is hard to feel if she is feeling sadness, shame, or in a deep trance, but it's another meditative scene, as prayer is. There is no direct invitation to interact here to the viewer, but for me, I think it's best to experience this scene by kneeling beside the girl.
The scene with the Trash-er (garbage bag with legs) and the passed-out girl was made to camouflage the girl as being "trashed" which is English slang for someone who has had too much to drink.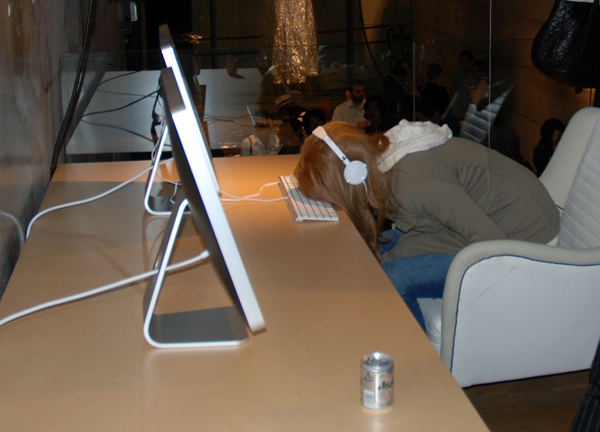 Upstairs in the video area was another piece which attempted to camouflage itself with the gallery viewers with this female sculpture passed out in her keyboard. Since a lot of my street work is about camouflage via hyperrealism, I like to try and achieve this indoor as well.
Why did you use real person looks like the work, legs under a garbage bag?
Using the legs in a garbage bag is funny in a strange sense because it creates this sort of oneness with humans and what we throw away. Most people identify themselves with their possessions rather than the trash they throw out and never think to co-habitate with their rubbish. But too, I like the idea of this guy living inside of his own trash, unable to see, what he must smell if it were really trash. And then with this girl beside him, it's not something he can even realize let alone enjoy. Maybe here, as the only man in the scene, he represents his own self-contamination by his bad moral behavior, but that is just my guess.
Could you explain the reason you mixed several your style at this exhibition?
Mixing styles for me is more about using the various characters I've created on the streets in a way to enrich the story, the same way an illustrator will create a cast of characters like the Simpsons and then develop plots. Most of my work, while symbolic, has a strong underlying narrative both on and off the street.
What do you expect when people look your works?
On the street, it's been more about challenging their reality by bending it with the art pieces that are hyper realistic and then turning the city into a stage as people react to the pieces. Indoors it's a similar event with the camouflaged pieces, but the reactions are not as severe since it's much harder to really fool people. But still I enjoy being able to build larger more complex installations and to some degree at least, you can still fool people's eyes or put them into situations like the PINIC that will cause them to think about new ideas by having this new strange experience.
How do you think of Japan?
Japan is great. I was only in Tokyo but it really made a favorable impact and quickly became one of my favorite cities in the world. Everyone is very kind and I love all of the street activity with girls in short skirts, courteous construction workers, it's a city that feels very alive. I could live here.
How do you think of collaboration with Miho Kinomura?
It was a great experience working with Miho. I think her film really captured the process of putting this exhibit together. Also since two of the sculptures in the show were made from girls in Tokyo, it was great for people to meet these people through the film. My favorite part though, was going out with Miho on the streets of Tokyo and making the portraits of the Japanese people with the babies, her idea. It was a new way to interact with the public at large that I thought was really successful. She is a free spirit with an abundance of creative energy and I'm sure she will continue to make a big impact on the international stage and I look forward to collaborating with her again in the future.
Could you let us know your future projects?
I will be in Barcelona in July for an outdoor festival (Interferencia) and then be a part of the DROOG biennial in Amsterdam in September, and then another festival in Bordeaux France for New Years. For my installations I'd like to continue focusing on the outdoors as this is where I think there is the most creative frontier but the indoor experience for me is fulfilling too. I also hope to return to Japan for some outdoor fun.
Then, Miho Kinomura, a curator of this exhibition answered our queries.
Please let us know why you chose Mark Jenkins to this exhibition.
Having an exhibition at DIESEL DENIM GALLERY AOYAMA, it's boring to collaborate with normal artists. I thought that it should interest people work in fashion, advertisement, art, and everyone is interesting at fashion.
And balance was especially my concern when I choose an artist and took long time to decide. From my interpretation of unique city Tokyo and remarkable fashion brand DIESEL, his name came across my mind and contact him because I have attracted Mark.
What do you think of his works?
There are mainly three points of his works.
1. Fresh idea mixed destructive avant-garde approach and romantic
2. Camouflage kind of sense of humor, like a surprising camera. His works at street involve people.
3. Romantic and dreamy world like a "paradise", such as theme of this exhibition.
It is very interesting the exquisite unbalance mixed both avant-garde and romantic as well as his dreaming world-this is his eternal theme.
What did you think to shoot making movie?
I was amazed how elaborate the process of work and how careful to make works.
It was really good opportunity to record how to make Mark Jenkins's work from the begging to the end, and nobody does it before.
By using three movie camera and two still camera, it's taken documentary film in 10 days since Mark has arrived at Tokyo. In order to make it successful that it took a lot of time including preparation both Washington D.C. and Tokyo in addition to many help by production staff. In this time, I took movie in 10 days myself although I don't always to do it. I am quite satisfy about success of this Tokyo movie shooting as Tokyo stuff supported me in terms of guerrilla shooting's negotiation in Harajuku. Mark and I are thinking about applying for some International film festivals in the near future.
For an artist to create works kind of camouflage, it would be dangerous to show the process of making. However, on the other hand, Miho's making movie reveals the high quality of Mark's works in terms of making works very precisely and letting us know artist' sense of humor.
Why don't you go to the exhibition to be deceived by Mark's romantic and a little bit grotesque work.
Glazed Paradise by Mark Jenkins & Miho Kinomura
Date: May 24 – August 15, 2008
Place: DIESEL DENIM GALLERY AOYAMA 2F
Address: 6-3-3 Minami-aoyama, Minato-ku, Tokyo
Tel: 03-6418-5323
Open hours: 1F STORE 11:00 – 20:00/2F GALLERY 13:00 – 20:00
Holidays: irregularly closed
Presented by DIESEL JAPAN
Curated by STUDIO D.O.G.INC
Text: Wakana Kawahito
[Help wanted]
Inviting volunteer staff / pro bono for contribution and translation. Please
e-mail
to us.