An absurd universe that is all their own seduces viewers into their parallel dimension.
They're young, they're hot, they're crazy in love and they're grossly talented – verily, one might say they're enough to make one nauseous. Since the start of their creative and romantic liaison in the late 90s, the irresistible surrealism of Kozyndan's world has effortlessly bridged the fine art and commercial realms, racking up an enviable list of exhibitions and commercial giant-clients along the way.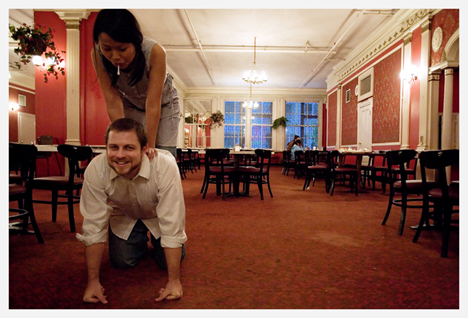 © Sean Marc Lee
Widely acclaimed for their detailed hyper-real panoramas, Kozyndan's distinctive digital paintings depict the human and technological overload that characterize everyday modern life. An absurd universe that is all their own plays host to a startling array of surreal characters, seducing viewers into their parallel dimension – where Japanese businessmen share bar-space with grizzly bears, cuddly bunny-fish hybrids skim the air, and giant pink rabbits watch as gargantuan robots do battle on the River Tyne.
"Beneath the Surface" brings them to Holland for the first time, celebrating the launch of Maxalot's new Amsterdam venue.
Could you tell us about yourself including your background?
Dan: I grew up Orange County, California. Studied illustration, though not very well, at Cal State University Fullerton. That is where Kozy and I met, in painting class.
Kozy: I grew up in Yamanashi, by Mt. Fuji, Japan till 18, and moved to California to study art at Cal State Fullerton



Pacific Drift, for the "Beneath the Surface" exhibition
Could you tell us about your recent projects that have got you excited?
Kozy: Last year we spent a lot of time doing paintings for various shows, so this year we wanted to get back to the computer and do some Photoshop painting, and particularly get back to our ongoing series of Panoramic images. The first work we ever did together was a panoramic of our living room, and we have been expanding the series ever since. We hope to someday put out a nice, wide book of all these images. For our show opening on May 29th at Maxalot Gallery in Amsterdam, we will be debuting our first full size panoramic image that we've released since 2006. They will be displaying it quite large, perhaps the largest any of our panoramics has ever been displayed (this is the image on the cover of Shift). We are grateful for that as it took us over 2 months to complete. We spent about 5 weeks tediously painting coral in Photoshop, so its nice that people will get to see the image large enough to see all the work we put into it.
Dan: We have also completed a second, completely different image from the same coral reef for a show at Vallery in Barcelona that will open June 19th. Beyond shows, we are also working on product related stuff including a clothing line with PUMA that has just begun to hit Footlockers stores in Europe this spring. We are also working on toys that should be out in the Fall or sooner. We've made two different toys based on a character we have been using in our work the last few years called "Bunnyfish". The character is, as the name implies part bunny and past fish. We are doing a crocheted version that we are distributing ourselves, and traditional plastic minifigure is being released by Upperplayground as part of their "Get Small" series of artist toys. We are also working on a book about the Bunnyfish, though I don't know when exactly we'll finish it.


Puzzling Inside and Out, for the "Beneath the Surface" exhibition
What does an average day in the life of Kozyndan look like?
D: Hah – that is a great and terrible question! I dunno. Our days are all over the place.
K: It is kind of hard to say what a typical day is. It depends on whether we are working, and what we are working on.
D: Typically though – I get up a few hours before Kozy. I start very slow in the morning – surfing the internet, scrounging for breakfast, writing emails. Then Kozy will wake up between 10 and noon. Usually we go to the gym in the middle of the day, then eat lunch. At some point one of us will run some errands – the bank, the post office, a trip to our office to sign some posters, things like that. We generally don't get started working on art until well after lunch. We work then until late at night – perhaps till 3 AM, with plenty of breaks for TV, internet (researching anything from future travel plans to porn), video games, dinner, and whatever else we can think of to procrastinate. If we are on deadline though we usually try to dispense with those things and just work work work until we are tired. Usually these days I fall asleep with headphones on listening to whatever audiobook I am listening to at the moment.


Ueno Ghetto, for the "Beneath the Surface" exhibition
What do you think of the current design/art situation in Los Angeles, your current hometown?
K: Oh it's wonderful here. There is a wealth of talent and it seems like there is a good amount of work for designers and illustrators, and wealth to support a vibrant gallery scene for fine artists. This is one of the world entertainment capitals, so creative people are drawn here and the economy is good. That is a good environment for artists to work in.
D: It's also a good place to be because its such an odd town. There is little separation of rich and poor, high and low culture, ethnicities. It's all jumbled together. It's sort of a breeding ground for strangeness. It is also rather spread out, one of the most spread out cities we've ever been to, without good public transportation. So things are kind of hidden, and its easy to do your own thing and not be influenced by the same things everyone around you is. I like this kind of isolation. I think it allows for the huge variety of work produced here. We don't really follow the design and art scenes here too closely these days, I think we'd both rather be hiking up in the hills than being seen at art openings, but just from the quality and variety of the work our friends here do, and the success they've had, I would say Los Angeles is a really vibrant place for creatives.
Do you have designers/artists/books/and any other things or people you've been influenced by?
D: Its always hard to answer that. We don't really think too much about where our style comes from or what kinds of things we like in art. I think that most of the people i really like these days, I discovered after we had already begun working together and established our styles. I really love a lot of artist that have shown with Mizuma Art in Tokyo. People like Yamaguchi Akira, Makoto AIda, Kondoh Akino, and Kyotarow. I think most of them, Kozy and I loved making detailed complex, odd images. I am not sure I would call them influences, but I really love their work now.
K: We also like the work of children's book artists like Dugin & Dugina, Wanda Gag, and David Wiesner, Cartoonists like Jordan Crane, Chris Ware, and Winsor McCay. More than other art though we are influenced by many other things – music is a big force in my life. I need new and challenging music like I need food and air to breathe. Most of our work is influenced by nature – animals, the natural world. There are very few works of ours that do not feature animals or some natural environment. When we aren't working we travel a lot, and mostly love hiking and scuba diving and going to zoos.
D: Yeah, just last year Kozy got started on scuba diving and it took over our life. We went to Okinawa, Thailand, Hawaii, and Australia to dive, and hence the last year has been filled with work about the Bunnyfish and work set in and around water.
Can you explain your digital painting technique?
D: It is the simplest of things. It is actually the first technique I ever learned years ago in my first digital illustration class in college. We simply scan in our drawings and then paint underneath them with the brush tool using WACOM tablets. It is not any different than how many thousands of illustrators work, and how comics are created today. We use Photoshop very simply, and don't treat it too much differently than if we were painting with traditional mediums (which we also use quite a bit). Perhaps the only thing we do is paint under our pencil lines, rather than inking them. We rarely use ink, or vector graphics for line work. The pencil gives the work a rather messy organic feel despite being painted digitally.
Could you tell us about the concept of the SHIFT cover?
K: As scuba divers, the health of the oceans is on our mind quite a bit. Humans are basically killing the oceans through overfishing, pollution, and global warming. The idea for the piece came from reading lots of articles about the great pacific garbage path. In the middle of the pacific ocean is the Pacific Gyre, a place where there is not much current and so trash from all over Asia and North America collects here. The surface of the ocean is littered with garbage and the water is higher in plastic nurdles than plankton. We were thinking about how horrible it would be to dive in a coral reef littered with the waste of human consumerism.
D: A lot of our panoramic works deal with the relationship between nature and our modern technological world. Usually we envision nature invading urban spaces in an attempt to reclaim these urban jungles. With this piece we imagined these trash monsters, creatures we have thoughtlessly created, invading this coral reef. The bunnyfish is coming out to battle these garbage leviathans. The bunnyfish has evolved into sort of a mouth piece for us – he stands for anything that is important to us – exploring new cultures, traveling, good food, ecology, etc, so they are a natural choice to be doing battle against the garbage mankind has tossed into the sea. It is kind of a protest piece in that sense, while at the same time working as just a fun illustration. We usually like to address these subjects in childlike or comical ways.


The Battle on the River-Tyne (Ootside! Yeandme!)
What are the perks of being married to your business partner?
D: Sex breaks!
K: I have no qualms about slapping my business partner if I disagree with him. I could never get away with that if we weren't married.
D: Seriously though – we just don't know any other way. We starting working together, began Kozyndan, while still at University. It is just natural for us. We are always together and quite used to having our relationship and career intertwined. Most of the time it all flows and it is all smooth so it works very well for us.
What exciting projects do you have lined up for the near future?
D: Oh man – hopefully nothing! We want to take a break for a while! We probably won't but we have cleared our show schedule for the rest of the year after our two shows in Europe this month. We are going to Okinawa for a month or two to make art on our pace without looming exhibition deadlines.
K: We also have several art books projects that we have gotten about halfway through. We would like to start tackling them and get more books published. I think we'll use the small break from exhibiting to get some of those finished.
Have you got a message for our readers?
Kozy and Dan: Enjoy Life! Be good to the world and to each other.
KOZYNDAN "BENEATH THE SURFACE"
Date: 30 May – 14 June 2008
Opening hours: Thursday through Sunday, 12:00-20:00
Place: Maxalot Gallery Amsterdam
Address: 191 K Lutmastraat, De Pijp, 1074 TV Amsterdam
Tel: +31(0)6 3434 6031
Opening party: Thursday 29 May, 18:00-22:00
Text: Lotje Sodderland from Maxalot
[Help wanted]
Inviting volunteer staff / pro bono for contribution and translation. Please
e-mail
to us.