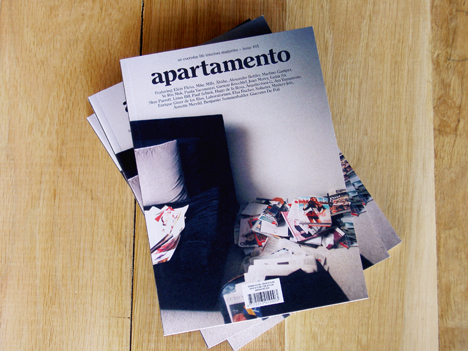 Apartamento is not that kind of magazine that tells you what furniture you should buy or how you should decorate your flat. It's quite the other way around: this Spanish-Italian venture is all about having a glimpse at how people organise their daily environment. Voyeurism or admiration? The point is that it's a real pleasure to browse through living rooms or bed rooms of American polymath Mike Mills, of the Editor-in-chief of Purple Journal, Elein Fleiss, of the British indie-band Mystery Jets and many more. There are common aspects: since all the houses are of people involved in creative jobs, who tend to live in bigger cities, places are tiny and densely packed with stored information in form of books or pictures but the styles and the moods are very different. But the portrayal of other people's life spaces is not the only raison d'etre of Apartamento, that seems to be a good platform also for special projects like Annette Merrild's featured in the first issue and many more other things: let's discover them with the Milan based Associate Editor Marco Velardi.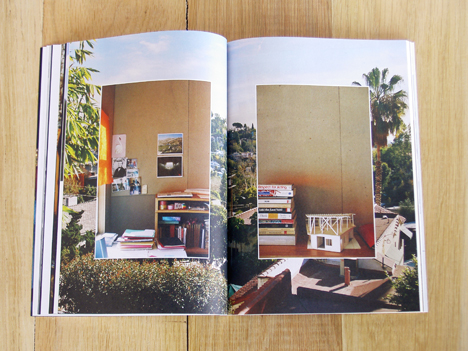 Who are the people behind Apartamento?
Apartamento was the brainchild of Nacho Alegre, Omar Sosa and Albert Folch. They have been knowing each other for a long while, living in the same city Barcelona. They realized there was no magazine as such following closely interiors and people's lifestyle as they wanted to see it portrayed, therefore the only way was to do it themselves. Both Albert and Omar worked for Albert's own design studio, specialized in publishing and with the experience of art direction for magazines like Fanzine137, Metal, Kilimanjaro. Nacho is a young emerging photographer, who has been gaining a lot of recognition in the fashion, music and magazine scene, but originally began working with photography thanks to the Swiss furniture maker Vitra, being commissioned images for one of their beautiful annual Home Collection catalogue. Nacho has been a friend of mine, a multitasking freelance writer and curator living in Milan, for a while thanks to mutual connections, when Nacho met me again in Spring 2007 asking to collaborate and write for Apartamento, the magazine wasn't even planned.. There was an idea up in the air, which then began to grow and define itself as more concrete project, which was then put together in the last 6 months mounting to the presentation in Milan last April during I Saloni.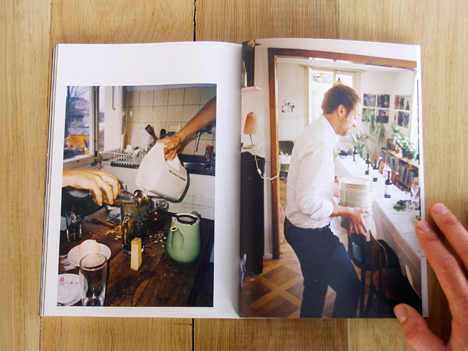 Could you please explain the concept of the magazine?
Apartamento is an independent magazine, born out of the will to establish a connection with its readers by portraying interiors, furniture, design, architecture as a mean of personal expression… in a way that is close to the feelings and aesthetics of many new generations, either if you are 18 and just moved out of your parent's house or you are 45 and thinking of redoing your apartment from scratch.
Apartamento is dedicated to the concept of Home and Interiors, comprehending all that makes the place where you live yours: furniture, interior design, books, food, music, architecture, art, gardening…
People tend to try and affirm their personal taste more than ever nowadays, and express it in many ways: by the way they talk, the way they dress, the things they do… Apartamento is there to capture the moment in life you start living in your own home and you want it to reflect your own personality.
Apartamento will show homes of young, both established and emerging, creative people from all over the world, like it has never done before, filling a gap for style and aesthetically hungry readers, bored with the usual masks and clique imposed by most magazines in the field.
We will not show tidy interiors because they don't exist outside your mum's imagination. We want to show how people arrange their homes and the solutions they find to the same problems you have.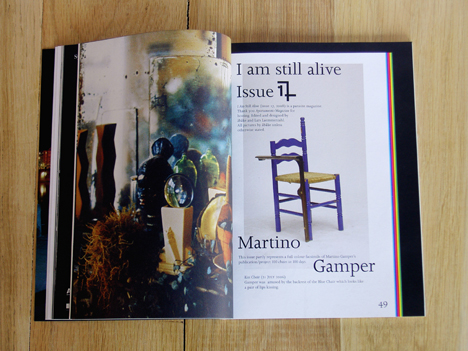 How did you launch the first issue? Did you have good feedbacks so far?
The first issue was presented in Milan, on April 17, at Spotti, one of the leading interiors showrooms in Milan. Apartamento invited to-Kit, a duo of Milanese girls, Anna Clerici e Silvia Orlandi, to present their brand new project about visual everyday life aesthetics seen and portrayed through interiors. Apartamento thinks it's important to foster new talents and push new ideas into the game of design and interiors. Feedbacks have been really positive, from designer Martino Gamper himself (present in issue 1 with a special magazine inside the magazine and a postcard that complete his 100 chair catalogue, the 100th chair is finally revelead..!!) , to designer Konstantin Grcic whom we hope to collaborate in the near future.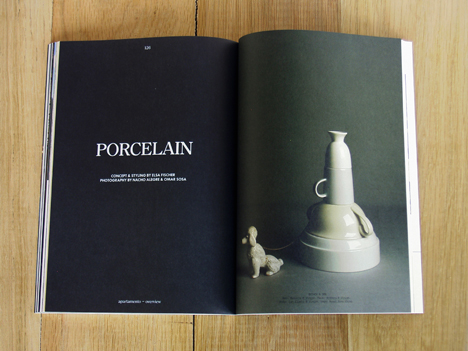 What are you working on at the moment?
Issue 2 and the launch for it… coming this fall on the other side of the pond.. but can't tell you more right now. Also, please write us if you can't find the magazine in your city or local bookstore.. we are getting there but the system is slow.. so don't be afraid to drop us an email, or propose ideas..
Text: Francesco Tenaglia
[Help wanted]
Inviting volunteer staff / pro bono for contribution and translation. Please
e-mail
to us.