The way to Paris Fashion Week is much more severe than one would like to expect.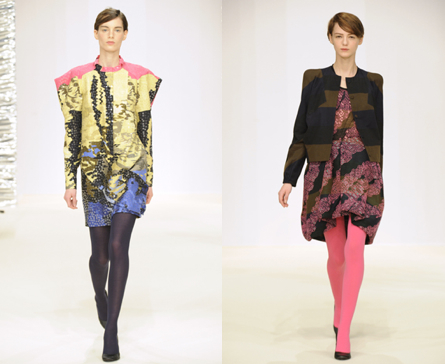 The designers, have to make their brain something of a black hall in order to earn the title as one of the 90 maison de couture. The models, they've got to promise to say good bye to cakes- something many of us couldn't put up with even for a day. And the people who have to go there, they were chosen from those who have survived many ordeals. Make sure that you are not the least bit daunted, when you are all wet because of the car that just passed splashed you from an adjacent puddle. Make sure you have the guts to smile when you found out that you only have a one-way ticket (even though you thought you bought a return ticket), felt alone or only had 3 coins in your purse. What's more, you believed that there should have been an invitation for the fashion show, but it was gone- somewhere, somehow. It could all happen so quickly.
People who would have run away from such situations to that paradise near Paris because nothing went well, would be freed from everything. There is no doubt that the show, organised by special people for special people is, of course special. The most beautiful thing you have probably ever seen, this is Paris Fashion Week.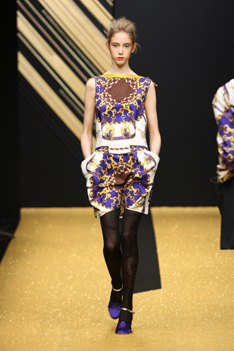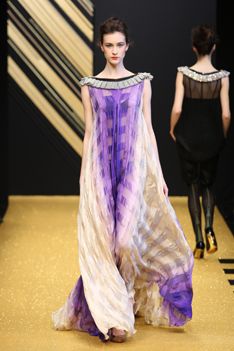 Photo: Shoji Fujii © Photos Courtesy of Gaspard Yurkievich
Her name is just like mine, I was in love with the story of the girl who chased the impatient white rabbit in the wonder world- the world of Gaspard Yurkievich, full of adventure. The theme of the collection "The beautiful fall", was taken from the title of the book by Alesha Drake, which was written about Paris in 1970's. The huge pull tabs were on the vivid violet dress and the yellow zippers were swinging like pansy on the pocket of the trousers and her back and arms as well as even around neck. Its frill on the soft see-through added even more of an elegant touch. Tights which were printed in camellia, black and gold stripes, in addition to glamorous shoes that will not unlock your gaze. The golden floor was shining even more by Gaspard Yurkievich. "All in the golden afternoon…" Oh, I must have heard this line before!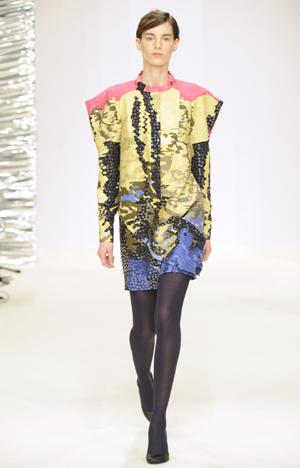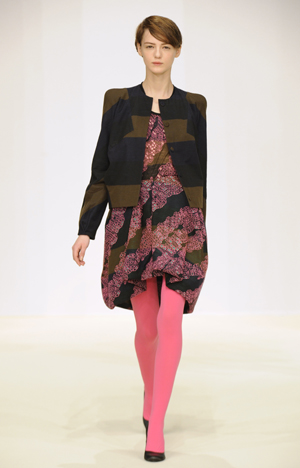 © Photos Courtesy of Robert Normand
I would like you to go ahead and ask someone, "Who did you think was the best person you met today?" You will probably get an unexpected answer. The designers who watched what they made, the models who walked in front of me, the people who played music for the first time and must have been longing to be there, or the writers who have achieved their dreams to sit in the front row- they would find the same answer. We had been looking forward to be like the ones who jet around fashion week, and we realized something when he, who we thought unreachable, was sitting next to us. That the best person was myself, who had grown up. Why this kind of thing came into my head? It must be because of the Robert Normand show, which was a mix of slender and graphic, neo-classicism and modernity, jersey and wool, crystal and color.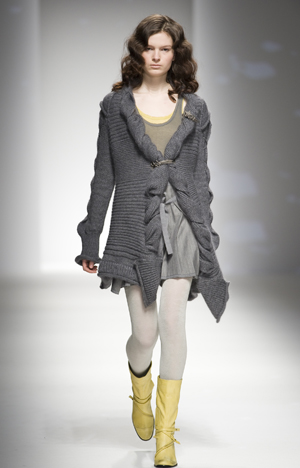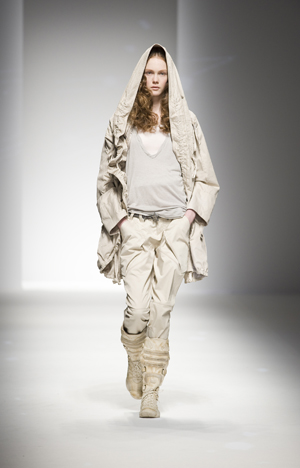 © Photos Courtesy of Marithe Francois Girbaud
2008/2009 AW, if you are soaking in the spacey atmosphere and as soon as you saw the words, we couldn't call you the master. If you have the silver invitation which was given by the maison, it makes you able to travel space without any breathing trouble. Visitors were fascinated by the Marithe Francois Girbaud,show where the floor was changing constantly with digital lightning like the colors of auroras in galaxies. Stars were shining everywhere on the clothes, strange shaped trousers which seem like gravity doesn't exist. If you were Star Trek fan, I bet you would love this but even if you were not, your heart would float in the space-like atmosphere. Put on some heavy boots when you wear that feathery dress so you don't fly away.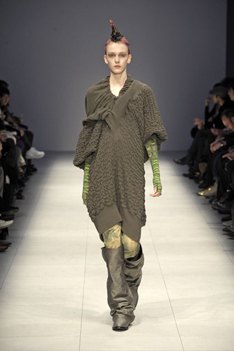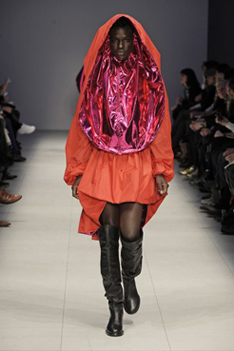 © Photos Courtesy of ZUCCa
The Zucca show was held in an art school across the river in Louvre Museum. When I thought I found the entrance, it was the back stage entrance even though some students told me that the school was like a maze. OK, the only way to get to the entrance of the fashion show is asking models who are just standing around, smoking and chilling. But even I, who had asked the way every 30meters or so, got scared to ask and I just couldn't bring myself to do it. I thought I was in Camden in London because there were punk rockers everywhere. A boy with countless duck curl pins, shocking pink and yellow mohawk, a chain necklace, grunge style shirt and huge boots. With a washed out big sweater, sparkling new material, and a girl who wore a poncho was looking at me. Am I going to ask to these people? I summoned all my courage and asked the way, wow, how kind they were, I was surprised. This collection was inspired by Medussa who had the power to change humans to stone. This meant that people who look strong tend to have a warm and kind heart. At least, thats what I understood from this experience.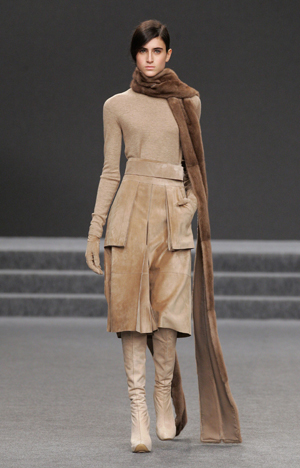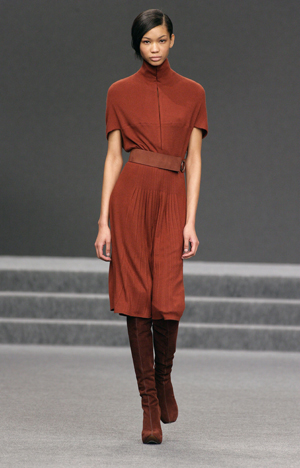 © Photos Courtesy of AKRIS
Akris hall which was unified with an all grey color scheme was sophisticated and cool. The brochures were aligned perfectly and inside, there were sketches, small samples of fabric, all of the models' names and what exactly they wore on stage. Super models like Iekeliene Stange and Irina Kulikova walk on the stage. Camel, maple, and chestnut colored Swede tunics folded on their bodies ever so softly, silk dresses and flannel trousers also left a fresh impression. He was the only one person who could make clothes which look beautiful as soon as we just put them on- that is for certain. He gave me warm phone call the day before of the show, and also sent me a polite email after the show, and what's more, the swiss chocolates on every seats told us more about his thoughtful character.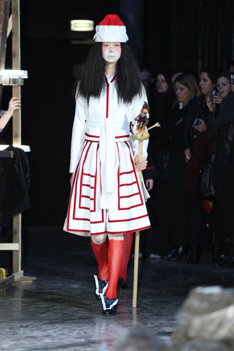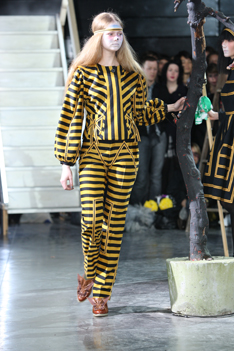 © Photos Courtesy of TOTEM
At the end of the show, Bernhard Willhelm appeared donning a Japanese fireman uniform. The show contained a lot of gothic elements, but somehow we couldn't find much of a Japanese atmosphere. I thought back to my childhood and how I would be scared to watch the demon who danced on Setsubun day and so I hid behind my parents. The cat faced goblins that were walking towards to us reminded me just of that time and memory. The red line ran on the edge of black dress like the collar of sailor suit. There was also a black and yellow striped jumpsuit which seemed like some Japanese baseball team. The stripe was made with black and white and red, yellow and blue. Models snuck through between the trees and hit the floor twice with a stick, they don't let your eye take a break. "I CANNOT HEAR YOU, I CANNOT HEAR YOU" -the music stuck to our ears forever and probably it was a message to us from Bernhard Willhelm who gave a completely new fashion show.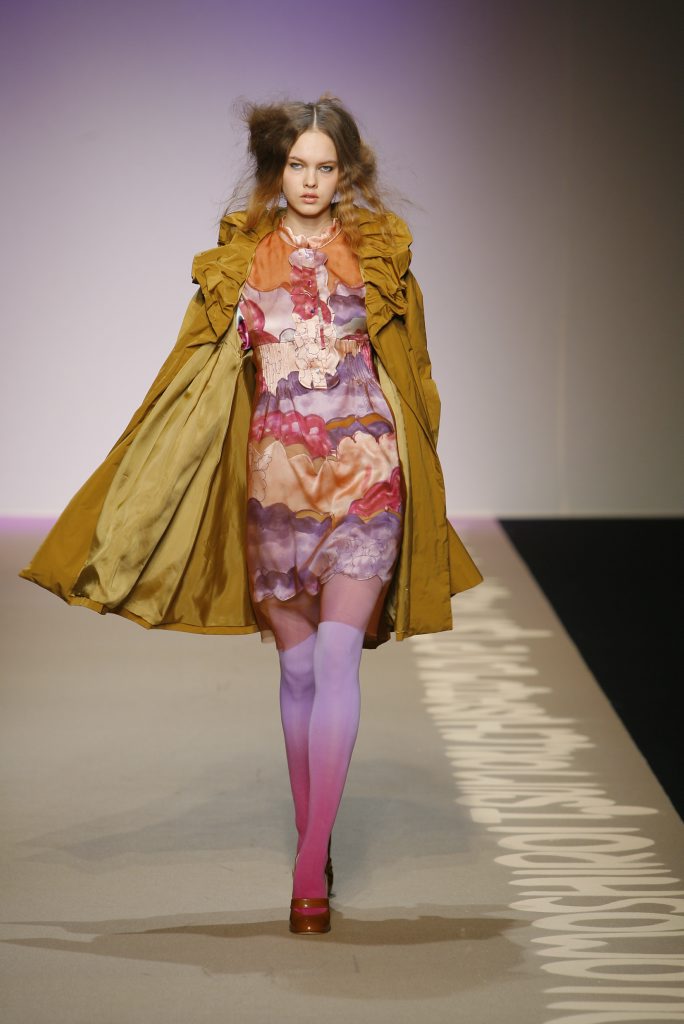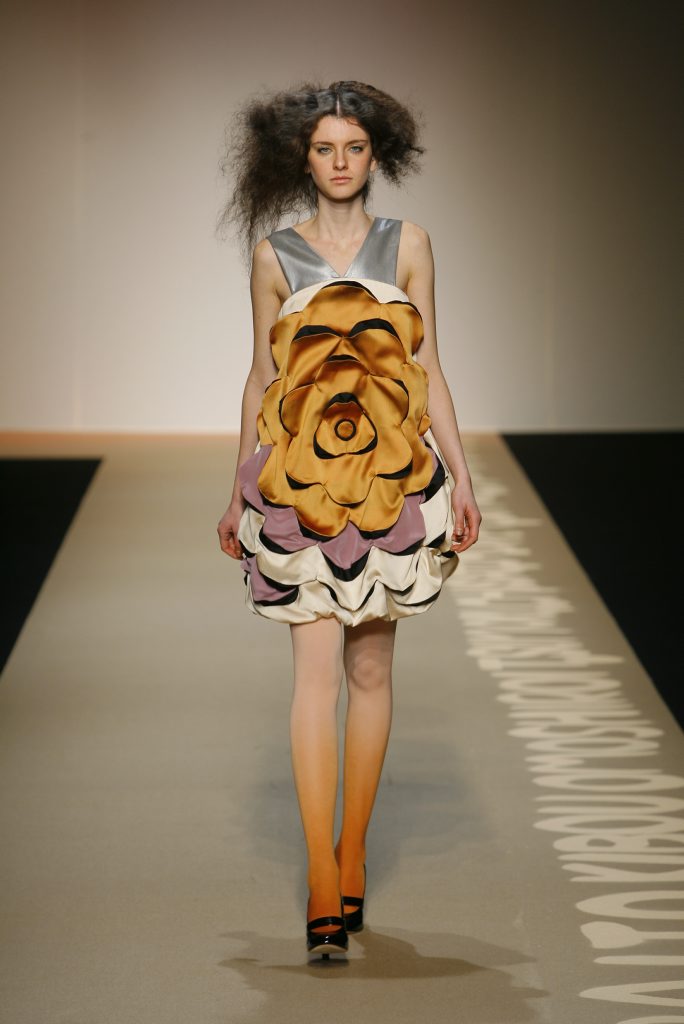 © Photos Courtesy of TSUMORI CHISATO
A girl who wears what she loves, and like one of the polka dots on her bag, she wouldn't know how to get angry. It was these kind of people who were lining in front of security and I have to say, it was funny somehow. The show was so adorable but first I couldn't find the brochure, but alas- it was hidden under the seat on the catwalk. It was written that "LOVE, OH I AM TALKING ABOUT WHAT? AITO KIBOU OMOSHIROI I LOVE ME…" There was no need to go to museums because the show itself was like pictures of a remixed classic blended with a light rhythm with a beautiful sky drawn by rough brush was the backdrop to some spectacular pop music. And the tights with beautiful gradation were like aurora and are just able to relieve us from any of our bad days. So, you know who finally appeared modestly with black long hair? "I LOVE ME, TSUMORI CHISATO"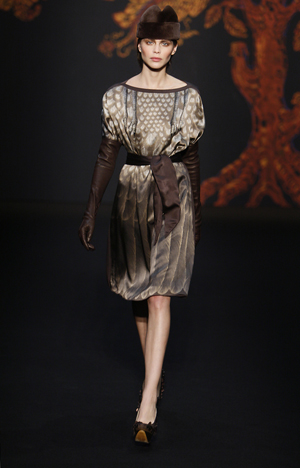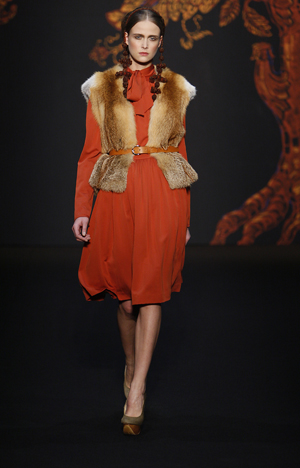 © Photos Courtesy of Alena Akhmadullina
The Alena Akhmadullina show from Russia was a perfect conclusion to the fashion show. She always proposes eccentric styles every season, so what can we expect for this season? Dresses printed with feathers all over, hair accessory like combs. But wait a minute, are they chickens or models? An impressive fur coat was like an animal suit, the ribbon around hip was down the floor, it seemed like a chicken leg. Also, I'll add that the shoes helped them actually walk like chickens. Strangely it didn't look stupid, and in a way it was actually sexy. So let me ask you, would you like to try this chicken-style fashion walk?
Now, all I can say is, I can't wait for winter, and the next week of fashion shows.
Paris Fashion Week 2008
Date: 23rd February – 2nd March, 2008
Place: City of Paris
http://www.modeaparis.com
Text: Arisa Kobayashi
Translation: Junko Isogawa
[Help wanted]
Inviting volunteer staff / pro bono for contribution and translation. Please
e-mail
to us.