The way to Paris Fashion Week is much more severe than one would like to expect. The designers, have to make their brain something of a black hall in order to earn the title as one of the 90 maison de couture. The models, they've got to promise to say good bye to cakes- something many of us couldn't put up with even for a day. And the people who have to go there, they were chosen from those who have survived many ordeals. Make sure that you are not the least bit daunted, when you are all wet because of the car that just passed splashed you from an adjacent puddle. Make sure you have the guts to smile when you found out that you only have a one-way ticket (even though you thought you bought a return ticket), felt alone or only had 3 coins in your purse. What's more, you believed that there should have been an invitation for the fashion show, but it was gone- somewhere, somehow. It could all happen so quickly.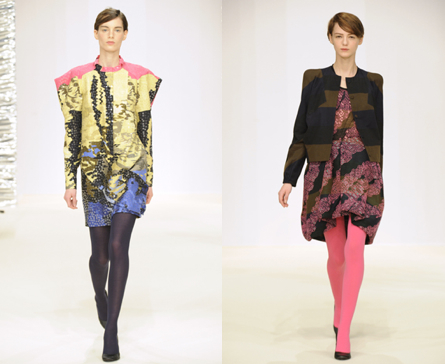 People who would have run away from such situations to that paradise near Paris because nothing went well, would be freed from everything. There is no doubt that the show, organised by special people for special people is, of course special. The most beautiful thing you have probably ever seen, this is Paris Fashion Week.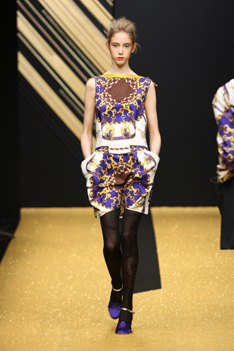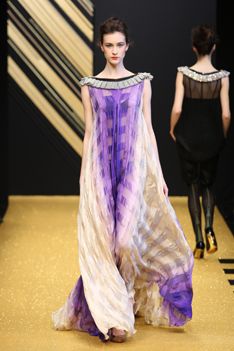 Gaspard Yurkievich. Photo: Shoji Fujii
Her name is just like mine, I was in love with the story of the girl who chased the impatient white rabbit in the wonder world- the world of Gaspard Yurkievich, full of adventure. The theme of the collection "The beautiful fall", was taken from the title of the book by Alesha Drake, which was written about Paris in 1970's. The huge pull tabs were on the vivid violet dress and the yellow zippers were swinging like pansy on the pocket of the trousers and her back and arms as well as even around neck. Its frill on the soft see-through added even more of an elegant touch. Tights which were printed in camellia, black and gold stripes, in addition to glamorous shoes that will not unlock your gaze. The golden floor was shining even more by Gaspard Yurkievich. "All in the golden afternoon…" Oh, I must have heard this line before!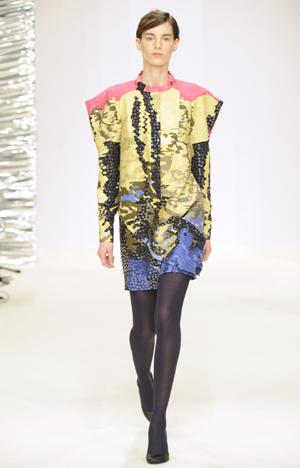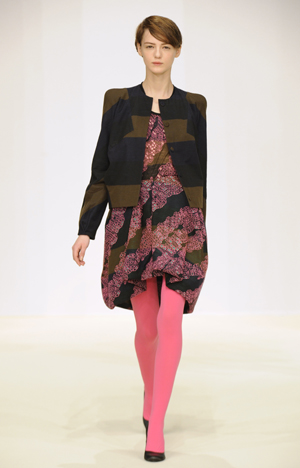 Robert Normand
I would like you to go ahead and ask someone, "Who did you think was the best person you met today?" You will probably get an unexpected answer. The designers who watched what they made, the models who walked in front of me, the people who played music for the first time and must have been longing to be there, or the writers who have achieved their dreams to sit in the front row- they would find the same answer. We had been looking forward to be like the ones who jet around fashion week, and we realized something when he, who we thought unreachable, was sitting next to us. That the best person was myself, who had grown up. Why this kind of thing came into my head? It must be because of the Robert Normand show, which was a mix of slender and graphic, neo-classicism and modernity, jersey and wool, crystal and color.
Read more ...
[Help wanted]
Inviting volunteer staff / pro bono for contribution and translation. Please
e-mail
to us.