Born and raised in USA, Lisa Farmer had been exposed to an array of different disciplines in the design field in different world cities with different world people. And now she presents her own unique and artistic projects with the fantastic shaped, beautifully handcrafted, leather-woven handbags. There is only one of each piece in the world. Lisa Farmer told us the current investigation of her creativity including her background.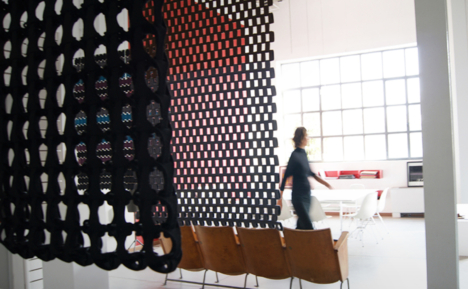 First of all, could you tell us about yourself?
I was born in North Carolina, USA. I studied Visual Communication at East Carolina University, then after graduating, moved to Atlanta, Georgia to work on the bid presentation for the 1996 Olympic Games. From there, I moved to Milan where I worked for several years at Studio Michele De Lucchi. It was there really where I was exposed to an array of different disciplines from graphic design, to product design, interior design, and architecture. The studio was not only multi-disciplinary, but also a melting pot of people from various nationalities. This mix of cultures, experiences and disciplines made for a very stimulating atmosphere. After Studio De Lucchi, I moved to London where I worked as a design director for a company specialized in corporate experience design called In Real Life. It was in London that I understood that I needed my own space to research and develop projects of a more personal, artistic nature.
Could you tell us about your recent activities or projects?
During the Salone del Mobile in Milan, I presented a new technique for making modern tapestries called "laser weaving". The technique combines the innovation of laser cutting technology with the traditional manual skills of weaving. Aware of the gap that has been created between design and production, much of my work is dedicated to investigating possible new relationships between the role of the designer and the "producer". The market is saturated with mass produced materials and objects, my research lies in creating things that combine a part of the industrial production process with manual interventions in order to produce projects that contain values; values of beauty, sensibility, creativity and originality. Designs that contain the poetic and meaningful mark of the hand.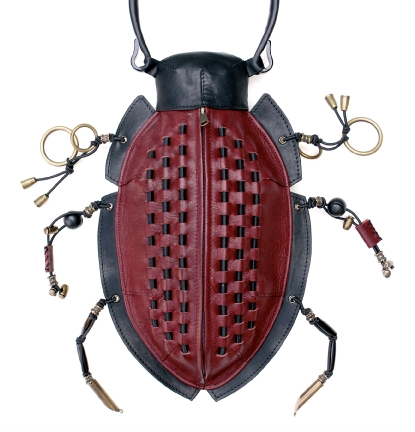 Bug in his ear, 20mm x 30mm, Vegetable tanned leather
Started with the 1996 Atlanta Olympic, you have built your design experience creating brand identities for companies around the world, including the US, Italy, the UK. And in the year of 2000 with the arrival of the new century, you've come across to change your career path, as you stated: "I felt the need to express my creativity in a completely pure and artistic way, liberating myself from the restrictions and demands of designing for a specific client or market." What made you make a major change in you career?
I had lost somewhere along the way the pleasure of creating. I had become a creative "manager" instead of a designer. I was going so fast and doing so much, that I no longer had time to reflect. My creativity comes from a very quiet place from within. When there is too much noise around me, my design is compromised. I had to protect that tiny place inside where it all starts, my source of creativity.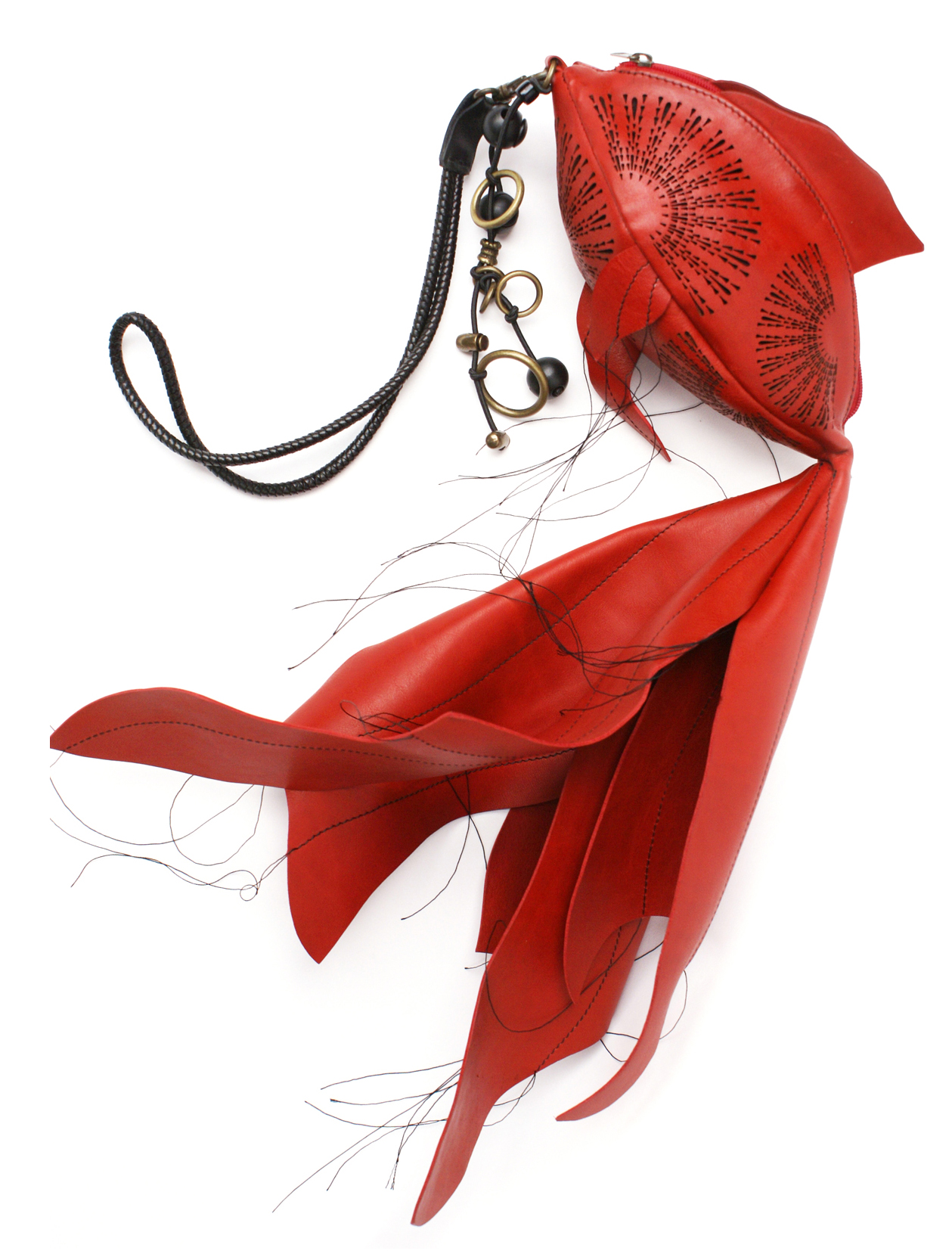 Fish out of water, 10mm x 50mm, Vegetable tanned leather
About the collection "Neither fish, flesh, fowl nor good red herring". The collection title is very unique. Please tell us about the collection.
My intention was create a collection of "portable containers" that question the boundaries between fashion, design and art. A collection that could not be classified, but was truly original, not only in design, but also in concept. I tried not to make any commercial considerations during the creative process, but to design purely through the force of my imagination. The idiom "Neither fish, flesh, fowl nor good red herring" means something that is not one thing, nor the other, something not fitting in any category. That's what I wanted this collection to be.
Read more ...

1
2
[Help wanted]
Inviting volunteer staff / pro bono for contribution and translation. Please
e-mail
to us.