On first impression of entering Hauser and Wirth, the series of dual images lend themselves to what seem like patterned and abstract images of a phallic nature, yet on closer inspection, a detailed and quizzically humorous revelation reveals its self, -what is actually portrayed are a series of photographs of the back of wildfowl heads!
The photographs are systematically done in a conventional portrait format, close range against a white background. Though the medium lends itself to recording the images in accurate detail, one is still offered a limited "portrait" of the subject, due to the partial profile, adding an elusiveness to the series.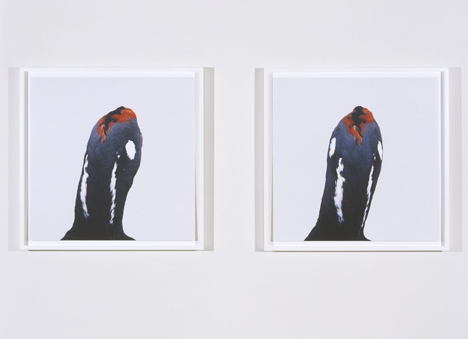 H&W, Roni Horn, Untitled#2, 1999
© Hauser & Wirth Zürich London
Many of Roni Horn's signature elements are present in the works, including her long standing interest and influence of Icelandic elements, and her use of double images, thus reiterating Horn's concern over the interaction between the viewer, the space and the content of her work.
Represented individually, the pictures are arranged in pairs, allowing the viewer to observe the similarities between the genuses of the birds, but also mark their individual and personal aspects. This duality of images is a frequent aspect of Horn's work, in which she undermines the notion of "identical experience" suggesting that one's sense of self is marked by place and time. This duality is further reiterated in the fact that though each paired portrait is of a different breed of wildfowl, their homogenous nature is still overwhelmingly present.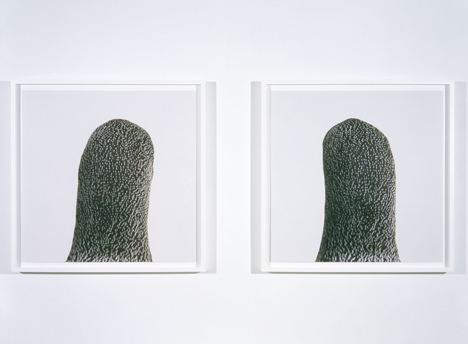 H&W, Roni Horn, Untitled#4, 1998
© Hauser & Wirth Zürich London
It maybe an accidental consequence that man and nature are reflected through this work. When one views the displayed works in the process of being viewed by spectators, one is confronted by a double series, a reflection of the back of heads, but in this case it is man which has imitated the simulacrum of nature.
Along side the photographs; Horn is exhibiting a sculptural piece.
"Blue on Blue", constructed of two almost identical pieces of solid rectangular glass, the work brings to mind some of Horn's previous glass pieces in which she commented:
"This is not an excavated piece of glass. This is something that's been cast to be exactly what it is and not touched after the fact. In other words, it's a fluid material that's been cooled down enough to hold a solid form. So the top surface is as much an artifact of that material as its sides. It's all one thing."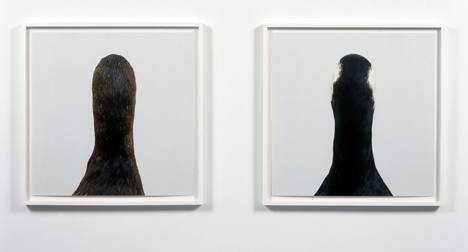 H&W, Roni Horn, Untitled#10, 2000
© Hauser & Wirth Zürich London
Horn has further suggested that:
"The experience of blue unlike most colours is always half you. So this is a pair that is both mirror and window. The window contains the view of blue. The mirror reflects the blue in you."
The exhibition continues until 12 April and is accompanied by "Roni Horn. Bird" a catalogue published by STEIDL and Hauser & Wirth, featuring an essay by writer and curator Philip Larratt-Smith.
Roni Horn Exhibition
Date: March 5th – April 12th 2008
Place: Hauser & Wirth Colnaghi
Address: 15 Old Bond Street, London, W1S 1AX, UK
Tel: +44 207 3999 770
www.hauserwirth.com
Text: Aron Mörel
[Help wanted]
Inviting volunteer staff / pro bono for contribution and translation. Please
e-mail
to us.