Attention to the New Comers.
Monnday 5;00 pm Ana Sekularac
When I arrive at the venue in Poland Place, all the buyers and members of press were mingling in front of the beautiful Victorian house waiting for the opening. Black cabs keep dropping off excited looking clients and exhausted editors one after another. Now here's the tip, you should never look pissed off for the schedule and never be on time. That's what Londoners do and this is London Fashion Week (henceforth LFW).
The Ana Sekularac show started with a little trick. As soon as the music started, a wall that had partitioned two small rooms sank into the ground. Sekularac had been working on the fashion desk at Italian Cosmopolitan and the Daily Mail and started her own collection last year. As the themes for this season, she chooses Italian renaissance and female matador. She continues with the style of three-dimensional sleeve and collar which makes them look like beautiful sculpture work. The Ruffle blouse and the waist-squeezed skirt are clearly inspired by the bravery and grace of the female matador. Monotone as base colour, bright saturated red and blue comes along. Maybe there are not many bulls to fight here in London but girls do need to fight sometimes. So here she presents us with stylish battle fatigues which give us inner strength to deal with the world.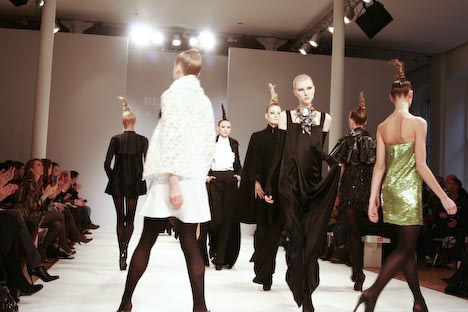 Thursday 11;30 am Bernard Chandran
Brown and olive green are the key colour of Bernard Chandran this season. Chic colour arrangement and motif like trench coat parts created traditional and challenging look at the same time. "Marie-Antoinette's sexuality" was his theme. If you think you can feel pure, innocent but extremely selfish, look here.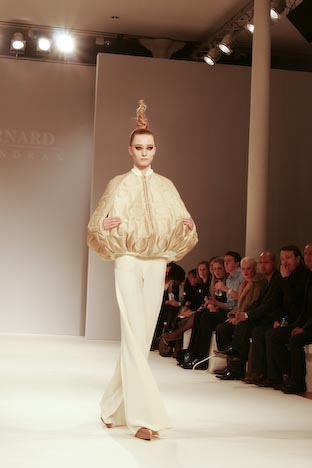 The first look was like a "Golden Mushroom" which was very impressive. A style that walked the line of wearable, always one of the most popular parts of LFW. Round silhouette mini dresses, made with hundreds of sparkling spangles and gold strings and reflecting the lights whenever the model walks by. Using the material blue and rust colour of gold for body conscious jacket style made it totally worth.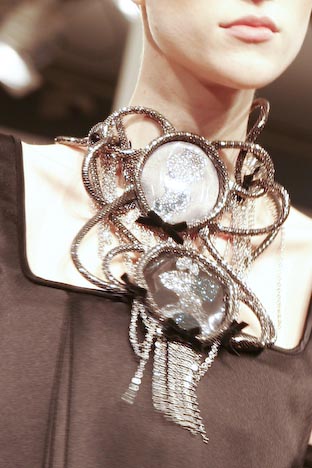 Embroidery medal has been seen thorough the whole collection as accessories or sometimes part of the fabric. Take a closer look and you can see 19th century ladies and gentleman's silhouettes shaped with the embroidery and sequins.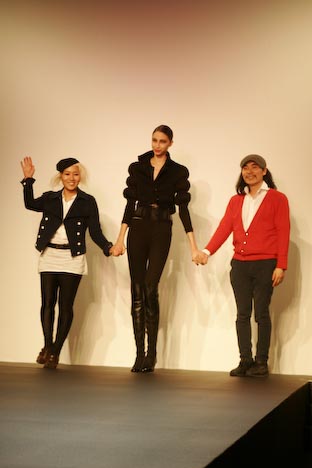 Thursday 12;30 pm Steve J & Yoni P
Even though off schedules show, Steve J & Yoni P was one show very much worth checking. This is their third collection. The Korean born designers duo were both graduates of central saint Martins. There are no super surprises here but the delicacy to the Details and the originality are simply breath taking.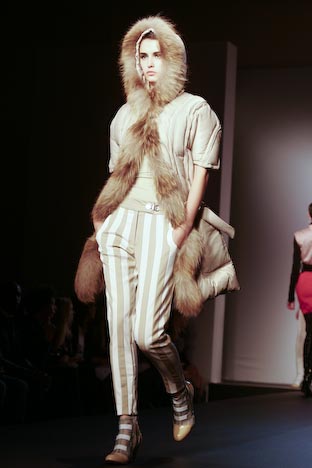 Pencil skirts, cropped jackets, and fitted high waist trousers are their key items. Thoughtfully matched different materials such as cashmere, wool, silk, and fur made a beautiful layer like a Japanese kimono.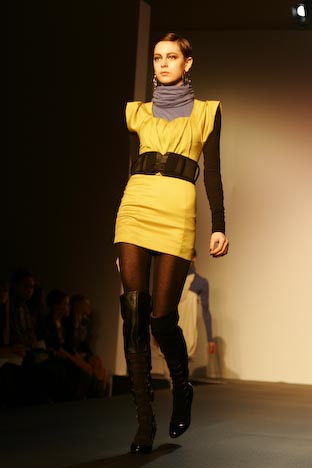 They are full of playful items like knee high boots with holes from toe to knee, large belts made by fabric and sleeve parts that looks like an arm support which is made with soft jersey material.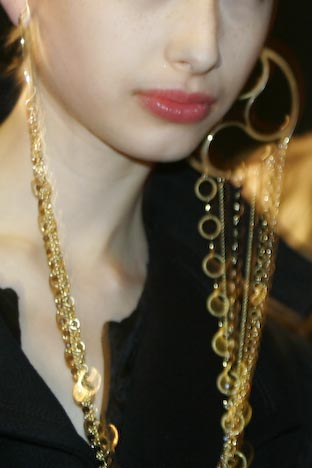 The outstanding Gold jewels are collaboration with SHO fine jewellery and add some luxury kick.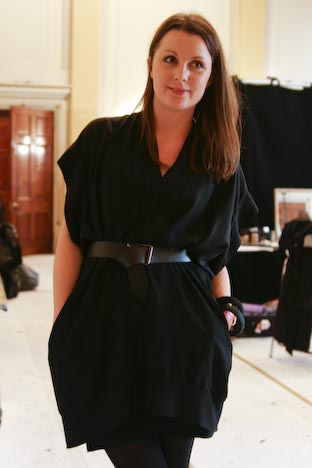 Friday 15;00 pm Louise Amstrup
Louise Amstrup had been working for ALEXANDER McQUEEN, SOPHIA KOKOSALAKI, Jonathan Saunders and this LFW is her debut run way.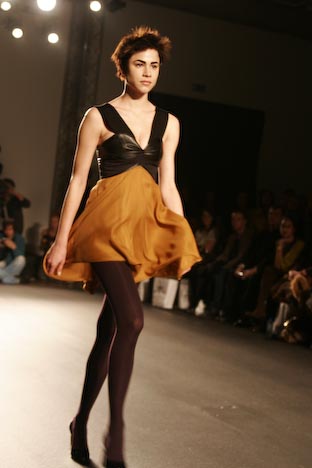 Feminine and mysterious looks are significant style of her works, especially inspired by David Lynch and Man Ray.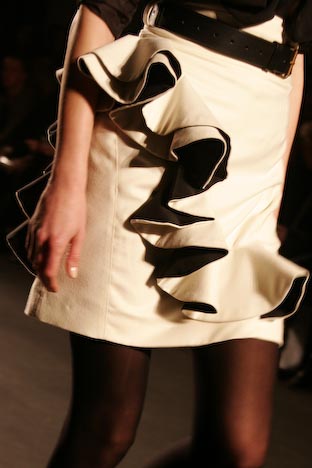 Frequently used ruffles and flared mini skirts were very sweet girlish style but on the other hand, the black trimming tightened them up not to go far. The contrast made from the different materials, chiffon, leather, silk, and wool synchronize the heroine of Lynch film. The silhouette that emphasizes the waist line looks exactly like the style Lita wears in the film "Mulholland Drive."
London Fashion Week Autumn/Winter 08/09
Date: 11-15th February, 2008
Place: Natural History Museum (main venue)
Address: Cromwell Road, London SW7 5BD, UK
http://www.londonfashionweek.co.uk
Text and Photos: Sayaka Hirakawa, Simon Borkin
[Help wanted]
Inviting volunteer staff / pro bono for contribution and translation. Please
e-mail
to us.