Post-War Art under Japanese Peace Constitution Article 9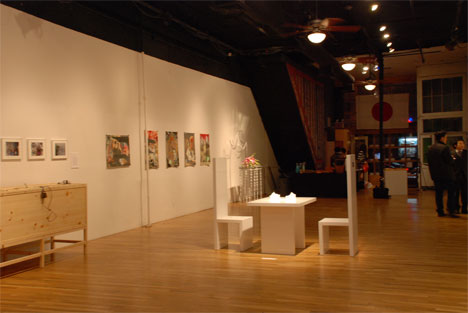 Photo by Yuka Takamatsu
What does Article 9 mean to you? "Into the Atomic Sunshine," gives new energy to the most contentious clause in Japan's constitution. The exhibition derives its name from the Atomic Sunshine Conference, a meeting between the American GHQ and the Japanese government that took place in February 1946.
In the immediate post-war years, the American occupation drafted the document which would become the Japanese constitution. Like Article 9, the constitution has not changed since then, though its revision has been called for numerous times, in both Japan and the U.S. Article 9 declares that the "Japanese people forever renounce war as a sovereign right." In recent years, instability in Asia has brought up Japan's right to defend itself and possess an army."Into the Atomic Sunshine" comes at an opportune time, as Article 9 is being critiqued more than ever.
According to curator Shinya Watanabe, "Article 9 has a universal question or meaning that we need to think about." And, since "it's almost like a taboo to talk about Article 9," the exhibition should, at the very least, encourage some dialog on the Japanese constitution. Mr. Watanabe is an independent curator based in New York whose work deals with the relationship between art and politics. After many years spent in the U.S., he realized that the atomic bomb and the many issues that surround it aren't given the importance they demand. On this note, he comments that "art is a very good way of communication, so I want to use this exhibition to communicate, especially between Japan and U.S., and Japan and Asia."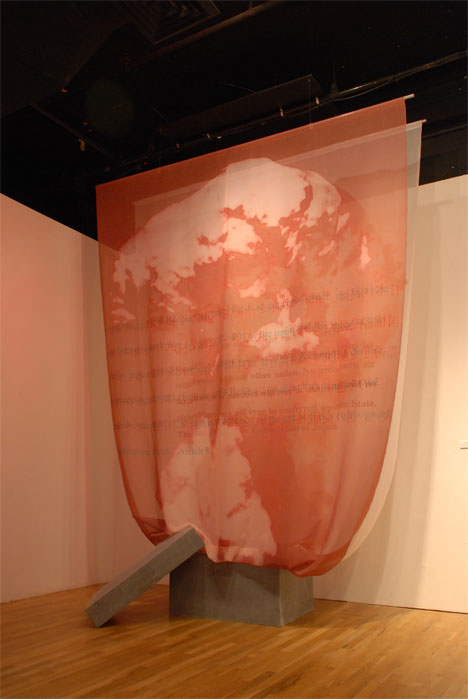 Yukinori Yanagi, "The Forbidden Box". Photo by Yuka Takamatsu
Hiroshima-based artist Yukinori Yanagi has often dealt with controversial issues in Japanese history, such as Emperor Hirohito, North Korea, and the Hiroshima atomic bombing. In "The Forbidden Box," the artist superimposes two 17-foot long pieces of cloth, one with the image of the mushroom cloud, the other with original and revised versions of Article 9. At the base of the cloth pieces rests an opened box engraved with "Little Boy," the name of the atomic bomb dropped on Hiroshima. The engraved box is an allusion to Japanese folklore's Urashima Taro as well as Greek mythology's Pandora's box. The opened lid signifies the hope that is possibly left in the box after the dropping of the bomb.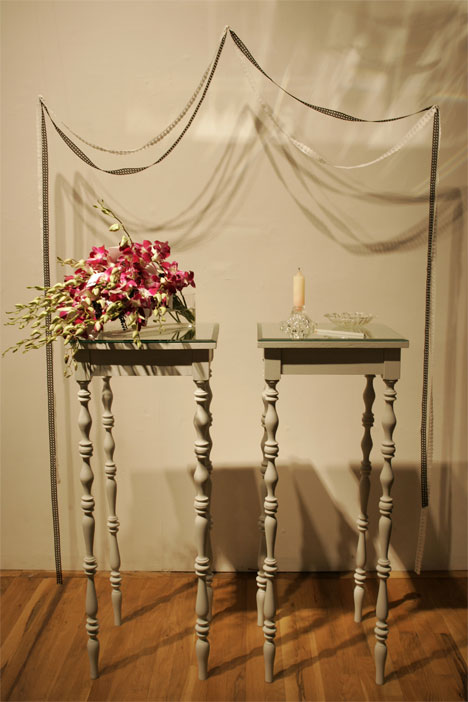 Vanessa Albury, "Your Fears, My Hopes". Photo by Ota Yasuo (Thanks to Fukuinkan Shoten)
This piece invites viewers to write a fear on a piece of paper and burn it in a plate with a candle. A bouquet of orchids, each one with a message from the artist, sits next to the burning piece. The artists encourages the viewer to take a flower and the accompanying message. "Your Fears, My Hopes" incorporates the release and acceptance of hope, and a complex interplay of responsibility with the viewer and the artist.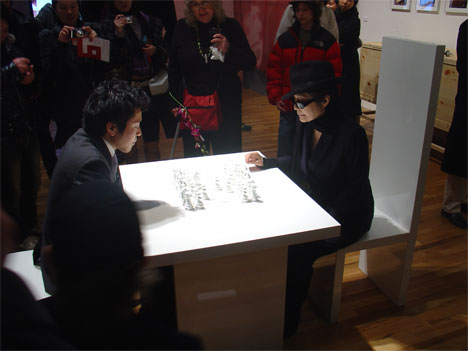 Curator Shinya Watanabe playing chess with Yoko Ono. Photo by Masami Ueki
Yoko Ono's "White Chess Set" consists of only white pieces, which makes it impossible to differentiate sides. With just one color, the notion of the opponent is nonexistent. Chess, usually a strategic, war-simulating game, can become a peaceful exchange of mutual understanding. In this metaphor for pacifism, Yoko Ono cites inspiration from her childhood memories of fleeing Tokyo for the countryside during the air raids of the city.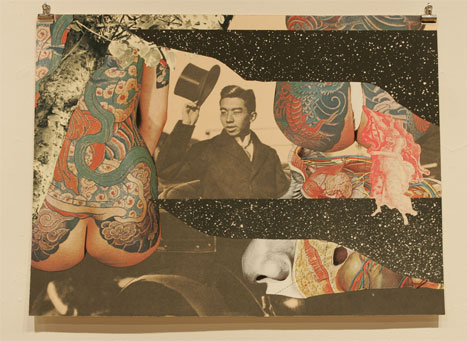 Oura Nobuyuki, "Work I" from "Holding Perspective". Photo by Ota Yasuo
Oura Nobuyuki's "Holding Perspective" is a series of fourteen lithographs depicting Emperor Hirohito in various stages of his life. The lithographs combine pictures of the former Emperor with images of the mushroom cloud, traditionally dressed Japanese women, Man Ray's female nude, and other juxtaposing imagery. The controversial work was the target of a right-wing attack after an exhibition in Japan in the late 1980s.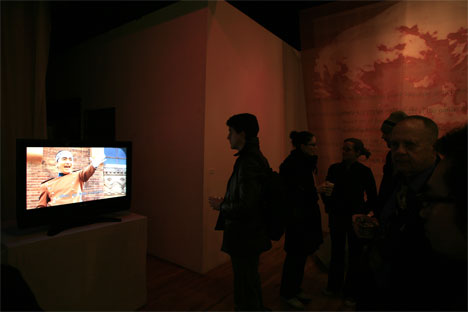 Yasumasa Morimora, "Season of Passion – A Requiem: MISHIMA, 1970.11.25 – 2006.4.6". Photo by Ota Yasuo
Yasumasa Morimora's seven-minute video shows a rendition of Yukio Mishima's infamous speech, 37 years after his death. The Mishima incident occurred in Tokyo in November 1970. Mishima, a famous author turned ultra-nationalist organized, called for a coup d'etat and constitutional revision. Quickly after, he committed suicide. Morimora has performed "Season of Passion" three times, with a speech based on Mishima's but twisted to address the Japanese art community.
"Into the Atomic Sunshine" is a culmination of two years of research and preparation by Mr. Watanabe, and includes works by both Japanese and American artists. Accompanying the exhibition were various music and dance performances, as well as a screening of White Light, Black Rain, a documentary about the atomic bombing of Hiroshima by Steven Okazaki.
"Into the Atomic Sunshine" carries more weight than a typical contemporary art exhibition. It's at once a history lesson and a show of politically-conscious art. Most vitally, it's a call for discussion on an issue which will only become more important in the years to come.
Art Exhibition "Into the Atomic Sunshine
– Post-War Art under Japanese Peace Constitution Article 9"
Date: January 12th – February 10th, 2008
Place: Puffin Room (SOHO, New York)
Address: 435 Broome St, New York, NY 10013, USA
http://www.spikyart.org
Text: Patrick Burns

[Help wanted]
Inviting volunteer staff / pro bono for contribution and translation. Please
e-mail
to us.