"ROCKET" conjures up images of a symbolic space where graphic design and street culture have come together from the late 1990's until now. It is a gallery for the artist collective CAP, which designs for magazines such as BRUTUS and VOGUE NIPPON. Opening the 1st gallery at Dojyunkai Apartment in 1996, they had historically embodied their existence with constant exhibition lineups (& parties!) every week in this quickly changing design scene. The gallery closed once in 2005, and its presence morphed into a hard-copy free paper. Still, people had an unforgettable feeling in the sound named ROCKET. That same sentiment arose again in those people who had known ROCKET for a long time, but also amongst the new generation when they heard the news of a re-opening in November 2007 in Minami-Aoyama. In its fourth iteration, the gallery is located in the underground part of the CAP office building built with bare concrete walls. The new concept is "Gallery of the night."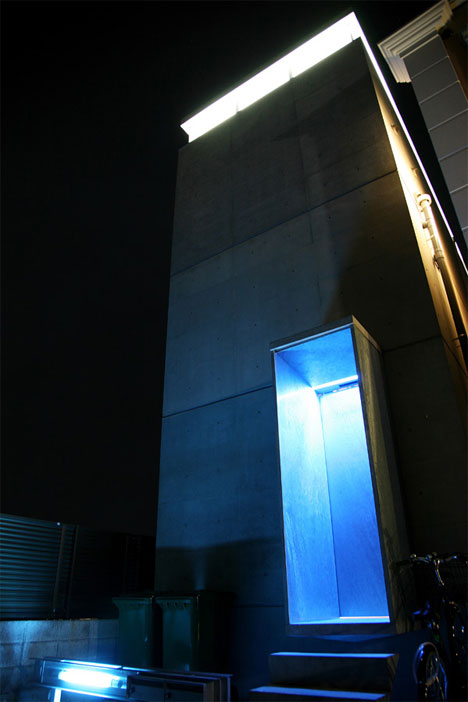 The gallery is open until 9pm for people who stop by after work or before going out drinking. An opening exhibition was held by flower artist Mr. Musubi Aoki entitled as "Botanical garden of the night". While perhaps not in season, a quiet yet glamorous underground botanical garden appeared. I got so excited to see this impressive restart and also what Yasushi Fujimoto of CAP would set up through ROCKET from here on. It is said that they will continue to work on such exhibitions with a main theme of "Night" by adjusting darkness and light and also mood of night.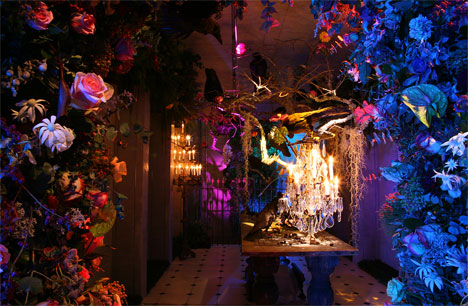 The first exhibition in 2008 was "Used bookstore of the night"; a.k.a. CAP BOOK MARKET. There were many rare vintage magazines displayed from 1930's Esquire to 1950's LIFE magazines that were all collected by Yasushi Fujimo. This unique selling style was proposed by Mr. Shintaro Uchinuma from the book and idea label NUMABOOKS.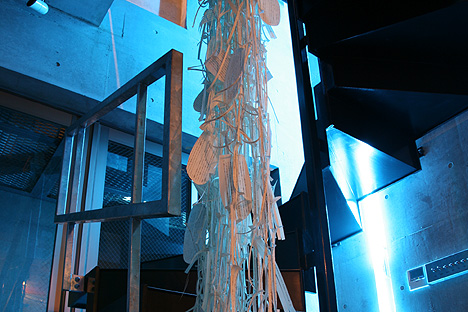 Mr. Uchinuma changed the market place into an art space that is filled with books. On the way down the stairs where it goes down to the underground, the paper cutting installation by hairstylist Kazuaki Ito of ACQUA aoyama, "One Flew Over The Cuckoo's Nest", was on the go. And, Mr. Taihei Shii's well known artwork, which is a jointed back of books putting also up at TOKYO BAR in New York is welcoming visitors. When you come down to the underground, you'll find the sculpture flier by Ryuta Iida and several photo artworks framed in paperbacks by photographer Ms. Miho Kakuta. Inside of the space, there was an artwork entitled "Book + Book + Book = Forest Vol.2, No.1" by a unit of Uchinuma x Iida x Sei's "Forest" illuminated by the light. Used books are carefully packed in and displayed like on would expect at an old record shop.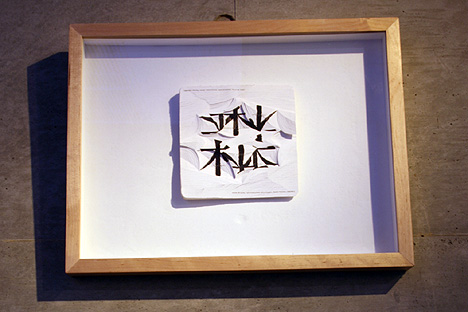 The common features of the exhibited work are that the book and paper are not only treated as materials, but also having context that jumps over the editorial articles. The artwork by "Mori" is done by the way that Mr. Uchinuma picks up the symbolic work that contains a word of "forest" in the title such as "Norwegian Wood", and Mr. Iida and Sei finished up in the work. In the collaboration work of Mr. Kakuta and Uchinuma, the title and the photograph are floating by their refraction and imagination is roused up. The book is a package of the characters, and it has the title and meta information of historical significance. There might be ways of labeling books such as "recommendation of someone" or "ones that has changed my life" and so on. There is a possibility of various options determined by one's relationship with the book.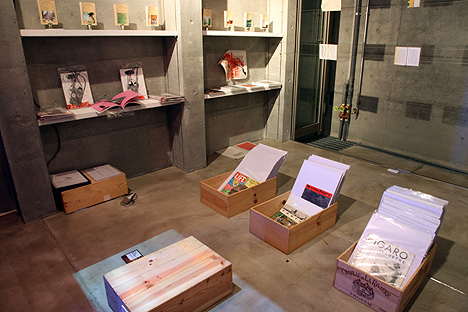 When you dig through such art inspired by old magazines, you might cross an unthinkable aspect in your mind. At the initial time of advertisement trends the relationship of cover art and society was revolved around "Satire". Various discoveries like this begin to gradually have meaning. Of course it's all right to go get items just because of their good looking packaging. If the connection with yourself was some day seen, it was what you surely had to have.
This book market of the night was always full with people and folks chating. From those fun-loving sessions, visitors might find reasons to buy their favorite one.
gallery ROCKET
Open: Tue-Sat 17:00-21:00
Address: B1F CAP bldg. 3-14-10 Minami-Aoyama, Minato-ku, Tokyo
Tel: 03-5412-1815
hello@rocket-jp.com
www.rocket-jp.com
"CAP BOOK MARKET" is opening from January 8-12, 2008.
Text: Yoshihiro Kanematsu
Translation: Naoko Kawaguchi
Photo: Hiromi Fujita, Miho Kakuta
[Help wanted]
Inviting volunteer staff / pro bono for contribution and translation. Please
e-mail
to us.