An incidental spectacle made of lights, grains and polar areas.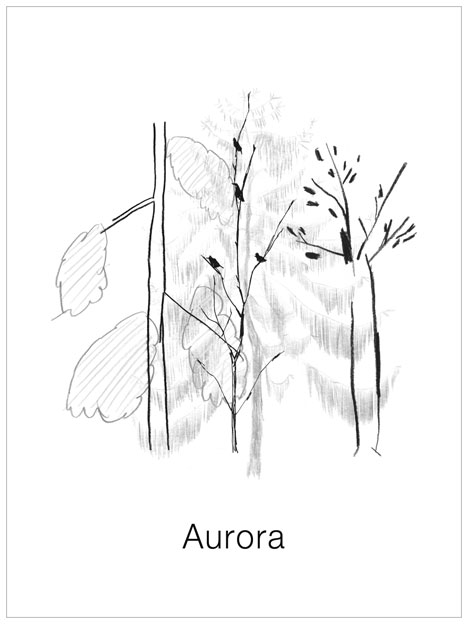 The spectacle drawn by 4 artists who have never seen an Aurora accidentally leaves an impression we've never felt before. A collection of drawings by four Tokyo-based artists, Izumi Shiokawa, Noritake, Asami Hattori, and HIMAA, titled, "Aurora," will be published by Utrecht. They will have the Aurora exhibition in Osaka Pantaloon in March, followed by Tokyo IID Gallery in April. We interviewed the 4 artists about the book and the exhibit.
Could you tell us about the Osaka and Tokyo exhibition to be held this coming March and April?

Noritake: I'm not sure if I can say it as a "concept", but I have an impression that all of the artists' works in this project are expressed only to the point where each artist feels comfortable. In other words, there are flexible "spaces" in the works, depending on the free interpretations of the viewers. The goal of each artist is different, but there is a part resonating with each other artist involved. I hope that visitors can leisurely feel and experience how the space resonates.
The whole idea was from when I was asked to do the solo exhibition by Pantaloon who liked my book "Daysleeper". Since it's my first exhibit in Osaka, I thought I'd like to do a group exhibition which gathered artists from Tokyo. And so I invited some friends of mine like HIMAA and Asami Hattori and Izumi Shiokawa, who I've wanted to collaborate with for a long time. As for the Tokyo exhibition at IID Gallery, it was the result of fortuitous encounters that overlapped.
HIMAA: The actual "Aurora" doesn't have the concept or the intent. Lights, grains and polar areas. The sky is shining by coincidence. Superimposing on the spectacle, we are presenting what each of us has done, by grouping with the diminutive "Aurora."
Could you show us some of the works from the book or the exhibition? What kind of motifs are at work here?
Izumi Shiokawa: Well, ideas of seeing and unseeing, yesterday and today or a fragile eternal moment- I feel like motifs of everyday life get reincarnated from unique lines to an existential artwork.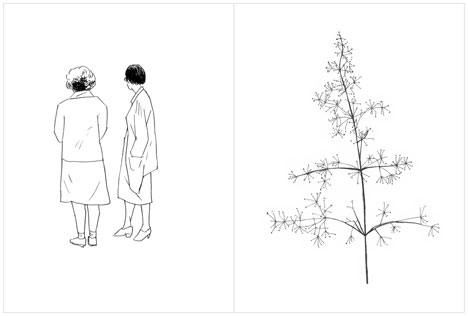 Noritake: Roughly drawing various motifs such as nature, animals, elderly, women, and still objects, I'm leaving various emotions behind. I feel like here, the emotional imagined scenery of emotions only comes to the fore by drawing.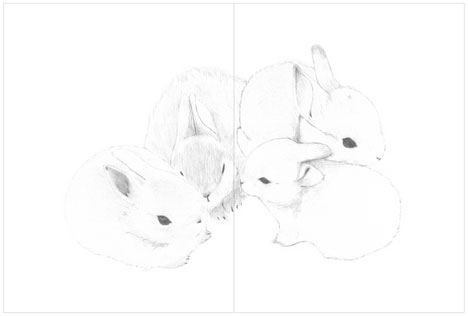 Asami Hattori: I am working with motives of lights, shadows and the connected things in these works.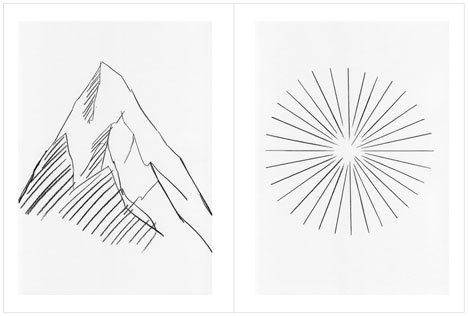 HIMAA: In addition to my works with nature motifs, my book "WANDERVOGEL," which covered my drawings from when I was in Switzerland, I still focus on brushstrokes and color surface in my new abstract works. My latest video work will be shown as well.
Noritake: Except for the video work by HIMMA, basically the exhibition will be simple, with mainly drawings by four artists. We hope you'll come to see the colored works or large-sized works, which cannot be seen in the book.
Could you tell us more about the book?
Noritake: The book will be published by Utrecht. It's a drawing book with 110 pages printed in black and white. You can have a look at it on the opening day of the exhibition. Of course you can purchase it as well- it will be also available at Utrecht after the exhibition period.
So what's next for you?
Izumi Shiokawa: I'm working on a project with an eco agency that's related to my solo exhibition from last year at the galleryROCKET as a start. I'll also have another solo exhibition in June.
Noritake: I'm currently working with people in Taiwan and Australia. I'm also continuing the Zine production which started last year- the back issues are available at Sft and Utrecht.
Asami Hattori: I'm going to participate in the original tote bag campaign put on by Coca-Cola Company Japan, Limited from Feb 18th to April 30th.
HIMAA: I have been working on a CD jacket for a Berlin-based record company onpa))))) which will be released in this April.
Book "Aurora"
Artists: Izumi Shiokawa, Noritake, Asami Hattori, HIMAA
Design: Pantaloon
Specification: A4, 21×28.2cm, 110 page, soft cover, black-white
Price: 1,890yen (Tax Inc.)
Publisher: Utrecht
Contact: 03-5856-5800
Aurora Osaka Exhibition
Date: March 1st – 30th, 2008
Place: Pantaloon
Reception: March 1st 18:00 – 21:00
Contact: 06-6377-0648
Aurora Tokyo Exhibition
Date: April 11th – May 11th, 2008
Place: IID Gallery
Reception: April 11th 19:00 – 21:00
Contact: 03-5481-9011
Izumi Shiokawa: Illustrator. Born in 1980. Graduated from the department of graphic design at Tama Art University, and started working as a freelance since 2007. Her works have been seen internationally in various fields including exhibitions, fashion and editorial.
Noritake: Illustrator. Born in 1978 in Kobe, Japan. Currently living in Tokyo. Graduated from the Setsu Mode Seminar and now he's mainly working for exhibitions and editorials. He has also released a collection of his work titled, "Daysleeper" which was published by Utrecht.
Asami Hattori: Illustrator. Born in 1975 in Kanagawa Prefecture. Currently living in Tokyo. After working at the galleryROCKET, She's mainly been doing editorial as a freelance illustrator since 1998.
HIMAA: Artist. Born in 1976. Graduated from Takarazuka University of Art and Design in 1999. He has exhibitied works at e&y Tokyo in 2002, participated in many domestic and international group exhibitions as well as solo exhibitions. For example, the Japanese Pop Culture T-shirt Collection at the Uniqlo store in Soho New York in 2006 and the "Chocolate" exhibition at 21_21 Design Sight in 2007. He's also released the work, "UNFOLD" published by Utrecht.
[Help wanted]
Inviting volunteer staff / pro bono for contribution and translation. Please
e-mail
to us.