Music is art.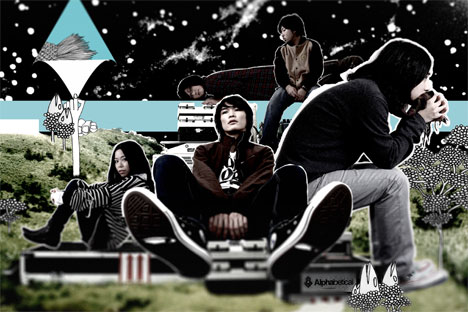 The band consisting of Ichiro Yamaguchi (vo&g), Motoharu Iwadera (g), Ami Kusakari (b), Emi Okazaki (key), and Keiichi Ejima (dr), "Sakanaction" were born in Sapporo, Hokkaido. Their debut album "Go To The Future" attracted public attention, and they are growing steadily, such as with their national tour and the release of their 2nd album. We interviewed 3 members from the Sakanaction and asked about their creativity and the 2nd album "Night Fishing" just released on 23rd of January in Japan.
How did you start "Sakanaction"?
Yamaguchi: I formed a band in my high school days, which was an emotional rock band like general UK rock, but it didn't go well at all. We discussed about how to deal with it and the result was to use a computer to make music. After all, the band broke up because of this decision, so I continued doing music only by myself. Doing DJ at night clubs, I found that people quickly got excited with music from CD, although our live concert didn't make them like that. I thought I wanted to use this DJ experience.
On such an occasion, an indie label asked us to participate in their compilation album. Making a track including sounds and lyrics by myself, I thought that I need a guitar. And I was looking for a guitarist and talked Iwadera into help me as he had so much spare time at that point. We made a new band together and named it "Sakanaction". When I firstly suggested "What do you think of the name Sakanaction?", he said "I hate it", but I forced. (This band name shows the member's wish to act quickly and lightly, like fishes in the water, without fearing changes in the music scenes. Sakanaction = Sakana (fish) + Action).
Did you have other picks for the band name?
Yamaguchi: Yes, like "Films". We had been doing live concerts without any lighting sets except the light from projected films. "How about 'Films' for the band name as we are doing both music and videos?" I said, and he (Iwadera) was like "I love it!". He just started connecting the Internet at that time, and even took "iwadera-films" for his email account. However, the name of "Films" already existed for a popular techno-pop band of 80s, and we gave up using it.
Could you tell us about the other members too?
Yamaguchi: Ejima (dr) used to often come to see our band. He was a friend of the guitarist who was helping our band. Okazaki (key) and I were working together a long time ago, and I invited her as I knew she continued playing the piano. Kusakari (b) was originally in another band in the same scene, and we poached her after her band ended. It was all good encounters, how do you say it, a "matchmaking" band?
The band is growing steadily; formed in 2005, debuted in last year, already released the 2nd album, and now planning the national tour. Did you have the concrete vision from the beginning?
Yamaguchi: We didn't have such a clear vision, but had hoped to be the artists being between the entertaining major scene and underground. While going for it, the band has been growing. We can say that we have been very fortunate, and also people we met were good. The most important fact was that we could meet the crews sharing a common goal.
Could you tell us about the new album released in January 23rd, "Night Fishing"?
Yamaguchi: "Night" was the theme I was thinking. It's mostly a night when people become anxious or worried. When I myself feel sad or agonizing also it has been always at night. I had been thinking to make a song with such a bumpy ride emotionally, and the result was this "Night Fishing". I wanted to make this album like a documentary. The form of words is closer to Haiku than lyrics. I think it's all about how we can send our message within the limited number of words, combining with melody. So I want to be in non-fiction by this mean. While the first album shows our persistency such as a play on words, we went more direct with the second album, making it one-shot deal.
Any differences from the last album?
Yamaguchi: Releasing the first album, we found that it had better to try more adventurous things without hesitating to be changed. We thought we shouldn't forget the mind for fun, like doing "progressive" things or taking choral singing out of nowhere. After our debut in this music scene, we became to be compared with the artists we had respect for, including QURULI and SUPERCAR. Thinking about how we can play a game with those artists, we thought it's important to keep the flexibility and playful spirit as our weapon.
The lead number "Mikazuki Sunset" in the first album "Go To The Future" was pretty much talked about. Do you have any stories about the song?
Yamaguchi: The song "Mikazuki Sunset" was what we'd been arranging for about 10 years although it'd been never released. When completing the recording for the first album, we got a sense of accomplishment. Of course the song is still evolving in our shows, but we felt it was the end of the song sending to the world. Interestingly, to release music is like the experience to give one's daughter away. Once it's released, we felt the song is not belonging to us anymore. As many other artists do, we also realized how difficult to show our color or originality in this world with enormous artists. It was fortunate that there was such a response to the song we put on the first album.
How was the "Countdown Japan" held in Makuhari, Tokyo at the end of last year?
Yamaguchi: It was a quite big festival with about 40,000 people in total. The musicians' line up was also powerhouse. There were 4 stages and we appeared on one of them. We were not sure how it is like to play in front of about 3,000 people, but it was as if we were in front of a huge TV. Comparing to the small stage, the show became more entertaining on the big stage like in Countdown Japan. It went well after all, and we could finish it without being too eager.
Ejima: We had had many opportunities to play on such big stages after releasing the first album, but when we did the show at smaller live-house in Okinawa, we experienced the fresh feeling. Because such small places were only where we used to play at, we could go back to our first objective. I think it would be nice to enjoy regardless of the size of the place.
The first national tour will start from March. How do you feel about that?
Yamaguchi: It's great to present our show to people who only know the sound source of Sakanaction, as we are the band having big differences between the sound source and live performance. We'd like to deliver the goodness of live performance with confidence as well as the sound source.
What is the hardest thing to do the music as an professional?
Yamaguchi: It's a relationship with people. There are so many new people we meet that we cannot even remember their name. We've been in a small studio in Sapporo, and many people started gathering there.
Iwadera: We got more and more supporters. Although it became a pressure, we discovered how music is created with people.
Then, what do you feel pleasure the most to?
Yamaguchi: Being a creative place to see how people evaluate what we do. We are all happy to be able to stand such a place. Also, it would be great that there are people who enjoy our experiment.
When do the words in your songs come to your mind?
Yamaguchi: When I feel sad, wistful, and lonely. There are about 3 times a year that I feel really gushy, and I write songs all on those days. Looking back what I wrote afterward, I sometimes use the different interpretation from my real feeling though. Music especially sides with the emotional mood, so I want to make music fitting with the feelings. When I was 20 to 24, I had such gushy feeling almost everyday, which I think was the most sensitive time in my life, and the accumulation of that time is now influenced on what I create. I became to be able to control myself, gradually knowing the real dirt in the world, but it's hard to say about the real thing if controlling the wistful feeling.
What is music as an creator?
Yamaguchi: Music is art. Especially the live performance is completely virtual, like a play. You can leave it as it is, and also can show what you don't want to do as what you do. Only what you need is the skill. I guess there's only few people who see the artists knowing they are virtual in front of the audience, but when we find that such people still say they like our barefaced human side, there's nothing we feel embarrassed about anymore. We hope that the day will come when the mind between senders and receivers is connected well. So I think that music is art. What we treasure to do so? It's the kindness or understandability. We are trying not to slip into self-complacency. If what the artist oneself thinks good becomes also what people think good, the artist is a genius, but I realized I'm not a genius, so I want to control what people think good. Let's say it's the way of kindness.
Ejima: I'm not achieving to think "what a creator is" yet. I'm not aware of it. It's really profound to set up music to be listened comfortable, and we might not be able to understand it forever. It's just that we are the creators.
Do you have any concepts for the next album?
Yamaguchi: We'd like to do the roots music of Japanese Pop such as techno pop, arranging such as old folk music like HAPPY END or Haruomi Hosono. For now, it's not that we'll do it only with a folk guitar, but it would be great if we can find something there.
How would you like to be in the future?
Yamaguchi: We'd like to be the "Inst. band" eventually. I think there is a limit in age to play with songs, and in order to play in the current Japan, we wouldn't be accepted without songs. So after age 35 or so, we'd like to send our instrument music abroad as the name of "sakanaction" in English (currently it's in Japanese). That's our dream to be like. We are now in the first stage to success, which is the front-line of Japanese Pop we hadn't even listened well, and the next stage might be to try intrinsically in the underground. Because I think music is art.
Text: Madoka Suzuki
Translation: Yurie Hatano

[Help wanted]
Inviting volunteer staff / pro bono for contribution and translation. Please
e-mail
to us.