"Never forget to look at the stars", he said.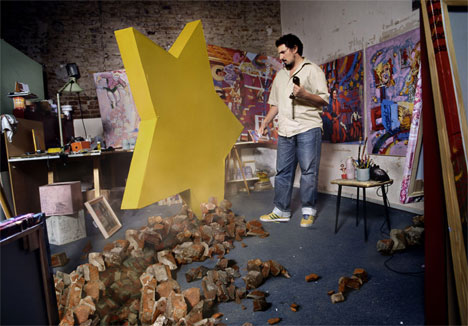 That's what I was doing some days before we met. And I was also looking at the stars when I found his book, this colourful and brilliant book with his art all over it. I remembered then that I had already met his art when he was interviewed in a radio show, some time ago. Every star was pointing at Claudio Roncoli.
That may be the reason why some days later he contacted me and we met for an interview in his studio, a huge place full of collector's pieces, books, magazines, comics, robots, stickers, pencils, brushes and papers. Giant works of art filled the walls and the floor, waiting to be picked like flowers. His colours and textures were everywhere.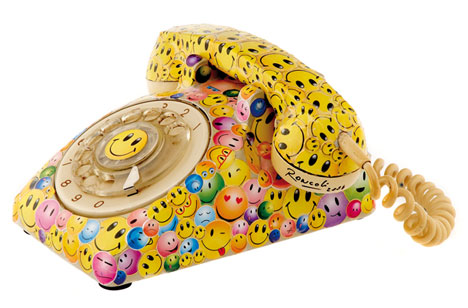 "My father owned a library and toy store until I was ten years old, says Roncoli. That's why I was always surrounded by the kind of stuff that inspires me until now. I used to play with toys with my two brothers while my parents were away. Then, they made souvenirs for parties and travelled through the country in a school bus selling them. That's was very special for all of us".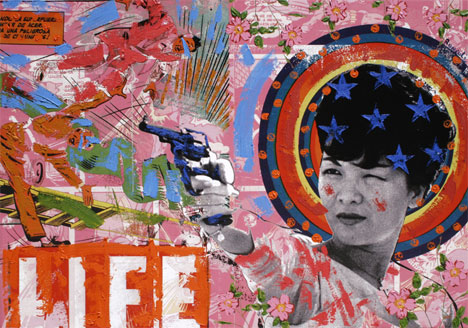 Which have been the highest points in your career so far?
In 2002 I did a solo exhibit at Theatre General San Martín. Then, in 2004, I got to show my work at Praxis Gallery, a very important place here in BA. For me, that was like a trampoline to access the big public. In 2006 I started working with Enlace Art Gallery, in Lima, Peru and I'm still with them. The publication of the book "Claudio Roncoli" is another important thing in my career, and it happened in 2007.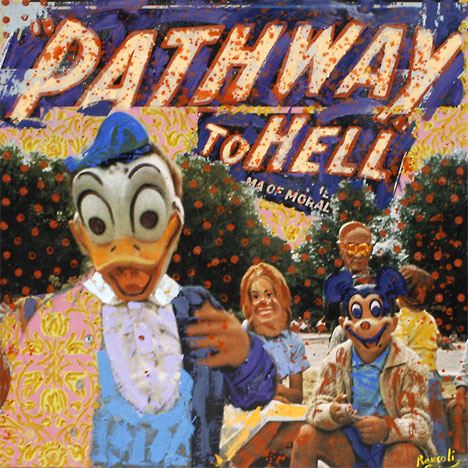 It was the book that united us, with the fuchsia cover. The book shines among a multitude of books.
So I cannot explain Roncoli's art. I wouldn't even try. When his art meets my eye, I find a mixture of happy sensations. It's like an energy shock. Kitsch meets retro and vintage meets timeless beauty. Colourful pop bursts into the scene with the shape of giant brushes filled with energy. Some paintings have a feminine look, there's a deep subtleness emanating from them.
This is where dreams live: inside each and every piece of Roncoli's art. "My art is romantic, Claudio whispers to me. It's not a meaningless one night stand, but a date with home made dinner, candles and flowers".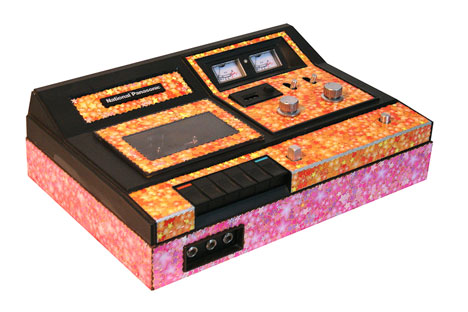 So what inspires you?
Almost everything. The media in general: newspapers, TV, magazines, reality, old and new commercials and advertising, the consumer society. The media has always treated us like stupid people and therefore they try to manipulate us. It was that way in the fifties and it still is.
Why are women so important in your work?
What I try to do is revalue the housewife figure. Women are much more superior to men. Men are afraid of women; they relegate them because they fear to be diminished.
Roncoli knows about advertising because he used to work in an Agency for 15 years. He was one of them, and now he's across the street. Claudio is becoming more and more popular every day. His work is friendly, powerful. He's reaching his climax and the world is noticing it.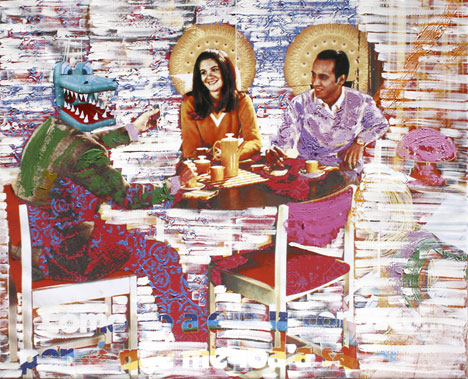 You have a full schedule this year right? Tell me about it.
This February I'm opening at 415 Gallery in San Francisco, USA. In April I'm showing my work in Kyosco Contemporary Art Gallery in Santa Cruz de la Sierra, Bolivia. Then I'm participating in ArteBA, here in Buenos Aires. In June I'm going to be at Scope Fair in Basel, Switzerland. Then I show my work in Miami and after that I'm opening in Lima, Peru.
Tell me about your collages "Stars". What did you want to express?
Well, nowadays most artists like to see themselves as untouchable stars; they act like stars and have really exuberant demands. Their ego is gigantic. I like to joke with that concept. Personally, I really like the star as an icon; I believe stars can naturally and purely guide human beings in life.
And that's what he last said while he was waving goodbye from the door: "Let the stars be your guide".
So every night I look for the brightest star, hoping to find my way home.
Claudio Roncoli
www.claudioroncoli.com
Text: Gisella Lifchitz
Photo: Manuel Archain
[Help wanted]
Inviting volunteer staff / pro bono for contribution and translation. Please
e-mail
to us.