Here's a global artist. Here's a guy who believes in life and its whereabouts. Here's someone who performs and creates. Here, there and everywhere. Ladies and gentlemen, I give you Todd Shalom.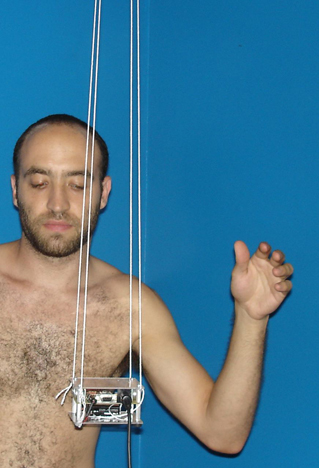 What does "Beautymarsh" mean?
Beautymarsh is the name of my website. It comes from a poem that I wrote years ago. The line: 'swirling gentle hairs on forearms into beautymarsh'. A marsh can clean out (nitrate) pollution produced by cities. Beautymarsh is also a take on the word, "beautymark". Sound is a very important part of my poetry. When writing a poem, the sounds come together to form words; these words then form images and create a rhythm. In this way, I have created a vocabulary through which I play.
How would you define yourself? Like a visual artist, a photographer, a poet?
It's hard to define myself with categories because the minute that I do, I want to break out of them. But I would say that I am an artist who works with text, sound and video.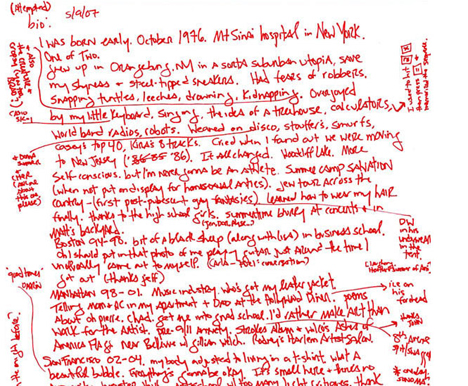 Tell me about your work, which are your highest points in your career?
Well, I don't think I have a career—that word seems a bit too goal-oriented for me in an institutional way. Simply, I make stuff. My favorite moments over the past few years have been when performing, since performance is the most direct way that I can communicate with others… it is also what scares me most and leaves me highly vulnerable.
The Soundwalks have been great in that, if successful, they become a collective experience. The day after a Soundwalk in Tel Aviv, I received a phone call from one participant who thanked me because she was now hearing the sounds on the street as music. It was a wonderful feeling to have helped re-shape things for her and it still serves as a reminder to me when making work: why am I doing this? who/what is this for? It helps serve as a 'snap-out-of -it' if my work is becoming too self-indulgent or narcissistic–>that's what my poetry is for:)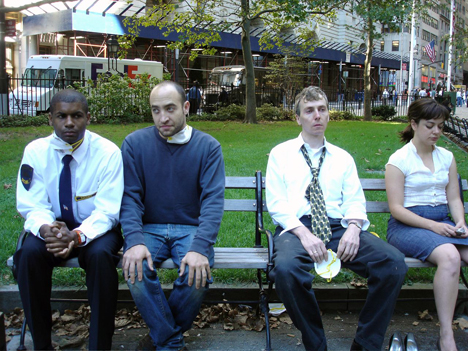 What are the Soundwalks? Was it your idea? Tell me your experiences with them, and stories you remember from them.
I decided to make Soundwalks about 3 years ago. It was in response to studying sound in California and researching the field of Acoustic Ecology, a movement by artists in Vancouver in the 1970s. They coined the term "soundwalk". I think that it is important for people to notice the sounds around them. Sound is something that Western culture often takes for granted because we are a very visual culture; one that is more focused on print and television. The sounds of a given environment offer a lot of insight into how we live. For instance, each person possesses unique sound qualities–their footsteps are individual; their housekeys; their zippers; their voices–these are all very personal sounds. And yet, especially in cities, these sounds are often masked by the sounds of industry–the sounds of buses, motorcycles, construction. Many of these sounds are at levels that make it very difficult to appreciate the sounds of ourselves and the sounds of others.
I typically create Soundwalks in places where I live. These are places that I know intimately. Previous Soundwalks have been in San Francisco, Tel Aviv, New York and here in Buenos Aires.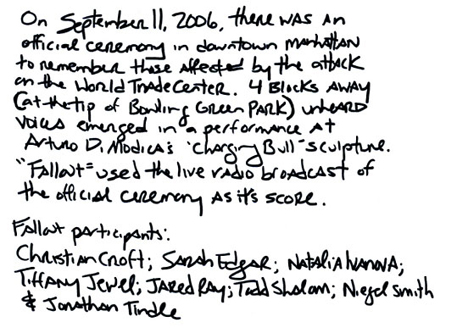 What are you working on right now?
At the moment, I'm working on two projects. I'm designing the sound for a photo exhibition of the "Once" neighborhood in Buenos Aires. The neighborhood is kind of like a mix of the offerings of the Garment District in Manhattan and the frenzy of Chinatown. I just finished recording the sounds and now I'm putting them together into a composition that will be played out of speakers that sit in a sealed box on the gallery floor.
Secondly, I'm working on an interactive piece. It's been a long time coming. It's entitled, "Sympathetic Twin". I interact with an ultrasonic MIDI controller (imagine a digital theramin) to trigger sounds of my poetry and sounds from my body. This is an improvisational performance work—a continual work in progress and a deeply personal piece. I envision that there will be a video component soon.
What are your new projects?
2008 will bring two new collaborative projects. The first is a public performance with artist/director Niegel Smith wherein we stage a "battle royale" in public libraries by pitting information obtained from the internet against information held in the library in order to initiate public dialogues around the accuracy and reliability of information.
Secondly, I'm working on Snuggle, a magazine "for the homosensual community" in collaboration with craftsman Mike Dimpfl. We think there's room in the crowded field of queer mags for something a bit more domestic; perhaps 'post-erect'?
Why are you in Argentina and what does it have to do with your work?
When I visited Buenos Aires last summer, I was delighted by the friendliness of people, the enthusiasm of the artists I met and the overall optimism of the city. I knew that I had to return this spring. Further, there's a small, but progressive poetry community here, particularly in the visual, sonic and queer realms. I'm here to check out what's going on. To learn and make work. And to take some space from the familiar.
Text: Gisella Lifchitz

[Help wanted]
Inviting volunteer staff / pro bono for contribution and translation. Please
e-mail
to us.