Do You Golf ?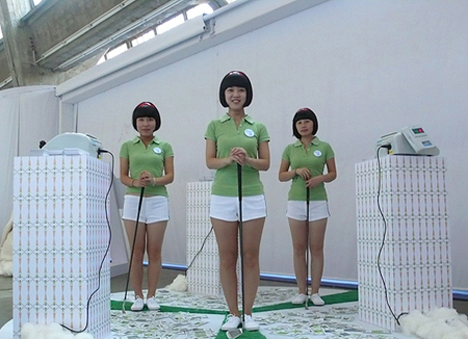 Lulu is a young motion/graphic designer based in Beijing. The banner motion graphic design for Get It Louder, which had been featured on Shift until recently, was also by her. She is a very active designer with so many works with clients, but she is also active with her own work as well. We interviewed Lulu, who is currently having an exhibition at the 789 Art District, which is also featured on Shift.
Please tell us about yourself.

Lulu. I am a graphic artist, more like a visual artist I would say. Currently freelancing in Beijing.
I was born in ShangDong, I studied art.1996 I moved to Beijing till now. I worked in south east Asia for a while then move back to Beijing. I started work as motion graphic designer since 1998.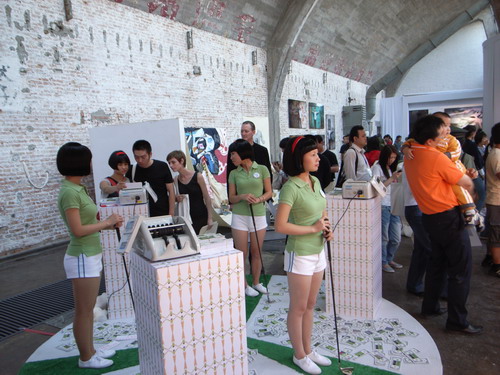 Could you tell us about the exhibition at 798 art district?
The exhibition at 798 right now is called "Cotton In Art". I am one of the participanting artist.
I get to work with a golf clothing brand called Ashworth from the USA. The original idea was to play golf instruction flipbooks (look like US dollars) on a money counter. Why golf instructions? For people who doesn't know golf never buy golf products, so education is the first step. I am here to help create a need which is known as a well-used marketing method. The more instructions playing through, the more possible business it generates.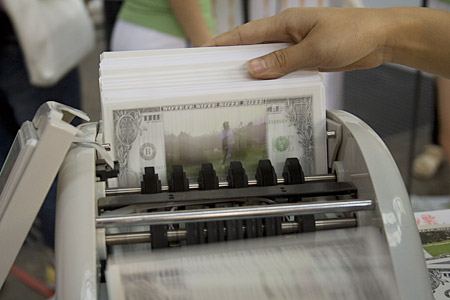 In the end the instruction videos are way too long to be realistic. Instead I choose funny clips of people making mistakes when learning golf which put the learning process back into the learner's hands, which is "the more mistakes you make the faster you learn".
In the show there are 3 girls dressed up like my character Lightning Babe, helping to play the notes on 3 money counters on top of a small golf course setup.
See more at: www.didelidi.com/Didelidi_Blog.html
Youtube video at: www.youtube.com/watch?v=lKGMOKGoWYw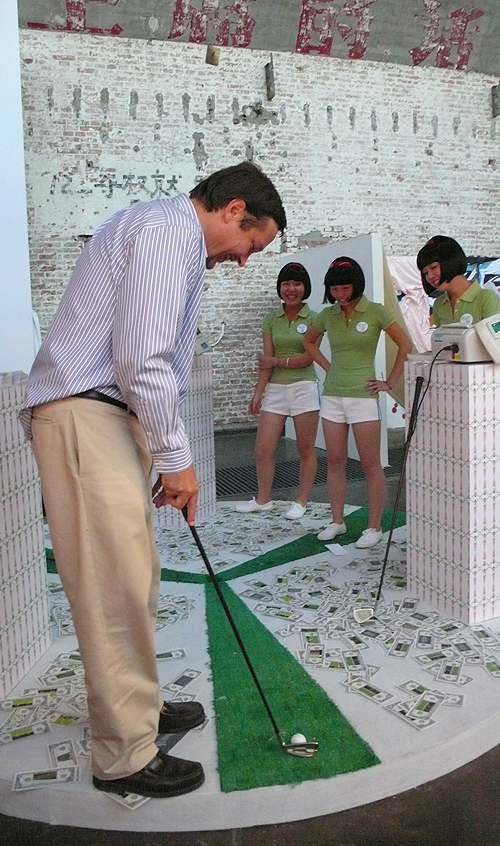 How was the reaction from the audience?
At first people didn't know what it was till my Lightning Babe start putting big stacks of dollars into money counter and playing it, and they see the moving images flipping through.The movies are funny clips of people making mistakes when playing golf. I think the content doesn't matter that much. People's main reaction is "oh it's a flipbook, I get it."
What do you think of your activity in Beijing?
I think it's positive step for myself.
Tell us about your recent work like videos and graphics and etc. Can you explain each works?
Lightning Babe project is a personal project I am working on at the moment. Lightning Babe is created based on the 1950's Chinese female gymnastics figure, but designed with a modern twist.
In the 1950's, when my mom was a very young woman, her dress, hairstyle, green uniform, scarlet cheeks, energetic voice and music, all became vivid memories of my childhood. See more www.didelidi.com/merchandise.html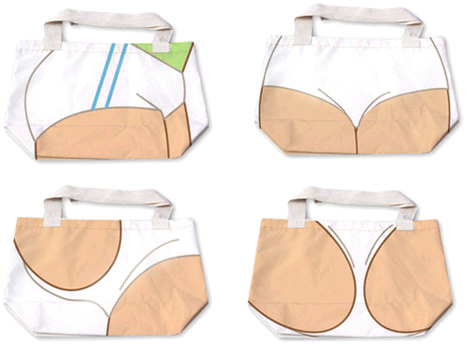 Works with Lightning Babe range from posters, animated wallpaper for projections, and emoticons for MSN PC (get your own copy from www.didelidi.com/WalkingBunny.htm), cushions, figures, to even rugs and sweaters… Which covered many media.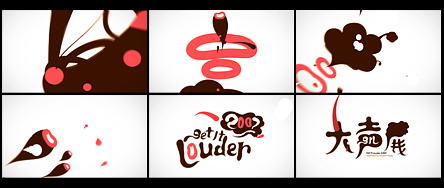 The latest commissioned motion graphics work is opener for "Get It Louder" which is showing on Shift.jp before on the right hand side banner. It's 30″ piece which you can see from my website under "commercial".
How is the art scene in Beijing? With the active work of 798 art district, it seems hotter and hotter these days.
Yes it seems hotter, and more touristy too. Big buses full of tourists pull up and pour out foreigners with cameras flashing. I don't know much about art scene in Beijing. I don't know where this is heading either. I guess this makes more people see more art, talk about more art, sell more art, make more art, comsume more art… If this is the right logic.
Can you recommend us any hot places apart from 798?
Cao Chang Di maybe is newest place with lot of attraction. I see a lot of people searching every inch of Cao Chang Di trying for studio space or to build a studio and sublet to other artists.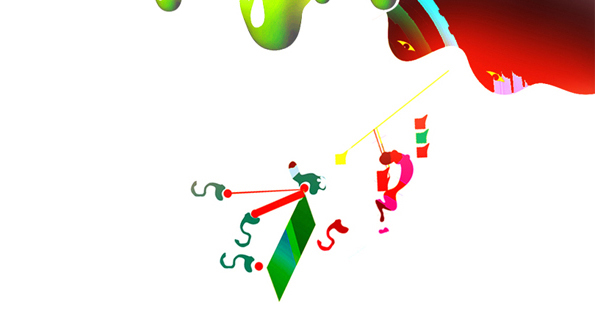 What do you do usually when you are not working?
I work and sleep in the same space, so work and play all merge together..I will be watching my favorite DVDs on my laptop at the same time designing on another computer. If i am not working at home I will put on a t shirt with "I am actually away from my computer" printed on my back and walk around, go wherever my feet take me.
What is your next plan?
I don't have a plan, my plans never worked. I play it by ear.
Can you give readers a message?
Never listen to others.
Lulu
Tel: +86 136 8302 6373
lulu@didelidi.com
Text: Kyoko Tachibana
[Help wanted]
Inviting volunteer staff / pro bono for contribution and translation. Please
e-mail
to us.