"It was criticised at the time for being too bold and bright, but I enjoyed it!"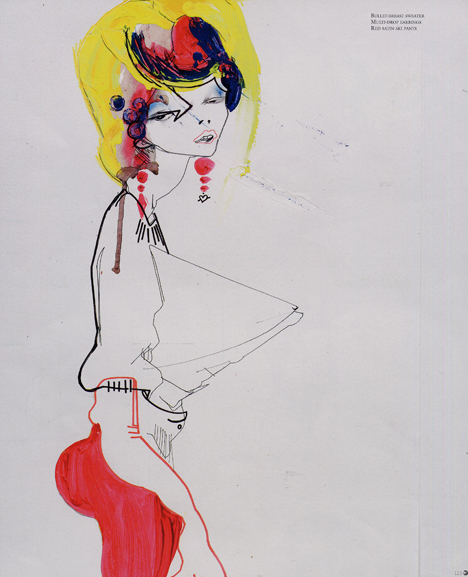 Julie Verhoeven knows better than most about how these two worlds work. She is a multi-disciplined designer across art and fashion; from illustration and creative direction to design consultancy, her work is known for its exquisitely avant-garde quality and surreal composition. After graduating from Medway University, UK, in 1987, Verhoeven started out as John Galliano's first design assistant, then went on to work as design consultant for Martin Sitbon, and was head designer for Gibo. Her collaboration with Louis Vuitton in 2003 was a huge success and her recent commissions include collaborations with Mulberry, Lancome, Topshop, Nick Knight's SHOWstudio and Sketch, as well as music projects with Primal Scream and Fischerspooner. Verhoeven has contributed to publications such as Dazed & Confused, Self Service, Vogue Italy and The Face, and is currently lecturing at Central Saint Martins College of Art and the Royal College of Art in London. She has published two highly acclaimed books of her work – Fat Bottomed Girls and Gas Book.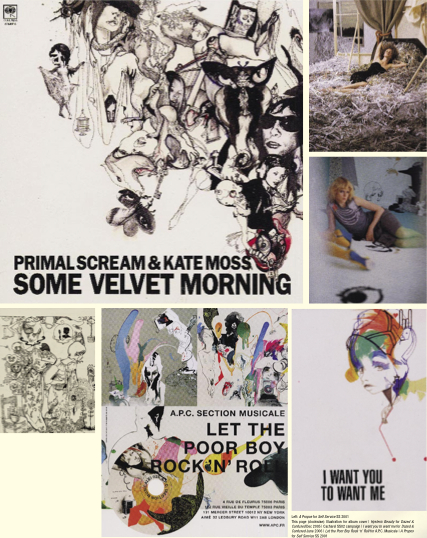 Illustration for album cover | Hysteric Beauty for Dazed & Confused Dec 2005 | Cacharel SS02 campaign | I want you to want me for Dazed & Confused June 2006 | Let the Poor Boy Rock 'n' Roll for A.P.C. Musicale | A Propos for Self Service SS 2001
Would you tell us something about your earliest influences, how you came to an appreciation of design and how you got into it?
My mum is an illustrator and my dad is a graphic designer. Thus I was constantly being made aware of visuals, signs, people's appearance and design from an early age.
How would you describe your style/work to first-time viewers?
Ferociously feminine, funny and then sad.
Graphics are widely used in fashion nowadays. Why?
It's because they're easily accepted and accessible.
Why is watercolour equated with fashion illustration?
I don't believe it is, although it can be perceived as a feminine medium.
Why is the T-shirt the most popular medium for combining fashion and graphics?
A T-shirt is a universally un-challenging garment that appeals to a wide audience because it is mundane.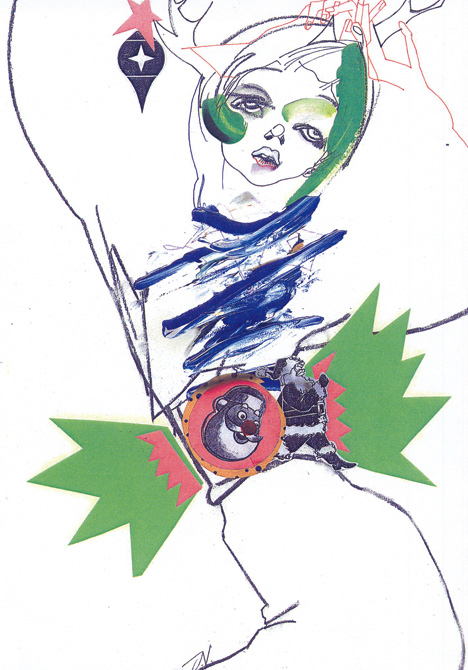 Topshop Christmas card 2005
Which medium is the most power- ful for bringing fashion and graphics together, besides the T-shirt?
Billboards/advertising are pretty dramatic and seductive.
How did your collaboration with Mulberry come about? What is the most fun thing about it?
I have known Stuart Vevers for many years and suddenly the timing was right for us to collaborate, according to him. My collection for Mulberry is sunny and bright for the winter season.
How has the Verhoeven girl evolved over the years?
Verhoeven girls swing between sweetheart pretty-pretty and angst-ridden and desperate.
Your fashion collaborations already boast fashion brands such as Mulberry, Louis Vuitton, Cacharel and Lancome, so what's next?
I'm quietly searching …
Gibo is defined by graphic design. Looking back, do you think that it brought a much-need-ed dose of graphic design to the fashion scene?
It was criticised at the time for being too bold and bright, but I enjoyed it! I should have tempered the graphic approach just a little so that it's more digestible, perhaps.
You got into fashion design yet found fame in illustration. How did that happen?
It was the reverse. I trained in fashion and then alternated between fashion and illustration through frustration with each. My lucky break was the Louis Vuitton bag collaboration.
Where do you draw the line between graphics and fashion?
I don't wish to.
Why do graphic designers so often branch out into fashion?
It's because fashion reaches a greater audience and it's fun to see artwork in movement.
When graphics combine with fashion they usually manage to hold their own against it, e.g. you can immediately spot the graphics on a shirt. What's your take on that?
It entirely depends on proportions and scale as to the success of an artwork working on a garment. Graphics and fashion need to be sympathetic to each other.
Which living designer who has married graphics and fashion are you most impressed with?
Bernard Willhelm.
What are your future plans? Are you working on any particular projects right now?
A Public Art enamel mural for Bristol Harbourside, UK and new artwork for the Volta Art Fair, Basel.
Text: IdN (First published by IdN Vol.14 No.3)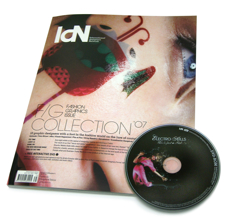 IdN Vol.14 No.3
Fashion/Graphic Issue
126 Pages, Bonus DVD-ROM included
Paper: 6 varying paper stocks
Printing: 4 process, 1 fluorescent ink, spot UV vanish
Price: US$15, £10, €15
[Help wanted]
Inviting volunteer staff / pro bono for contribution and translation. Please
e-mail
to us.