Barcelona's finest gallery "Iguapop" at heliumcowboy artspace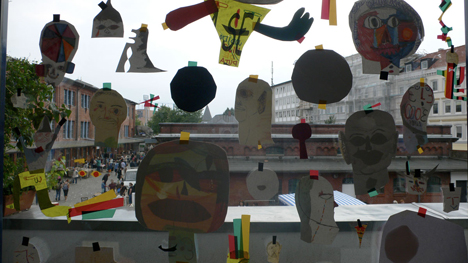 "Iguapop!" is my favourite exhibition at heliumcowboy artspace this year so far. Maybe this is because it's a group exhibition and you get to see the artwork of 9 brilliant artists. Maybe it's because you feel as if showing work from this Spanish gallery "Iguapop" was creating a Mediterranean atmosphere at cold old Hamburg. Maybe it's because Inigo Martinez Moller – Iguapop's gallerist — and the three artists he accompanied (Blami, Mike Swaney and Victor Castillo) were just so nice and unpretentious that the preparations for the show were great fun. We even got invited to a delicious feast they prepared next door, containing what seemed like hundreds of "tortillas di patatas", super-tasty gazpacho, huge bowls of salad, plates full of "pan con tomate" and approximately eight kilos of jamon (ham). Of course we didn't finish that and besides, the jamon was intended to be served at the opening. But before, the exhibition had to be set up.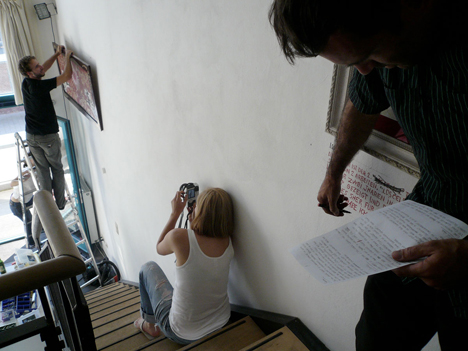 On the ground floor with its very high ceiling 6 artists were represented. We actually increased the size of one wall to be able to hang Tim Biskup's painting in a prominent position, right vis-à-vis to the entrance. On the right wall two large paintings of the presently hyped French artist Miss Van reached to the first floor and were framed by artwork of Sergio Mora and Adolf Gil.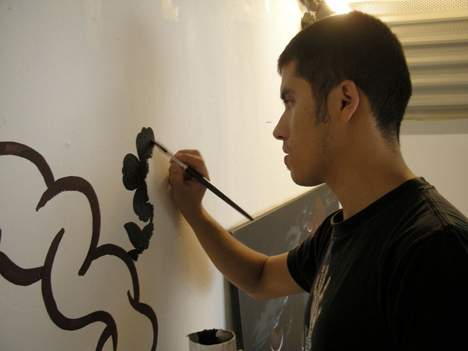 The left wall – always difficult because of the stairs – contained pictures of Catalina Estrada and Rai Escale, whose beautiful, with solvent and ink modified magazine pages had to be observed from up close. The second floor was left in charge of the three present artists, who started to configure the three walls there. Victor Castillo painted his wall as a background for his canvases with an impressive composition, containing sausages, chains, thunderbolts, and some gastro-intestinal worm. His arrangement radiated a strong disneyesque apocalyptic atmosphere and the dramatically lit backgrounds of his paintings let you easily understand his admiration for Goya.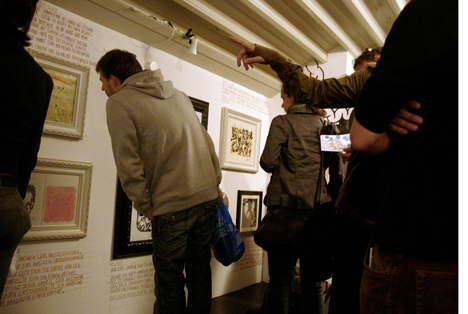 Blami had the idea of writing explanations to his art pieces because he always uses different techniques and wanted the visitors to know how the artwork was created. He wrote them in Spanish, Mike had to translate them into English and then Veronika (beloved colleague at the gallery) reinterpreted them in German. Blami then transferred everything in some strange crooked way of writing onto the wall. The result was some naive-sounding, misspelled and therefore intriguing comments. In fact, they are now pure poetry. At the opening this was the wall where people stayed the longest, reading and causing traffic jams at the stairs.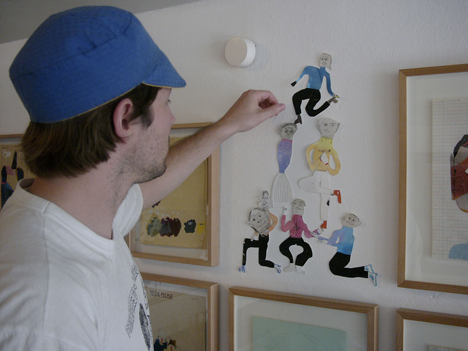 Mike Swaney hung his archaic pictures on the right wall, filling a white space between the frames with a charming collage. On saturday before the opening, there was an interview by the new German illustrator's magazine "jitter". The interviewer first talked to Mike upstairs while I sat downstairs reading and not listening. The only word I could distinguish (since it was mentioned quite often in this interview) was "Schlumper". Being a fan of "art brut", Mike was excited to find right opposite to heliumcowboy artspace the "Galerie der Schlumper" – a gallery and studio where mentally handicapped people paint, cut or knit their totally genuine, individual pieces of art.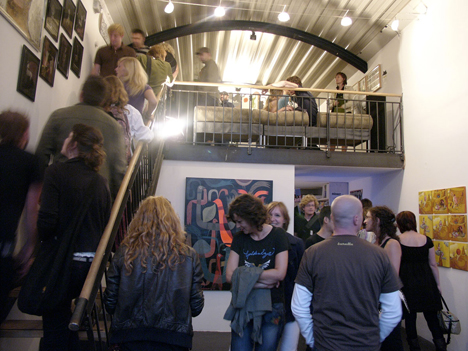 Blami's interview was about the importance of lines, about frames that often belong to the composition, and found objects he transforms into pieces of art by manipulating them.
The opening itself was a success and a huge party as usual with Blami putting on some music, Inigo cutting ham, Jörg selling art and everybody else drinking too much. We went out dancing in the morning. I'm looking forward to next time.
Iguapop! Exhibition
Date: 25th August – 21st September 2007
Place: heliumcowboy artspace
Address: Sternstr. 4, 20357 Hamburg, Germany
http:// www.heliumcowboy.com
Text and photos: Gudrun Rau
[Help wanted]
Inviting volunteer staff / pro bono for contribution and translation. Please
e-mail
to us.