Produce something in a different light by recomposing and rearranging.
Takahi Kawanishi opens a solo exhibit after an interval of 4 years entitled, "ONI NO KO". First stopping off at Tokyo's POINT and then Sapporo's SOSO.
The destruction of aesthetic, the strength by natural consequences, a setback to success. More than 3 personalities inhabit his mind and their words flow into colours, lines, motives, and emotions.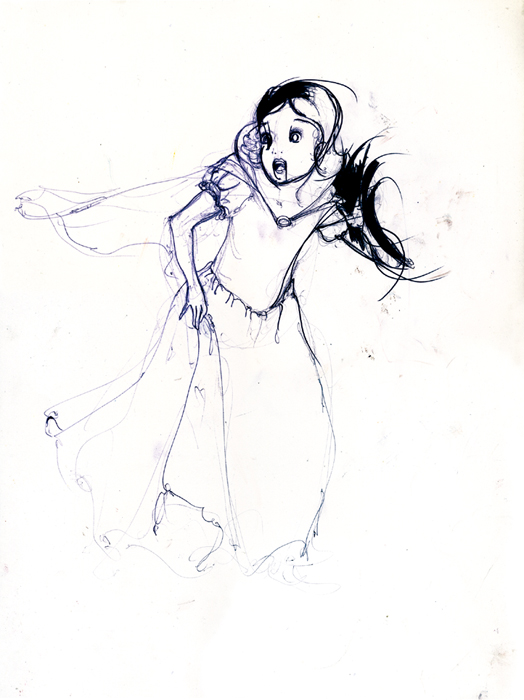 First of all, tell us about yourself.
Takahi Kawanishi. A painter.
What is "ONI NO KO" (a child of the devil) in your mind
A child of the devil.
Once I tried pretending to be the devil since I was exasperated by not being able to overcome something "there" as I expressed myself in my early 20's. It just added up to a realization that I am a human being. Not physically inclined, sometimes easy going, you know. So I came up with an idea with the child of the devil. The child, you will become the devil when you grow up a mere nuance.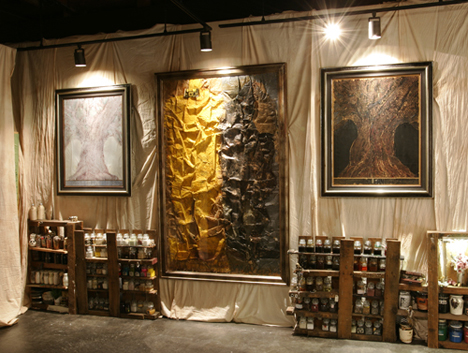 Tell us your main work?
Since i cannot express myself verbally very well, I draw and paint to express myself basically.
Participated a group exhibit in Japan and in New York, and also made a store display at H.P FANCE Bijoux etc.
My first solo exhibit, "KawanishiTakahi" was held at space TRY in 2003.
A couple works of posters for the first issue of "DAZED & CONFUSED JAPAN" and "relax" which has stopped publication.
Besides that, I drew book designs for "Weetzie bat" (Francesca Lia Block), and "Smart Cunt" (Irving Welsh).
I have been working with "PIMPOINT" of SOIL & "PIMP"SESSIONS for their artwork lately.
For the time being you can go to my agent, phil website.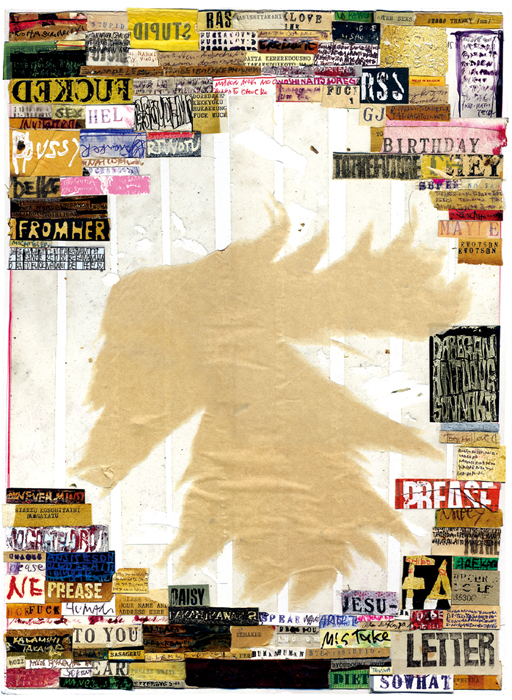 The exhibit "EVERESTS" at Sapporo SOSO in June will be your first time in four years, tell us about last 4 years.
I tended to make light of paintings, myself and society, so that my paintings haven't got a profound meaning but only external feeling as a subject matter. Therefore, I had to look back at myself and face each individual aspect little by little. I'm still working on that for now.
What I have done aprehensively was rather comfortable for me, even back then. I can tell, I wanted to escape from a painting, myself, and sosicety. Essentially, there should be liberty but of course it accompanies severeness accordingly. Maybe I was just lazy.
Let's talk about your works.
Let me introduce the work I made for this exhibit.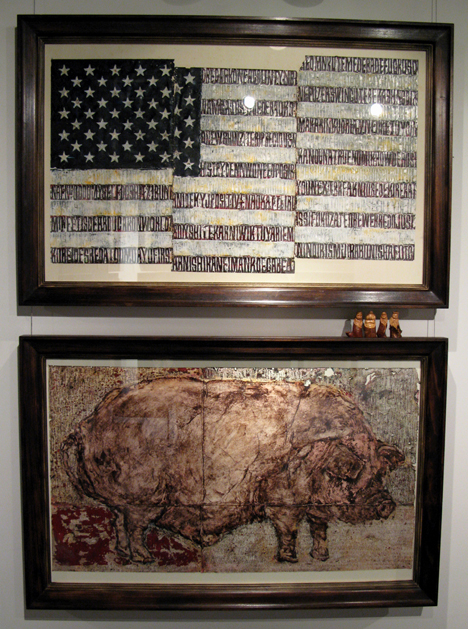 JAPANESE © 2007 takahi kawanishi/phil
Like a reversal printing. (a wood block)
By engraving, ripping, burning, and stitching, I gave it the motif of the national flag crumbling in balance. I will leave understanding it to the audience.
PIGHEAD © 2007 takahi kawanishi/phil
The motif that applied to an absolute image side of me was "Pig". A work that invents an overwhelming sense of existence by giving time to the motif.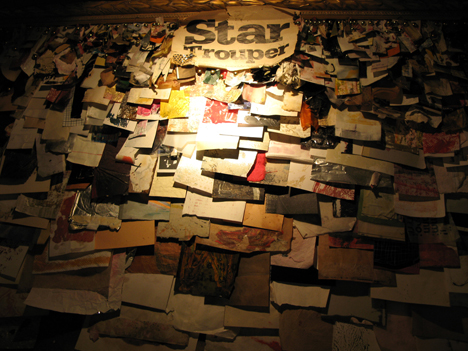 TRASH GOLD © 2007 takahi kawanishi/phil
The further reconfiguration (interpretation) of "MATERIALS" which I offered to this SHIFT cover, I produced it as a display rather than a work of the exhibit.
How do you think the exhibits and the openings are going to be?
To be honest, I have no idea now. It will be influenced by the smell, sound, temperature, something that is realised keenly there, the feeling. I also think there is something I should change, a vague image in my head. But I would keep it there for now because I like to leave it to an audience's perception rather than what I say it is.
However, I definitely want you to feel "distortion".
Please tell us about SHIFT cover this month.
The title is "MATERIALS", an item which does not have much meaning by itself, but in a work of collage it brings "something" to a different light by recomposing and rearranging it.
Any particular person, thing, or event that influenced your current work?
Basically there is no definate answer to that question. I am easily influenced deeply by anything, right or wrong. (It's making me tired, though.) My point is what you perceive from that, I guess.
You may think I am vague and devious, I dare to say "Something common what nobody needs anymore."
What is coming up next?
I will open another exhibit somewhere in Paris this year and in Tokyo as well.
Lastly, a message to a reader , please.
Let's get off a stop early for a change, and go home on foot!
EVERESTS – Takahi Kawanishi Exhibition TOKYO
Date: May 26th – June 2nd, 2007
Open: 12:00-19:00 (till 17:00 on the last day)
Place: POINT
Address: 1F POINT 1-4-7 Ebisu Nishi, Shibuya-ku, Tokyo
Tel: 03-5428-5179
Presented by: phil co.,ltd. /POINT
EVERESTS – Takahi Kawanishi Exhibition SAPPORO
Date: June 9th – 28th, 2007
Open: 11:00-21:00
Place: SOSO
Address: 1F Sansei Bld. S1 W13 Chuoku, Sapporo
Tel: 011-280-2240
Presented by: phil co.,ltd.
Supported by: SHIFT production 
[Help wanted]
Inviting volunteer staff / pro bono for contribution and translation. Please
e-mail
to us.