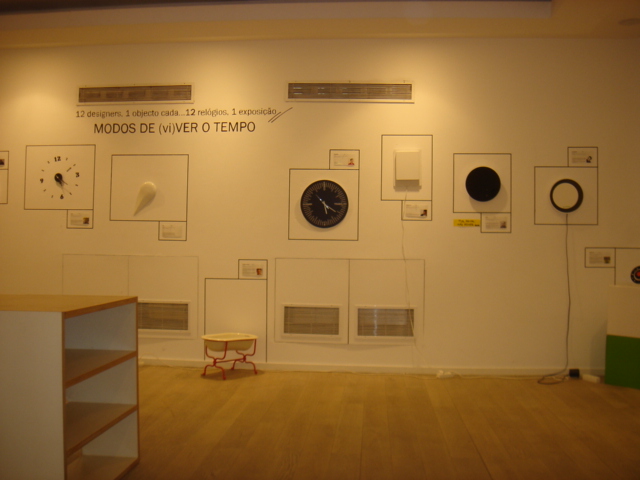 This original exibition took place in FABRICA Features Lisboa.

For those who no nothing about FABRICA Features I'll try shortly describe it. FABRICA Features is a network of cultural and commercial spaces open in various cities like Lisbon, Paris, Istanbul, Hong Kong, Bologna, etc where one-person shows, exhibits of local artists, concerts, video projections, live performances, workshops and lectures become key opportunities for gathering together. Within FABRICA Features there is also room for different cultural "products" cds, books, videos, international art and design magazines and design objects created by FABRICA or selected across the world.
The goal of "12:12" exhibition was show to the public the work of twelve Portuguese designers that came up and materialized some ideas under the same theme "the notion of time. As a result, 12 objects had been brought up and showed up, at FABRICA Features Lisboa, with the support of FABRICA itself, as well from Fine Arts Lisbon University and The Portuguese Designers Association.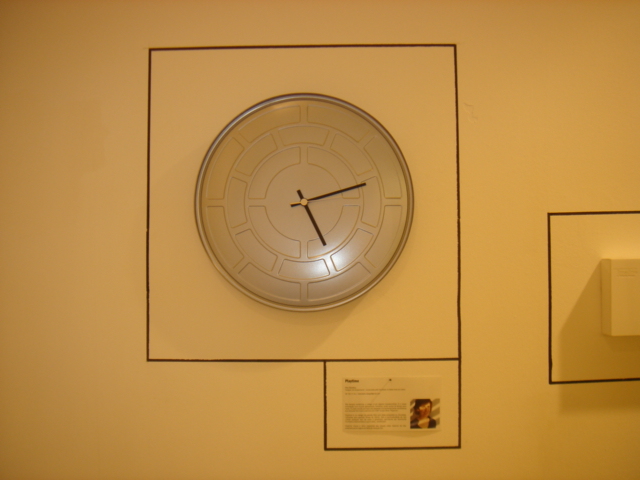 First object was by Rita Botelho called "Playtime". As she notices today the clock is an indispencable object. It rules our course in a globalised, frantic world, where time is always running out. It was this world, populated by unconsciously robotized people that Jacques Tati perceived and criticized in 1967, in its film "Playtime".
Rita's clock is a wall clock made from silver and golden 16mm film tins, setting our life rhythm, making us all potential Jacques Tati's film characters. This clock stands out for not using any kind of glues or screws, allowing to be easily assembled/disassembled and who knows, re-used!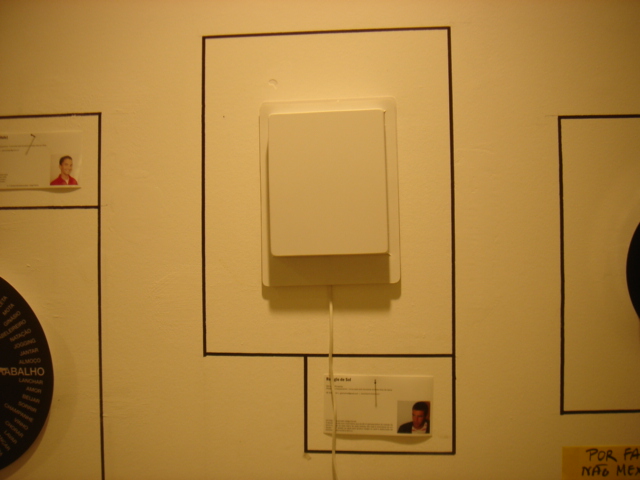 The clock by Goncalo Pimenta is a tribute to the secular sun clock. The shade circulates in a movement that is no more representative of the rotation of the earth, but of the daily cycle of each person. It travels to the speed of an "real time" opposite to the one that is gave by the archaic clock in which the movement of the shade is very subtle to the naked eye and you can hardly see it.
The conceptual clock "Green Moon" by Hemerson Costa comes from idea that time is something that goes accumulating and that becomes irreversible. For such, each hour, each minute that if depletes is always remained present, as part of a past that does not vanish, remaining itself, always illuminated and shining. The design of the watch consists in a non concentric circle, as a main structure. The shape was inspired in the moon, selected for it mysticism as a structuring element of the time.
Ricardo Jeronimo's answer to the invitation for exhibition was an object with a deep conceptual charge, with the aim of giving an original and radical reading of "what is time" in present times.
The object is composed by a black polished acrylic circle with 30 centimeters of diameter in witch "orbit" 2 metallic spheres: the bigger and with a larger orbit representing the hours, and the smaller one representing minutes, the spheres are hold in place using magnetic forces. This points travel throughout space and time symbolizing not a concept of singular time, but an universal time. Free and mysterious.
For me it looked probably weirdest of all the clocks (more object from astronomy studies than a clock itselft), but that only gave it most of mine affection. Nice work!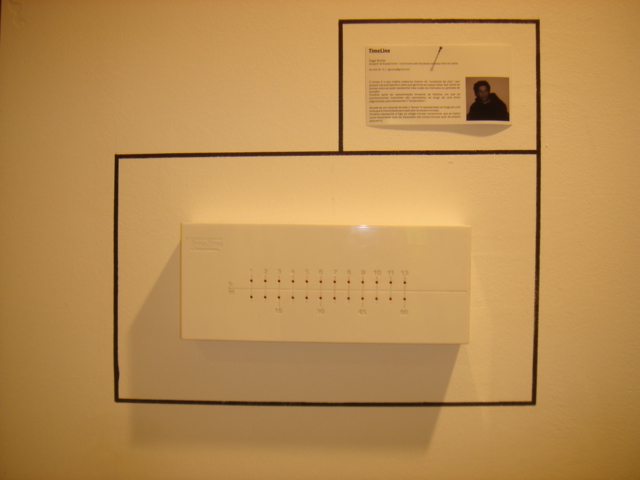 Tiago Nunes's "Timeline" is also weird enough but also catching.
The author says, that time it is what we better can call "a life constant" that always follows us and by which we rule our lives. There are many ways we can represent this notion of intervals our periods of time.
"Timeline" bases it self on the time representation of History, where the key events are signalled in a segmented line, to symbolise the "daily time". By an assemblage of led light, the time is represented by an interrupted line to signal the hours and the minutes. The clock it's an escape from the conventional circular clock, evident in the linearity of the hour/minutes display and also in the clock shape.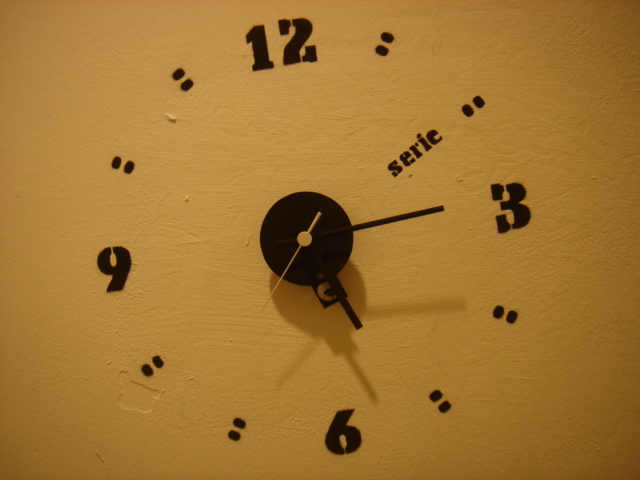 Andre Gouveia "Serie2" is consequence of elaboration of variouse technics used to create clocks, such as stencil, serigraphy, offset, etc. Created directly on the wall of FABRICA Features Lisboa it looks like a normal part of the gallery.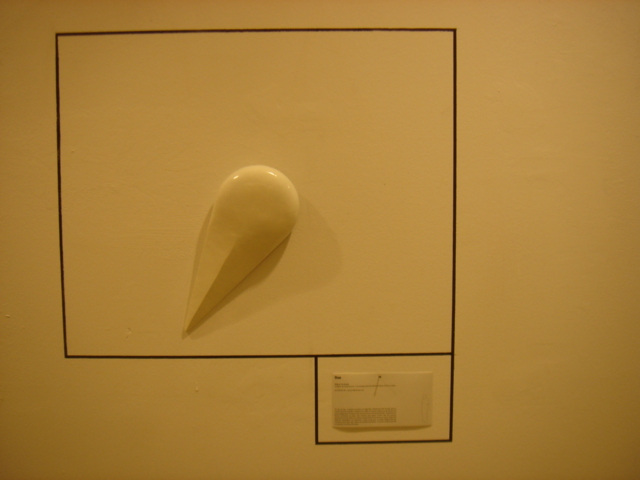 Tic tac tic tac. Times goes every second, but this clock is really static. More a sculpture than a clock. "One" by Miguel Andrade.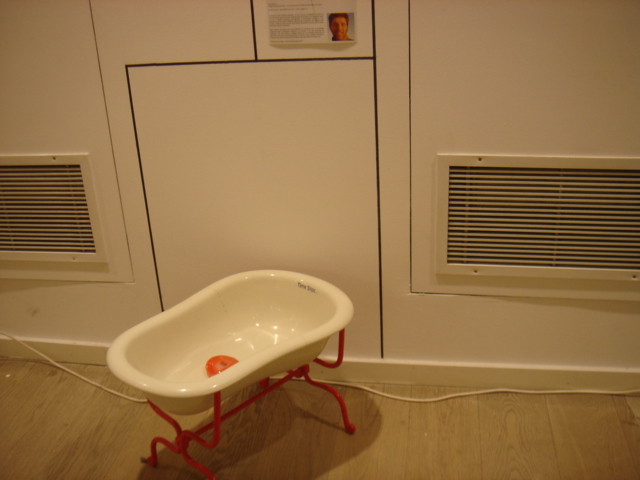 Time is very delicate thing. It is "battle field" where cultures fight or face individual experiences, dimention that goes up then individual express his preferences. Also iti is a labaratory where new cultural models are placed in practics without any limits. The project "Time slides" seeks to create this reflection of individual, therefore for a society which demands some "healthy integration" and time is evaluation simbol.
Quite deep conception, but very simple expression; small bath with soup inside. Took hard for me to understand because I had only a Portuguese explanation of the object. Anyway this one is "stand out of the crowd" clock.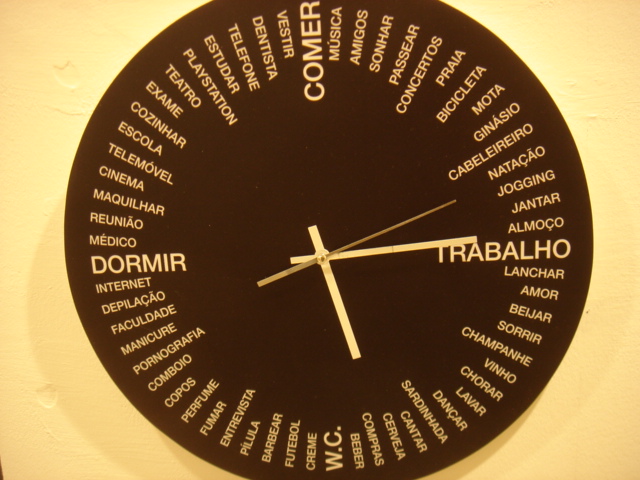 Rui Palma's "Untitled" clock let feel that time consist of all various things/activities we have in our life; music, friends, lunch, studies, playstation, love, etc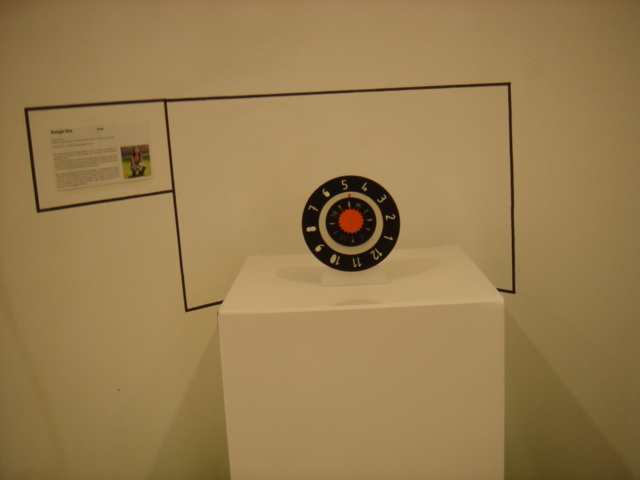 "Turning Clock" by Paula Pires was simple but nice and it is just what it's name a clock which turns. Maybe not so practical, but still with an idea that everything goes round this clock.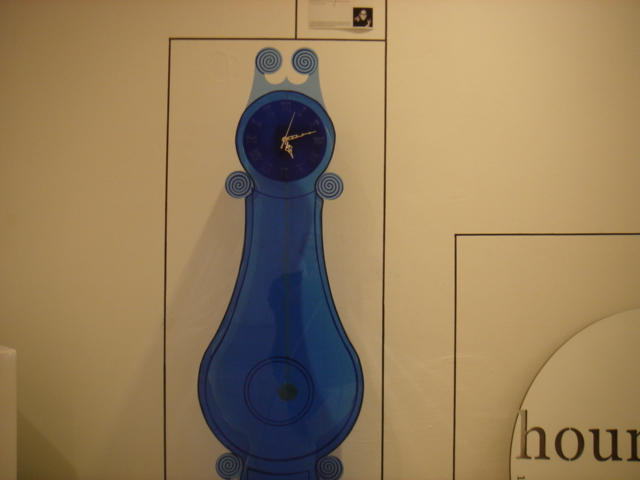 "Mr. Clock" is also was one of my favourites. It remind me of some fairytale character from some old animation I can't remember. Whatever. Seems really funny and made nicely.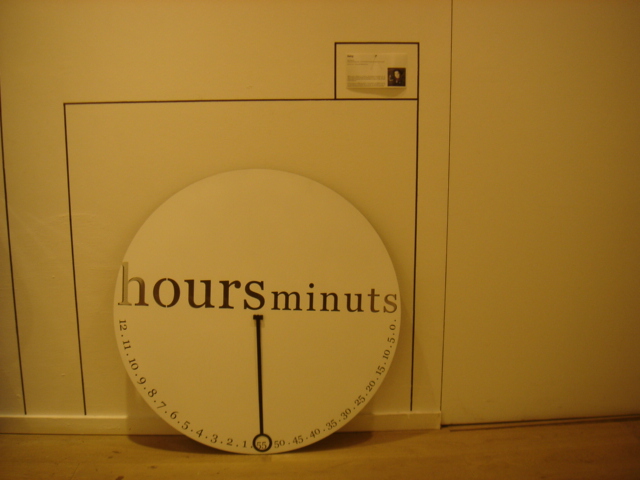 "Swing" uninion of classic and modern times. Devided into hours and minutes, but in different way. Still easy to understand and use it. Boa!
This exihibition available until March 16, so if you by any chance will stay in Lisboa at that time. Take your time and visit it.
12:12 WAYS OF SEEING AND LIVING THE TIME
Date: February 10th – March 16th, 2007
Place: FABRICA Features Lisboa
Address: Rua Garrett 83, Lisboa
Text&Photos: Emanuelis Ryklys from RUT RUT
[Help wanted]
Inviting volunteer staff / pro bono for contribution and translation. Please
e-mail
to us.