"Drah di net um oh oh oh – schau schau der Kommissar geht um oh oh oh." Is this abacadabra to you – or does it make any sense? And what about this phrase: "Amadeus Amadeus Amadeus Amadeus Amadeus Amadeus Amadeus Amadeus Amadeus Amadeus, oh oh oh Amadeus – Come and rock me Amadeus"? Okay, let's do a final one: "Jeanny quit livin'on dreams – Jeanny life is not what it seems." When the music started to play in your head and you sang along, than you surely remember Falco, a famous rock star from the 80's.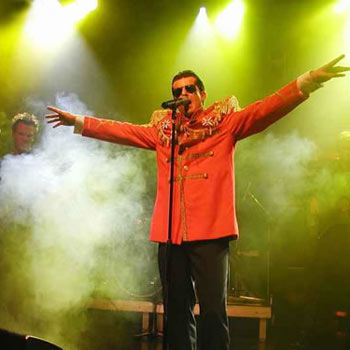 With worldwide sales of over 50 million records, he was, and still is, the biggest-selling Austrian pop musician of all time. Falco, who died in 1998, would have celebrated his 50th birthday this year. That's why he is honoured in Austria these days with a string of special events, a greatest hits CD and a documentary on DVD.
Falco, who's real name was Johann Holzel, was born in February 1957 in Vienna. He seemed just an ordinary guy, growing up in a working-class neighbourhood in the capital of Austria. As a teenage bass player, Holzel joined a local hardrock band in the mid-70's. In 1977, he chose his artist's name after being impressed by German ski jumper Falko Weisspflog, who seemed to fly while jumping and who was nicknamed Der Falke, meaning: the falcon. Later, Falco left his hardrock band in Vienna for a solo career as a rock singer, and soon had an incredible international breakthrough. His song "The Kommissar" (1982) saw him rising up the pop charts throughout Europe and Canada. An even bigger success came a few years later, when Falco teamed up with Dutch producers Bolland and Bolland to record "Rock Me Amadeus" (1985), a catchy song that reached No. 1 positions worldwide and stayed on top of the American charts for three weeks. That song was later voted Best Single of the Century in Austria. One year later, Falco made the headlines again with the highly controversial song "Jeanny" (1986). Many radio stations refused to give it any airplay as it described the kidnapping of a 19-year-old woman, though Falco said it was just another love song.
Anyway, Jeanny would be Falco's last international hit. His life had changed dramatically. That down-to-earth young man from Vienna had suddenly become a highly adored multimillionaire by the age of 25. In several interviews at that time, Falco admitted he had severe problems in handling his status as a rock star, being unable to lead the ordinary family life he was used to.
Furthermore, none of his later musical projects got the same enthusiastic reception from the audience by any means. A vast fan base in Austria, Germany, and Switzerland would buy any record that Falco put out, but he had completely disappeared from the international music scene – for good. Falco, confronted with private problems as well, sunk into a depression and suffered from alcohol and drugs abuse. In the mid-90's, he left Vienna and settled in the Dominican Republic to get his life together again. Early 1998, shortly before his 41st birthday, he died in a mysterious car crash on the island. At a cross road, a local bus collided full-speed into his jeep. Obduction reports later confirmed that Falco had high amounts of alcohol and cocaine in his blood at that time.

© Osterreichische Post AG
Almost a decade after his tragic death, Austria hasn't forgotten about this Viennese guy who made it to international stardom. Last year, the Osterreichische Post AG dedicated an official stamp to the Rock Me Amadeus song. And this year, Falco is remembered and honoured in several ways. First of all, music company Sony BMG brought out a double CD with the best of his songs. It also released a DVD called Hoch wie nie (High as never before), containing a documentary on Falco's life and his rise and fall as a famous rock star. Furthermore, Austrian television and radio stations bring lots of special reports on Falco and his music these days. And discotheque U4 in Vienna's innercity, Falco's favourite club which he used to visit a lot, staged a huge Falco Remembrance Party on February 21st, where lots of artists payed tribute. Other concerts in Vienna and around Austria include Michael Patrik Simoner, a Falco look-a-like who had already been imitating the artist at his heyday in the 80's, and who is now touring with his act F@lco Forever to keep memories of the late star alive. Also, an updated version of Peter Lanz' biography Falco – Die Biographie has appeared in the book stores recently. Finally, director Thomas Roth is working on a Falco movie called Verdammt, wir leben noch (Damn, we're still alive), which is due to appear in the cinemas by early 2008. Because then, for sure, Austria will be extensively remembering the 10th anniversary of Falco's death.
Text: Eric Willemsen

[Help wanted]
Inviting volunteer staff / pro bono for contribution and translation. Please
e-mail
to us.