AND A EXHIBITION "MY INSTINCTS"
On Sunday 29th of October, at five in the afternoon, when the weekend had only several hours left, people were gathering at "And A" shop space on the second floor of Stellar Place Sapporo. "And A" is a concept shop which crosses several genres such as fashion, design, art and music, and sends new and provocative cultures with a global point of view. On the day, here they held an opening event of their exhibition "my instincts – cut&collage", following to the other two shops in Kobe and Sendai.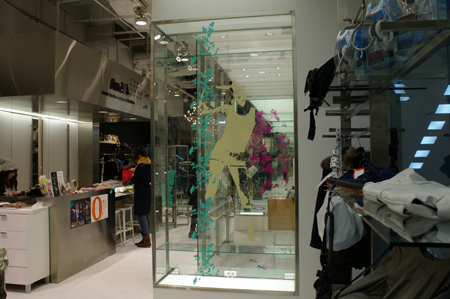 Producing attractive space design and even time as well as fashion or products, "And A" keeps developing art projects in their own way, including collaboration between various designers and artists, and also issuing an art free paper "wall on". With this exhibition and event "my instincts – cut&collage", they put October concept "CLEAR" into art, based on the collection theme of Fall/Winter 2006/2007, "MONO-COLLAGE".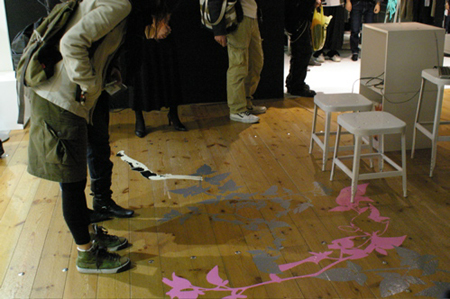 The whole space of the shop had colorful cutting sheet works in the shape of various creatures and nature, on the floor, counter, mirror, and windows, just like a tattoo art on the whole shop as a campus.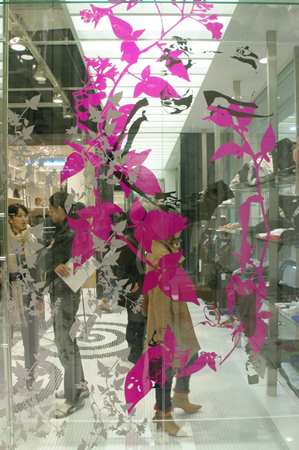 By a characteristic of cutting sheet, the clearness has been kept without completely obstructing spaces or aspects, although it still has vividness or mosso. It exactly looks the space of "MONO-COLLAGE" and "CLEAR" with clothes and accessories done the layout.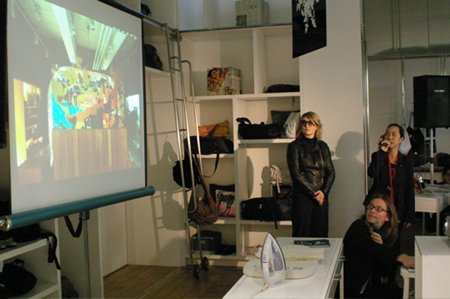 Opening event was started in front of a screen with the presentation of Virginie Lavey who did the art direction of this exhibition. Megumi Murata from "And A" hosted as good interpreter.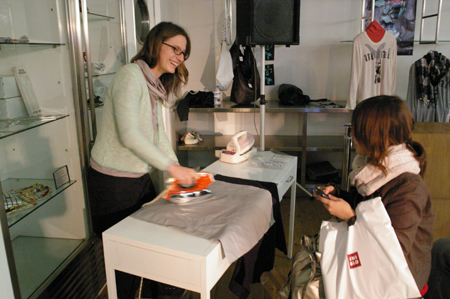 Virginie Lavey who has been based in Japan for about 6 years now is an art director originally from Cannes. Her video works or installation have been constantly published in Paris and Tokyo, and the fashion and design industry is also paying attention to her video, graphic, and photography works. In this exhibition, Virginie expressed "INSTINCT as appeal of delicacy, strength, and movements that creatures' (including human beings') body has" with fashion elements that "And A" has.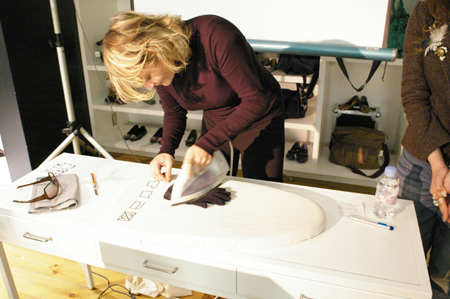 Stephanie Morel who produced the cutting sheet artworks under the concept of Virginie also visited Japan for the first time. Stephanie is a cutting sheet artist based in France, graduated from Art department in the University of Lyon (same as Virginie), and also performing as a vocalist of a rock group. She uses strong symbols like Virgin Mary, guns and sex in her works, and expresses human's original beauty by breaking those symbols. Her strong eyes symbolizing her works were impressive.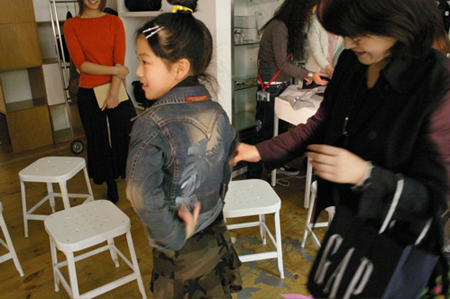 As an main feature of this opening event, Verginie and Stephanie held a workshop. In the relaxing atmosphere, visitors who brought their T-shirts and some other fabric things received cutting sheet artworks, and formed a line in front of Verginie and Stephanie who showed how to print those with irons and stuff. The cutting sheet the visitors received were also with motifs of creatures and nature as well as the exhibited works. Talking with Verginie and Stephanie, they all seemed satisfied with completed works. There was a man who said "oh I should bring nicer T-shirt!" and also a girl who took off denim jacket she was wearing to have a print on it. Regardless of men and women, or ages.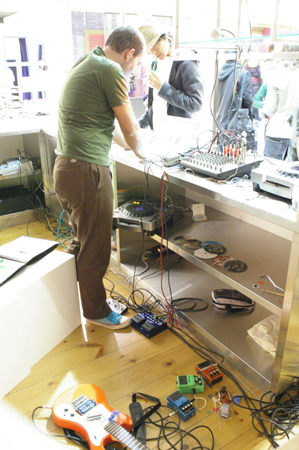 Furthermore, the collage was appeared in sounds too. Philippe Chatelain, a media artist who's been based in Japan since 1997, brought an excitement to the event with his "sound collage" which has various music elements of from 20th century to present days. He is also an artist who made the fresco painting in size of 30m for the opening memorial of Sapporo JR Tower. When you visit And A Sapporo, have a look and enjoy his painting work too.
In this event, I felt their borderless attitude for various elements; in art, fashion, music, and even visitors while the solid concept and design had been kept, which was really comfortable and cool. Nice artists. Nice staffs. Keep your eyes on the innovative style and culture that "And A" carries!
And A Exhibition
my instincts – cut&collage
October 22th – November 6th, 2006 at And A Kobe
October 27th – November 13th, 2006 at And A Sendai
October 29th – November 13th, 2006 at And A Sapporo
http://www.and-a.com
Text: Yurie Hatano
Photos: Hiroshi Kotake
[Help wanted]
Inviting volunteer staff / pro bono for contribution and translation. Please
e-mail
to us.