The Shift calendar competition started in 2003 with an aim to discover fresh creators. The number of entries have increased year by year and have received 1267 entries from 49 countries this year. 12 carefully selected works will decorate each month of the Shift calendar, creating the feeling of a little art book.
These selected works will also be exhibited and sold at PRINT'EM for a year with support by PRINT'EM, a graphic print center operated by Mitsubishi Paper MIlls Limited.
There also will be held an exhibition of each works printed on A0 size poster at the gallery cafe SOSO on December 2006.
The 12 works below are the pieces which will be used in the Calendar. Please have a look and enjoy the comments from each creator.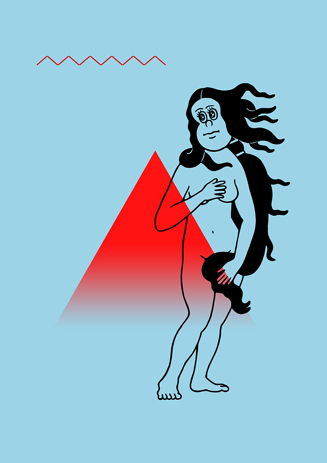 Jun Oson (Japan)
Born in 1979 in Aichi. Currently based in Tokyo. Worked at a design office after graduating from an university. After leaving the office, became a freelance illustrator. Working in various design fields; not only print medium, but also graphics for web and T-shirts.
Work description:
I like the idea "to scrape unnecessary details off". A venus with peanuts head, mountain, wave, light blue background.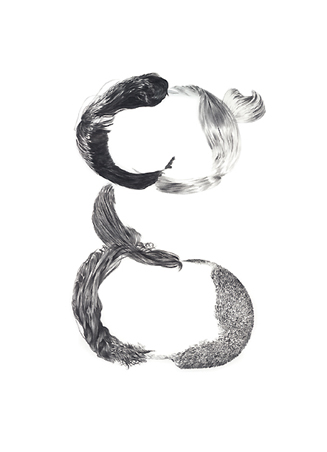 Akihiro Morita (Japan)
25 years old. Moved in Tokyo on June. Currently seeking a job. Fields are drawing, graphic design and web design.
Work description:
When I was looking at a letter "g" of Sabon, a font type of Old Style Roman designed by Jan Tzschichhold, I thought it looked like beautiful hair lines. Inspired by this, I created a work called "Cuticle Sabon". After kept drawing hair for a while, I finished this work to resolve the shape of "g", which was an image source.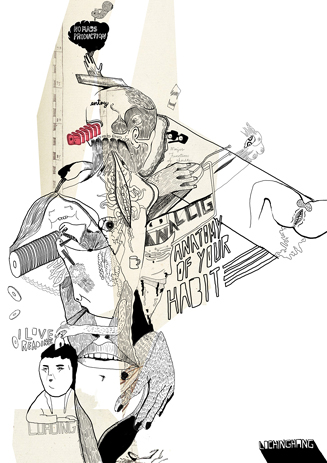 Jacky Lochinghang (Hong Kong)
Born in 1981, 24 years old, Hong Kong based Motion graphic designer. Graduated with honours in School of Creative Media. Interested in somethings strange and new.
Work description:
The theme of this drawing is "Anatomy of our habit". Our body/life style/habits is dominented by digital device. Please try to be more "analog".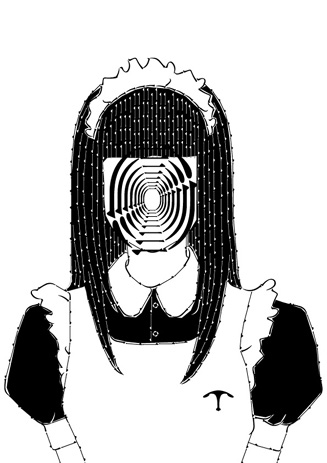 harmonica bldg. (Japan)
Lives in Sapporo. A design unit of a man and a woman, an art director Naoki Fujita and a designer Kaori Kojima. Formed in 2004. Awards; SADC new face award (2005), a prize at Biennale of Graphic Design Brno (2005), a prize at Chaumont Poster Festival (2005), a prize at International Triennial of Poster in Toyama (2006).
Work description:
In 2006, we designed for a book of "Hannya Shinkyo Zero" which was a collaboration book between Hannya Shinkyo and art. This work is one of the visuals used for announcement posters of the book. This series shows various creatures appeared from a play on words, including this maid work. We hope you can enjoy this work imagining the background or the story of characters.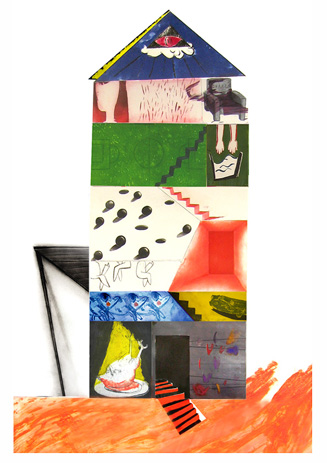 Joanna Swiatlowska (Poland)
Born and based in Poland. Graduated from the Graphic Arts Department of the Cracow Academy of Fine Arts. From time to time working as a freelance graphic designer, illustrator or wedding photographer.
Work description:
The rules of the game; The player has to get across the boards, collecting tools (associations) on the way. So he could reach the final (what the creator wanted to say to us).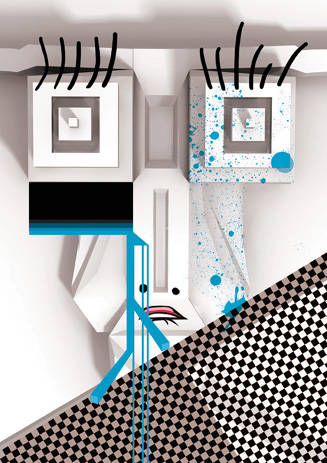 Tomas Garcia (Argentina)
Tomas was born in 1979 in Bahia Blanca, he has worked in a film and commercial production company as a designer for ads, video clips and all forms of advertising content and media. Today he is based in Buenos Aires and works freelance as an illustrator, graphic and motion graphics designer for his recently launched studio Saintgraphy, partnering up with his dog and his coffee maker.
Work description:
Late Fragment
And did you get what
you wanted from this life, even so?
I did.
And what did you want?
To call myself beloved, to feel myself
beloved on the earth.
– Raymond Carver.
Yoshihisa Nakai (Japan)
A designer. Born in 1980. Lives in Tokyo. Working for design while producing and showing graphic art and type face at the same time. Explores loose and soft expression using original letters.
Work description:
A scenery of neighborhood. Light, sky, wind, flower, soil, water, and warmth. All the elements are mixed with, and then a good day exists.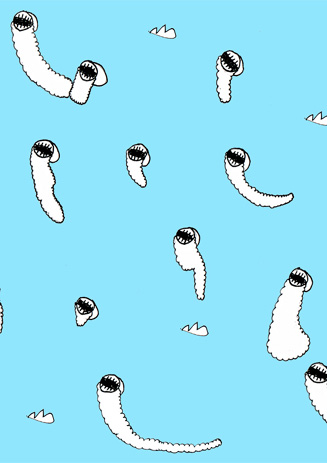 MrMr (UK)
MrMr lives and works in Glasgow in the U.K. A Member of the creative collective CAYDNSS, he makes illustrations for people and when he is not doing that, he is trying to exhibit and mess around with animation.
Work description:
A quick illustration which was used for a club night, and I elaborated on it to create this.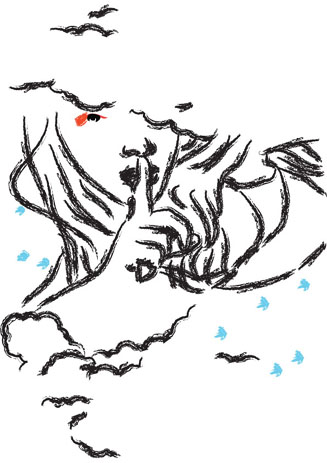 Ah Yan (Hong Kong)
8She is Yan. Born in 80′ in Hong Kong. Got a Diploma of Design in IVE. Started to be a graphic designer after graduated. Love to explore something. Try to find the different method to express themselves. Believe changing is AMAZING.
Work description:
A quietly beautiful piece. "Silence" is the theme of the piece. Drew human figure. Used the thicken brush to express the strongest feeling. Colour contrast and space proportion were important for the work.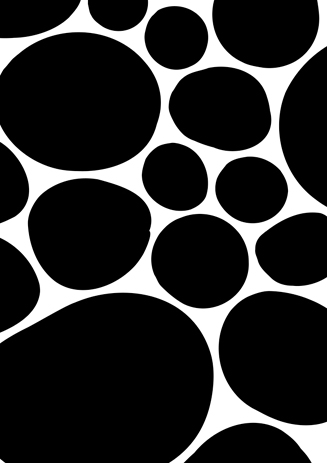 Hiroaki Yokoyama (Japan)
Born in 1977, in Okayama, Japan. After studying architecture, became a free-lance designer in 2004. Established "morld" in 2005. "morld" produces CI/Websites, illustrations, printed materials etc. based in Tokyo. He thinks people's desire to communicate directs various activities in their lives. "I often see societies built upon empty values. Designing in such contexts, I try to reconsider the values. 'm'orld comes from this concept: rolling over the 'w'orld."
Work description:
Firstly, I drew a circle as I felt good. I let the good feeling just run like water, and drew circles one right after the other in various good shapes and sizes keeping good distance from each other. Finally, I put a mark to remember the beginning of this good feeling. There are many feeling-good moments in my life. I try not to miss such moments.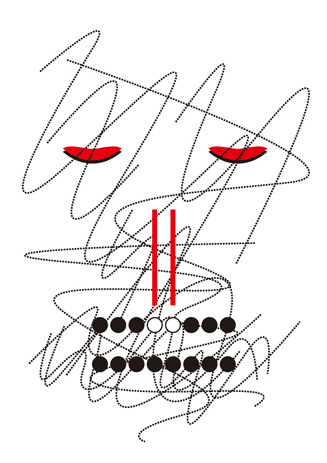 Kazuhiro Kikuchi (Japan)
Born in 1974. Based in Hokkaido. Belonging to "home inc". A graphic designer. Working for advertising mediums while evolving his own works throughout his original freepaper.
Work description:
A piece from a series called "early faces". This is an "useful" graphic; after using up as a calendar, you can clip it as you like and make a mask.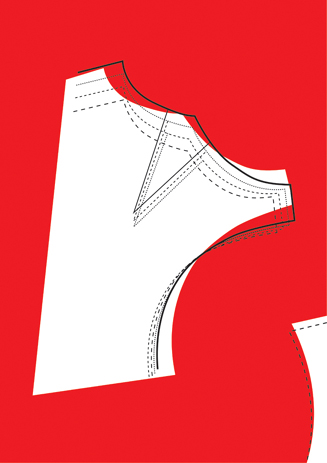 Katarzyna Ambroziak-Jablonska (Poland)
She is a graphic designer, photographer and printmaking artist born in Poland. In her work she's interested in asking questions and looking for the answers, exploring unknown areas and issues, mixing different medias and in such a way creating her own language of communication.
After graduating Fine Arts Academy, several exhibitions and awards she got a Danish Government Scholarschip and studied at Denmark Design School in Kopenhagen. Later she worked for Saatchi&Saatchi Poland and Print Extra design studio designing for such comapanies as TOYOTA, ING Nationale Nederlanden, Millenium Bank, Carlsberg, Museum of Modern Art in Lodz.
Work description:
The time and space and their coexistence is the theme I try to explore in all its aspects and complexity in my fine art prints, photography and video. This work "Timespace traces 11" comes from a bigger series trying to reveal traces of the timespace…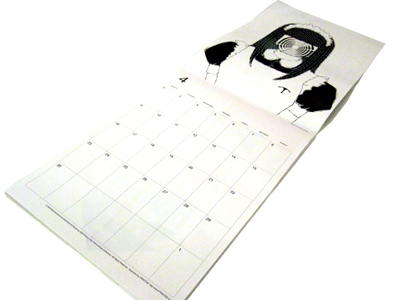 SHIFT 2007 CALENDAR
Release: 20th October, 2006
Spec: All colour / 28p / 210×297 mm
Price: 1,360 yen (tax included)
Produced by Shift Factory
It can be purchased on Shift Factory as well as select shops around the world.
SHIFT 2007 CALENDAR EXHIBITION
Date: 4th – 28th December, 2006
Place: Soso Cafe
Address: 1F Sansei Bld., S 1 W 13, Chuo-ku, Sapporo
Tel: +81-11-280-2240
http://www.shift.jp.org/soso/
PRINT'EM
http://www.PRINTEM.org
Shift 2007 Calendar will be available on the 20th of October, 2006 at Shift Factory.
If you know of any shops that might be interested in supporting this project, please e-mail us to staff@shift.jp.org.
Thanks to +81, CBC Net, Creative Behavior, db-db, Design is Kinky, DEX, Heavy Backpack, Hint Fahion Magazine, iBlog, Japan Design Net, Netdiver, Praktica, Stash, TAXI Design Network, Urban Collective, Web Designing
[Help wanted]
Inviting volunteer staff / pro bono for contribution and translation. Please
e-mail
to us.