The Shift calendar competition started in 2003 with an aim to discover fresh creators. The number of entries have increased year by year and have received 1267 entries from 49 countries this year. 12 carefully selected works will decorate each month of the Shift calendar, creating the feeling of a little art book.
These selected works will also be exhibited and sold at PRINT'EM for a year with support by PRINT'EM, a graphic print center operated by Mitsubishi Paper MIlls Limited.
There also will be held an exhibition of each works printed on A0 size poster at the gallery cafe SOSO on December 2006.
The 12 works below are the pieces which will be used in the Calendar. Please have a look and enjoy the comments from each creator.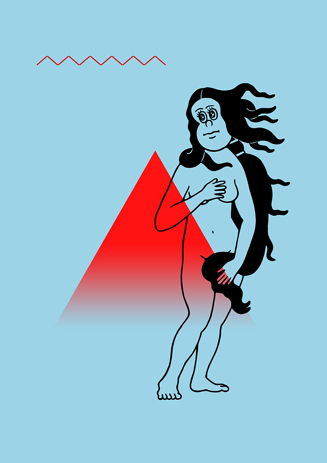 Jun Oson (Japan)
Born in 1979 in Aichi. Currently based in Tokyo. Worked at a design office after graduating from an university. After leaving the office, became a freelance illustrator. Working in various design fields; not only print medium, but also graphics for web and T-shirts.
Work description:
I like the idea "to scrape unnecessary details off". A venus with peanuts head, mountain, wave, light blue background.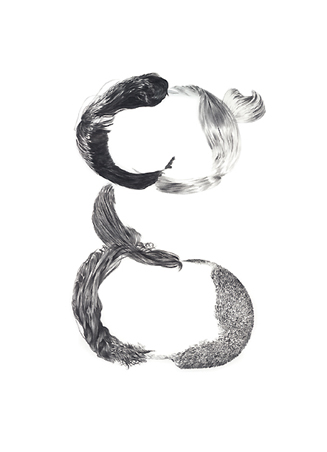 Akihiro Morita (Japan)
25 years old. Moved in Tokyo on June. Currently seeking a job. Fields are drawing, graphic design and web design.
Work description:
When I was looking at a letter "g" of Sabon, a font type of Old Style Roman designed by Jan Tzschichhold, I thought it looked like beautiful hair lines. Inspired by this, I created a work called "Cuticle Sabon". After kept drawing hair for a while, I finished this work to resolve the shape of "g", which was an image source.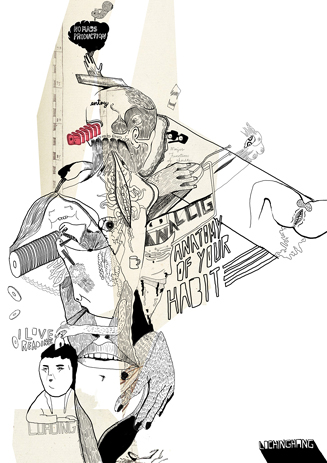 Jacky Lochinghang (Hong Kong)
Born in 1981, 24 years old, Hong Kong based Motion graphic designer. Graduated with honours in School of Creative Media. Interested in somethings strange and new.
Work description:
The theme of this drawing is "Anatomy of our habit". Our body/life style/habits is dominented by digital device. Please try to be more "analog".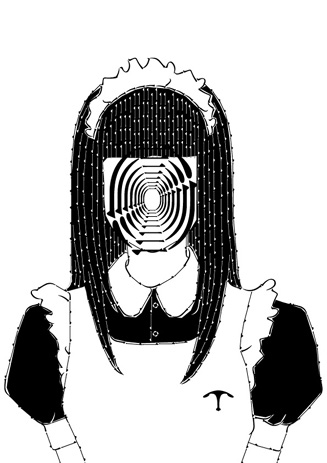 harmonica bldg. (Japan)
Lives in Sapporo. A design unit of a man and a woman, an art director Naoki Fujita and a designer Kaori Kojima. Formed in 2004. Awards; SADC new face award (2005), a prize at Biennale of Graphic Design Brno (2005), a prize at Chaumont Poster Festival (2005), a prize at International Triennial of Poster in Toyama (2006).
Work description:
In 2006, we designed for a book of "Hannya Shinkyo Zero" which was a collaboration book between Hannya Shinkyo and art. This work is one of the visuals used for announcement posters of the book. This series shows various creatures appeared from a play on words, including this maid work. We hope you can enjoy this work imagining the background or the story of characters.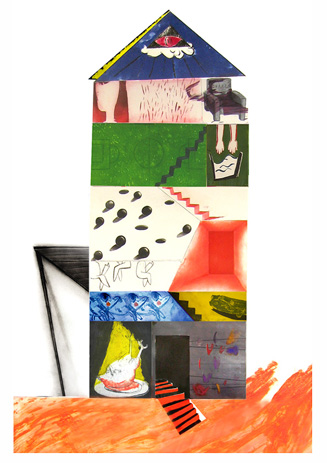 Joanna Swiatlowska (Poland)
Born and based in Poland. Graduated from the Graphic Arts Department of the Cracow Academy of Fine Arts. From time to time working as a freelance graphic designer, illustrator or wedding photographer.
Work description:
The rules of the game; The player has to get across the boards, collecting tools (associations) on the way. So he could reach the final (what the creator wanted to say to us).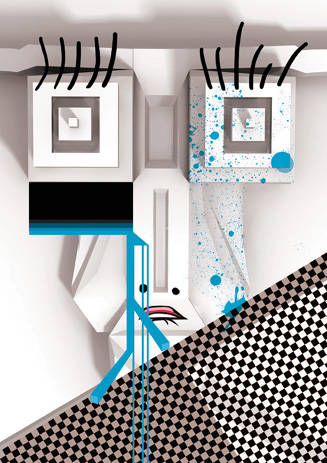 Tomas Garcia (Argentina)
Tomas was born in 1979 in Bahia Blanca, he has worked in a film and commercial production company as a designer for ads, video clips and all forms of advertising content and media. Today he is based in Buenos Aires and works freelance as an illustrator, graphic and motion graphics designer for his recently launched studio Saintgraphy, partnering up with his dog and his coffee maker.
Work description:
Late Fragment
And did you get what
you wanted from this life, even so?
I did.
And what did you want?
To call myself beloved, to feel myself
beloved on the earth.
– Raymond Carver.
Read more ...

1
2
[Help wanted]
Inviting volunteer staff / pro bono for contribution and translation. Please
e-mail
to us.