Before heading for a next stage, I took a light meal at a stand. From this year, a deposit system was brought in, under which you pay extra 100 yen when you buy food and drink, and then you get back 100 yen if you drop off the container at a garbage pickup area. I thought it confusing, but there was a slogan "Crean for Smile. Dance of Earth", staff persons there were so friendly, and though I paid in advance, a refund was good to me. However, garbage was not collected without the system-it was proof of growing of this event-I thought that it was one of things each of us should be conscious of.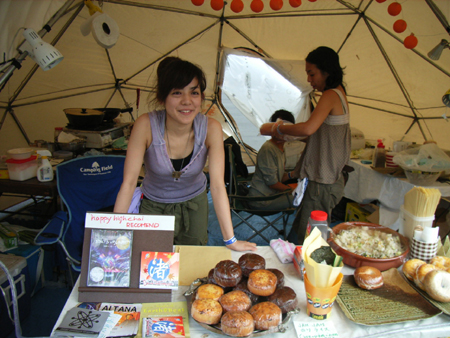 A group of Takashi Numazawa + Yuji Katsui + Marcos Suzano, which I was looking forward to, started. I was greatly impressed by the atmosphere of Marcos Suzano and his playing with the pandeiro, a traditional instrument in Brazil. Takashi Numazawa and Yuji Katsui's were also good, I was addicted.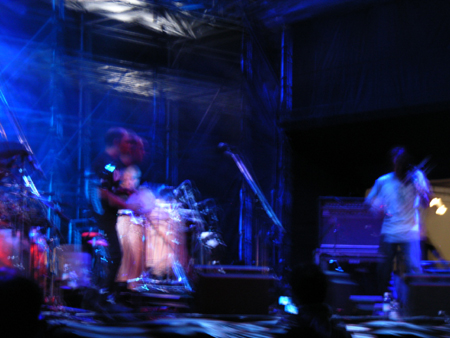 On the way to "PLANET STAGE", a mountain was illuminated with laser, so beautiful. (I thought it was like Daimonji Yaki of Kyoto… not exactly?) This laser seems be taken charge of every year by 308GTO Laser.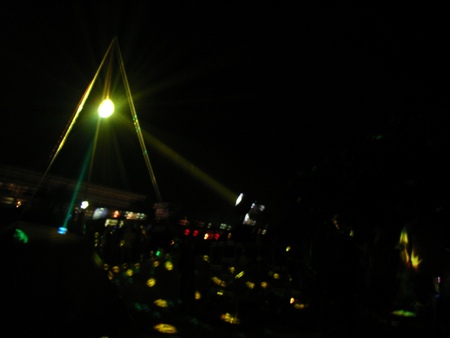 A installation of a glowing tower was also interesting. (unspecified)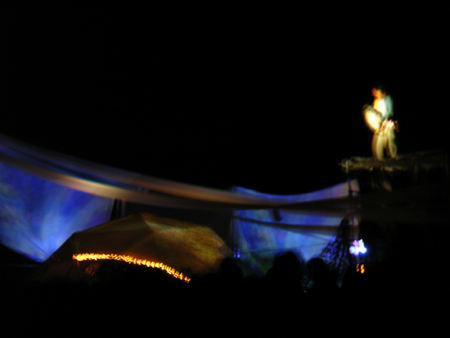 I got to "PLANET STAGE", where EYE was playing DJ and there was a big crowd that got moving. VJ was Kloma, and then the human-powered light by Kurosawa-gumi was added in the middle, which moved the crowd more. Meanwhile, Idjut Boys started, which I was looking forward best of all. Their sound was airy and funky, and I danced naturally.
After I danced for a long time, I went to the toilet while transferring. There was a long line for the toilet near main "SOLAR STAGE".
Every year I have a view of various people, whose age and look are different, while waiting. I sort of thought that one of good points for Metamorphose is broad age range, and that daily life, in which we can go to the toilet soon, was convenient.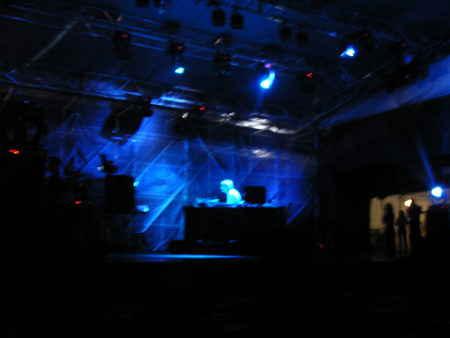 The next was Manuel Gottsching, who had received the most attention. There was an air of strain when he appeared. He looked heavenly because of pale lighting. Was I the only one who felt it funny that he sat right beside to the audience? The performance was so cool. Gradually I felt high and stumbled, so I laid on lawn where I could see the stage.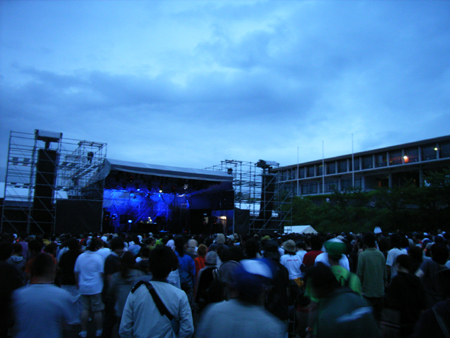 Around dawn, people who were tired from dancing began lying on various places, which were unusual in daily life, without resistance. Concrete-covered road, grass… Anyone could be homeless… It's a joke, but great snugness was lying in the open air with nice sound. At the beginning of the performance, it was raining and dark and there were those who wore rain coat, but at the ending around a.m. 5 it got bright and rain stopped.
I continued to sleep until about 8… I got up and went buying for breakfast, and then found installations were put away, shocking a little. I wanted to see Calm, and the last!!
A sense of unity with people around me during dancing, slow time for chatting with my friends and so on, and working hours. Including them all, thank you for fantastic time also this year!
Metamorphose 2006
Date: August 26th and 27th, 2006
Place: Izu Cycle Sports Center
http://www.metamo.info
Text: Jo Phirip
Translation: Yuhei Kikuchi
Photos: Jo Phirip

[Help wanted]
Inviting volunteer staff / pro bono for contribution and translation. Please
e-mail
to us.